"Stick-n-String Kansas Trophy"
Written by Matt Shull, aka ksbuckhunter here at MonsterMuleys.com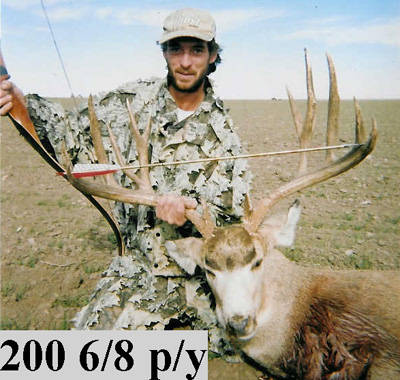 Matt's Buck Grosses 210 6/8 and 200 6/8 net P&Y!
For three years, I had been successful in the lottery firearms draw for resident Kansas hunters. However, 2003 was a little different, instead of an any deer permit, I got a refund check!
So now my choice was made for me, if I was to continue my quest for a real "wallhanger" mule deer, I would have to get a bow and get back to basics.
Kansas residents are able to purchase archery deer licenses over-the-counter, which are good for any deer. All the other options for over the counter tags are for whitetails. I have hunted whitetails before, harvesting two small 10 points and one that was a little bigger in the first three years that I hunted deer. But, I have always wanted to take a good mule deer.
By chance, I had been born and raised near the border between units 2 and 17 in the western part of the state. Both of these units are known to hold trophy mule deer. But, for the first time, that unit border would have no effect on my hunting, as archery tags are also good statewide.
I now live in the small town of Healy, where I am employed by a seed company, which gives me access to a lot of good hunting ground. Plus, we spend a lot of time in the field during the summer and fall months, which helps me in locating deer.
I had an old longbow, which I had practiced with and even hunted does with a few times, but I had never gotten real serious.
A friend sold me a 58" Red Wing Hunter recurve, with a 53 pound draw weight @ 30". Luckily, the bow fit me well. I fletched up the XX75 2018 camo hunters that I already had and started in with some hardcore practice sessions.
It wasn't long before I was confident I could kill a deer at 40 yards or less. One thing I lacked however, was good camo. The hardwoods patterns available practically everywhere, were not very well suited for hunting the flat, wide open land I call home. If anything, they make you stick out in a field of CRP grass or a weedy wheat stubble field (both popular bedding areas for these flat-land mulies). After much searching, I finally found the Prarie Ghost 3-D leafy suit, which I am wearing in the field photos. I knew right when I saw it in the catalog, it was perfect for out here. I also bought some two blade broadheads for better penetration, and a grunt call and bleat can, even though the few articles I had read, said nothing about calling mule deer.
Now I was set for hunting. I kept practicing and began scouting before and after work. The season started October 1st, I hunted opening morning and had the misfortune of being upwind of a bachelor herd that had 7 bucks in it. Two of the 5x5's well past their ears, and the dominant buck was big enough to make them look small. He was probably the largest muley I've ever seen live---in person.
I was about 70 yards from them and moving when I first saw them, but unfortunately, they had already seen me. They moved off before I could get a good count on the big boy's rack, but I think he would have scored over 220 non-typical.
I had to be to work at noon because fall harvest was starting, so I was unable to circle and follow them. I only saw that monster one more time during the next month, 200 yards away and running. My hunting was very limited during this time, because of priorities at work and lack of permission to hunt the area where I believed the buck to be.
With things slowing down at work and the rut coming on, I continued to scout up north for the big one I'd seen. Daylight savings had made me change my scouting to before work only. On October 27th, I got to work after my usual run and was greeted by a co-worker who'd seen a herd of "mulie does" on his way to work that morning. We drove out to have a quick look, and I was surprised to get my first look at the buck I would eventually take.
Even though he wasn't as big as the one up north, I decided right then he was big enough to hunt. I spent four or five different days hunting for him, but always seemed to be in the wrong place at the wrong time. However, I was lucky enough not to spook him out of his territory.
The morning of November 14th found me in the field early. Harvest was over, it was the peak of the rut with a full moon, so I used some vacation days and went hunting. I was determined to get this buck into a stalkable position. I was in my watching post well before light. An hour after the sun had come up, I still hadn't seen any movement, so I decided it was time to still hunt to the east and check the some trails.
I got to the top of a hill beside a lone tree and glassed extensively. Seeing no movement, I decided I was once again in the wrong place at the wrong time. After having a break, I decided to head back to my truck, which was about two miles away. I hadn't gone 40 yards from the tree when I saw movement in the bottom of a pasture draw on the doe trail I had just checked 30 minutes earlier.
I raised my binoculars to see my buck trotting along with his head half to the ground. I was standing in the middle of a green winter wheat field, which offered no cover at all. I dropped down and watched him go east and out of sight. I then quickly moved to the pasture fence, which would at least break up my outline somewhat.
After a cat and mouse game of me trying to head off the buck, he and the doe finally bedded down. He was about 500 yards away, and upwind, so I began my stalk.
After what seemed like hours of crawling and several checks to make sure I hadn't spooked them, I was finally as close as I could get to the deer, but still 70 yards away!
I had used my calls with some success on a smaller buck several days earlier, and decided they were my best bet for this situation. I nocked an arrow and got up on my right knee behind a large "fire bush". I raised my grunt call up and blew a couple soft grunts, followed by two bleats from the can. When this brought no response, I turned more into the wind and grunted twice more, and with more force. Seeing the rack turn out of the corner of my eye, I raised the bleat can over my head and turned it over a couple more times. I had his attention now, and he stood up looking directly at me. Holding the can close now, I bleated two more times softly. This must have convinced him, because he started straight toward me at a walk! I put down the can and got my right hand up and ready. In a few breathless moments, he closed the gap between us from 70 yards to 15, where he turned north, trying to circle and wind me.
He knew right where I was, just not sure what I was. It was now or never, because in another 10 seconds, he would wind me and be gone. Raising up, turning the bow straight, aiming and drawing were one smooth movement, which he saw, causing him to stop. I let my arrow fly.
It was on the way as he stopped, and I thought right away it was a good shot, even though I didn't allow for the wind. Time seemed to stand still as I watched it strike him in the paunch, just in front of his shoulder. It struck on an angle going through his windpipe and jugular.
The buck stood straight up in the air, turned and ran straight east. I came up out of the brush like a rocket and jogged after the buck (which I know now I shouldn't have done) screaming YES! YES! YES!
He went down shortly thereafter.
As I approached the trophy, I thought to myself, "Finally, I had my wallhanger." I took a good look at his rack for the first time, counting 8 scorable points on the left and 7 on the right, with a few more little ones that didn't count officially. His final score would be 210 6/8 gross, 200 6/8 net (pope and young non-typical), with 36.5" of mass and an outside spread of almost 32 inches.
Click-a-Pic ... Details & Bigger Photos
Click-a-Pic ... Details & Bigger Photos
Home | Hunting Forums | Photo Gallery | Hunting Articles | Videos

|


Hunts & Tags | Hunt Draw Odds | About Mule Deer | About Elk
Store | Classified Ads | Photo Tours | About this Site | Advertising

|


Older Content | Email Us | Privacy Policy | Links | Podcasts