"California High Country King"
Written by Owen Kimberling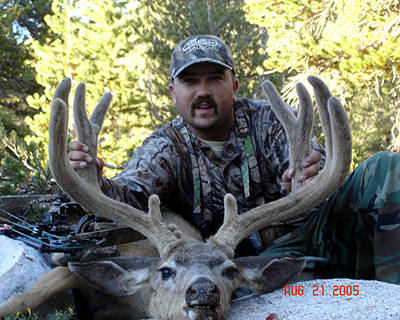 It was August 19, 2005 the day before opening archery season in central California. My three friends and I were on a 14 mile horseback ride into the high country that I had been going to for the past 18 years. The ride was long enough for me to reminisce about the past seasons in which many big deer had fallen to me, including a 28 ½ inch 4x4, and to my despair the many big ones that had gotten away. My dad introduced this country to me at an early age of 9. I remember the many monster bucks he had shown me and that he had taken over the years. My dad would not make this trip with us due to living in Montana, but he is always with me in spirit when I'm in this country. For my friend Scott, this would be his first ever archery hunt. He was excited and ready to be part of the mountains that he had heard about and seen pictures of. I made two promises to Scott. The first being that he and I would shoot two good bucks. Second, that I would show him a buck in the public lands of California that was over the precious 30 inch mark. I would keep both promises to Scott on this trip.
It was August 20, 2005 opening morning around 4:00 a.m. Scott, Chuck and I made our long climb in the dark, up the trail to our mountain at about 11,200 feet. As daylight broke in the meadow there they were, the first of many bucks to come. There were three bucks feeding in the open about a mile away. One a 3x4, then the other two 4x4's-all around 23-25 inches wide. Then another buck appeared that got Scott excited, a 3x3 about 26 inches wide and 20 inches tall. We made our first stalk but failed. About an hour later we found ourselves surrounded by three other bucks, two of which we could clearly see. One being a 4x3 about 23 inches wide and the other a real good buck, a 4x4 pushing 27 inches wide and real tall. However, our eyes turned to the third buck that would not let us get within 100 yards. There he was, a really big 3x3. A buck both of us figured to be over the precious 30 inch mark. Another stalk attempt and yet another failure and it was only 8:30 in the morning, so we were both very pumped up. The morning continued and we would see many other bucks but nothing panned out. It was 3:00 p.m. and raining, so we decided to split up and hunt the same place where we were in the morning. I spotted two bucks in an opening above me and I stalked for an hour but yet another failure, so I started towards Scott in hopes of pushing something to him. That is when I heard the radio talk from Chuck to Scott, saying get ready he is only 75 yards and feeding towards you. Minutes later Scott came on the radio and said," I got him!" After 30 minutes we had found Scott's first archery deer a 2x2, 21 inches wide and 20 inches tall, a true first archery trophy.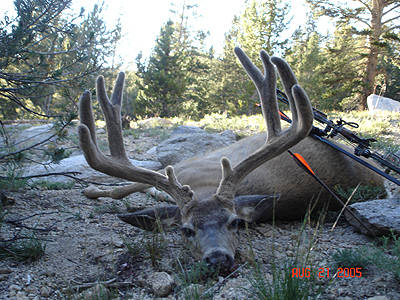 One and a half of my promises had come true. Now it was time for me to get serious. The next morning was the same result with many big bucks, but nothing panned out. So I decided the evening hunt would start early and from the same spot where we had seen all of the bucks prior and where Scott had his luck. I found myself very anxious so Chuck and I left camp for the top of the hill around 3:00 p.m. We had the same plan that we have had for many years prior, I would go up my side of the canyon, Chuck would go up his side of the canyon and we would sit and glass and help each other out. I made my way up the hill to my vantage point where I could see the entire mountain. I sat down on a rock and hadn't been there but 15 minutes when I saw a buck come out of the tress in front of me. He was only about 120 yards from me and he was feeding towards the creek and out towards the meadow. After glassing him I realized that this was a really good buck, a 4x4 at least 26 inches wide and very tall. I radioed Chuck and he could see everything so he became my extra eyes. My plan was easy, use the creek noise to my advantage by going up stream, cutting off at least 80 yards or so. Then use the tall meadow brush to hide me to get within comfortable range. I will say I shoot many archery competitions and I practice a lot at long distances so my comfortable range is not the same as others. The year prior I had killed a 7x9 Tule elk running at 65 yards. Practice, practice, practice is the key, like Cameron Hanes says. So I started my stalk up the creek and then out into the meadow where I went to crawling towards the feeding buck. I got to a spot of brush where I couldn't continue. This would be it, do or die. I figured the buck to be less than 50 yards. I peeked through the brush but it was so tall all I could see was horns. The buck was feeding next to a big round bush so I quickly used my Lieca range finder, 38 yards! Wow this is it! I radioed Chuck and said," get ready." On one knee I brought my Mathews Legacy to full draw and I came to a standing position. I realized at that point I needed a whole to shoot through. I scanned the area and found holes on both sides of the buck. I let my Mathews down for a second to range the one on the right, 42 yards, on the left 45 yards. Suddenly the wind turned and so did the buck, face to face with me, but I knew he couldn't see me. Chuck radioed and said," He has you, take him!" He stepped left then right. I brought my Mathews Legacy back to full draw and waited for what seemed to be an eternity but was really a minute or two. Then the bucks head turned left, so I thought left whole, 45 yards. The buck was running as my pin settled in the whole and then suddenly deer, head, ribs, and then the sweet silence and sight of my carbon express burying in the side of the big buck. I stood and watched as the buck crossed in front of me about 75 yards away with blood and my precious black and orange vanes bouncing about on his side. At that instance I knew I was a winner, a man who had just conquered and beaten the odds, it was great. The buck had gone about 100 yards and expired. When I walked up to him it hit me what a true monster he was, especially for the public lands of California. I mean this wasn't Wyoming or Colorado this was California and bucks this size are rare. My buck measured 26 ½ inches wide 23 inches tall, a 4x4 with 3 inch eye guards. He officially green scored at 161 4/8 and officially netted a Pope & Young score of 156 4/8. Thus making him #10 all time typical Pope & Young for California and #1 Pope & Young for the zone in which he was taken. What a public land do-it-yourself California buck!
I kept my promises on this trip and I would like to thank my friends Scott, Chuck, and John for their help. I would also like to thank my dad for introducing me to this country and sport. And I would especially like to thank my wife Brandie and my daughter Emma for their patience and support. And I would lastly like to say, what will next year bring?
Click-a-Pic ... Details & Bigger Photos
Click-a-Pic ... Details & Bigger Photos
Home | Hunting Forums | Photo Gallery | Hunting Articles | Videos

|


Hunts & Tags | Hunt Draw Odds | About Mule Deer | About Elk
Store | Classified Ads | Photo Tours | About this Site | Advertising

|


Older Content | Email Us | Privacy Policy | Links | Podcasts