"The Desert Trophy"
Written by Paul Felski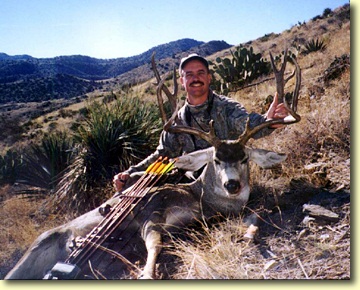 Paul's buck, "Popeye Jr.", gross scored 191 4/8.
I was sitting at my desk trying to act busy, while daydreaming about the upcoming late season hunt in Arizona. Visions of "Popeye" romancing his girlfriends in the rugged mountains and mesquite flats had me completely mesmerized and unproductive. The ringing of the phone brought me quickly back to reality.
"Paul you're not going to believe this, but we had another family crisis and it doesn't look like I will be going to Arizona with you next week," stated Darrel Bussard, my most dependable (usually!) hunting partner. I could tell by the tone of his voice that he was sincere, and not just playing one of the usual pranks we tend to do on each other. I was truly sorry to hear that, especially since we were supposed to be driving his truck this trip!
I made a couple calls to my other hunting buddies, but no one had an opening in their schedule, so I was going to be hunting alone this time. It was a disappointment, but over the years I had become used to these last minute problems. After all, I had a personal relationship with a monster buck we had named "Popeye", so I really wouldn't be alone if I could find him. "Popeye" was a giant buck well into the mid 30-inch range and a solid 6x6 with plus eye guards. He has been to this point in my life, the largest live buck I have ever seen in the wild. I had not been down to his neck of the woods for a year or two, but I held high hopes that he would still be alive and herding his harem in the same canyon.
There seemed to have been a lot of changes to our hunting area in the past couple of years. It felt like everywhere I looked there was a "No Trespassing" sign or that an access road was locked. The deer herd looked to be hurting as well, not near the usual numbers. Maybe they were just back in the mountains further? With my usual access road being locked, I would have to do some serious hiking to find out if that was the case or not.
After arriving, I had a few hours of daylight left, so I decided to hike into my favorite canyon and check things out before dark. I made it to the top of the ridge with only a few cactus needles to show for the effort. As I began to glass the opposite hidden valley I found a couple of groups of doe's, but no bucks. I continued working the ridgeline, spotting each side, but nothing to be seen but a small three point and an even smaller two point. What had happened to my little honey hole? I used to always see nice bucks in here!
I continued towards the end of the canyon even though I was losing light quickly. I sat down for my last look around and there he was! I had spotted two doe's working their way over a ridge toward me, and following them was a huge buck.
I studied him for a few minutes in the failing light and was sure he was at the very least the "Son of Popeye". He had the same antler structure and frame. "Son of Popeye" was a 4x4 at least 30" wide with cheaters and huge eye guards. Wow! There was no time to make a stalk before dark so I watched him until I could no longer see. I would be back in the morning to pick up the action. Of course that is; if I could get out of the thorn infested desert alive in the dark. I made it back to the truck that night with only the need of a minor blood transfusion and a meal. I had one thing left to do before I hit the hay, a phone call to my unfortunate hunting (almost) partner. He was as excited as I was about the "Son of Popeye" and wanted me to pack the big camera in there to take pictures for him. "Yeah right" I told him. "I will take pictures of him after he is resting in front of me!"
The next morning I was up well before first light working my way back up the canyon, trying to retain as much skin and blood as possible for that hour of the day. I got as close as I dared go in the dark to his last location and waited for daylight. When it was light enough to see I could only find the two small bucks from the day before……Where was Popeye? I worked my way to the top of the ridge and glassed the other side and still couldn't find him. I sat down for a quick breakfast and more glassing. Nothing. He must be around the next ridge. I stood up took about four steps and there he was! He was in a little bowl that had been partially hidden from where I took my break. He was in love…..Romancing one of his girlfriends from the night before, he was pretty preoccupied. They were about 300 yards away, and in the daylight "Son of Popeye" looked even bigger!
I let the two of them carry on for the better part of an hour and watched as they slipped over the ridge to the north. They were headed back to where I had seen them the night before. After all of that activity, I knew what he had on his mind…..A nice cool place to sleep the afternoon away. I belly crawled to the top of the ridge and watched as they were joined by a couple more female friends. They bedded down about forty yards from the top of the ridge. Things were looking good. I watched for another half hour to make sure they were going to stay and then I started my stalk.
I dropped off the back side of the ridge and worked my way around to the little pass the deer had used. I removed my boots and replaced them with Baer's feet, watching very carefully for cactus now. I worked my way over the ridge checking the wind currents as I was going. I was in no hurry, I knew the deer were quite content where they were. The thermals were text book as I made my way down to a small ledge above the deer. I had earmarked a very bright green shrub next to where the deer were dozing. I now stood 38 yards from this bush. I settled in to wait and monitor the currents. A short time later some of the does got up and began to browse around. As they worked their way to my left, I began to get nervous about them winding me. I had to quickly make the next move. I decided to try the rock trick, I tossed a small rock as far as I could on the downward side of the deer.
That was all it took as the buck stood up, looking down the mountain. He was frozen behind some brush leaving me no shot. This lasted a few minutes until he decided that somewhere up hill, might be a better place to lounge the rest of the afternoon. This was one of those moments that as a bow hunter, you dream about. He stepped into an opening 35 yards from me and broadside, he never knew what hit him. I couldn't remember drawing the bow, all I could remember seeing was the bright fletching disappearing behind his shoulder. The buck flinched, trotted a few steps, and came to rest just the other side of the ridge, about where I had spotted him that morning. Walking up to him I was humbled with his majesty and size, he was definitely the king of that mountain. He had a large scrape or cut along the back of his neck and ear, making me believe he had already escaped one predator recently.
I was about three miles back in and I knew this was going to be a long day. The first trip I did with a smile, the familiar heft of the pack felt good tugging at my shoulders. About midway through the second trip I really began to miss my partner and his strong back. I managed to stumble the rest of the way to the truck before collapsing. The sun was just starting to slip behind the mountains to the west and delivering one of those famous Arizona sunsets. I sat there a moment with my back up against the truck soaking it all in. It had been a quick hunt and one that I will never forget. The season as a whole had also been very special, taking a great buck in Utah with the help of Darrel. Oh yeah Darrel! I had one more thing to do while I was enjoying the beginning twilight……
During our conversation I managed to slip in (during the first 15 seconds) that I had those pictures of Popeye jr. for him. Of course it took several minutes of convincing before he conceded that even I would not carry a joke this far. After that, being the type of guy Darrel is, he was just as happy for me, as he would have been if it was him on the other end of the story. But, he was even happier that he didn't have to pack another one of my animals out of some hell hole! He also told me that I should really be careful with my bow string around his sharp broadheads. But I really wasn't worried about that, I will just remove them from his arrows when he isn't looking!
Author's Note:
Popeye Jr. gross scores 191 4/8, he was over 30" wide and was taken in southern Arizona with a Mattews bow Blackhawk Carbon Vapor arrows and Muzzy broadheads.
Click-a-Pic ... Details & Bigger Photos
Click-a-Pic ... Details & Bigger Photos
Home | Hunting Forums | Photo Gallery | Hunting Articles | Videos

|


Hunts & Tags | Hunt Draw Odds | About Mule Deer | About Elk
Store | Classified Ads | Photo Tours | About this Site | Advertising

|


Older Content | Email Us | Privacy Policy | Links | Podcasts