"Two for Two"
Written by Paul Felski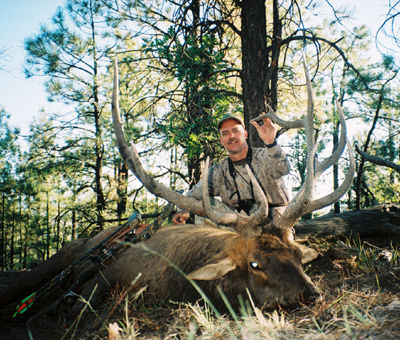 337" Pope and Young
Drawing an elk tag for the Gila National forest two years in a row was a stretch, even for my imagination. The previous year I had drawn one of these coveted tags and had a very successful year…At home. My wife Shannon was expecting our daughter in late September. I opted to stay close just in case mother nature chose not to pay attention to due dates. Everything was a success and we were blessed with a beautiful baby girl.
This year Shannon continued to voice her opinion that I would draw again for doing the "right thing" and staying by her side. As it turns out I should trust her intuition. In disbelief one of my hunting buddies called and complained that I had drawn again! I had been applying alone hoping to increase my draw odds, so I would be making the trip by myself. Shannon came up with the idea to leave our daughter with grandma and fly down for a few days with my 4 year old step-son Jack.
I would drive out and hunt a few days on my own, allowing me to concentrate on some of the big bulls that had side stepped my arrows in the past. The weather was hot and dry making things very noisy and stalking next to impossible. Even with this set back I still managed several close calls on nice bulls and even passed a respectable 290 class bull at 18 yards.
The morning Shannon was to fly in I closed the distance on a giant bull (380+). I managed to sneak within 55 yards of him as he bugled from an early morning bed. I had perfect wind but ran out of cover with cows feeding to my left. I needed the bull to stand and follow the heard as they fed to their normal bedding area. But, as usual when you are surrounded by elk for 20 minutes something was bound to go south, and it did. One of the hungry cows finally thought the grass in front of me looked greener and…..well you know the rest of the story. I thought as she looked into my eyes at 8 feet that we really bonded!
That afternoon I headed to Albuquerque to pick up my support team. After recapping the previous 4 days Shannon insisted that my luck was going to change with her arrival. Getting to camp at midnight, I couldn't help but wonder if I would be lucky enough to hear my alarm at 4am the next morning!
Stumbling out of the trailer the next morning, I headed back to where I had seen the giant bull the day before. I had no sooner shut the quad off and started putting my pack on when I was startled by an echoing bugle from the darkness. Daylight was still 30 minutes away, so I silently followed the bull as he closed the distance on a challenging bugle from down the canyon. I followed closely as the bulls bantered back and forth while keeping their distance from each other.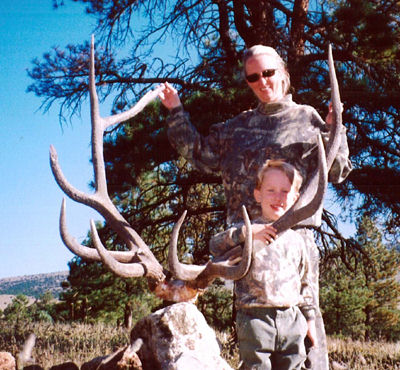 Shannon & Jack with our New Mexico Trophy
As dawn approached, I had already crossed several ridges just trying stay within earshot, when I stumbled into a couple of satellite bulls with the same idea. I had to work my way around these bulls to get to the heard bull, and consequently fell further behind. As I slipped over the next ridge into a secluded canyon I was stunned to find 11 different bulls exchanging insults.
Now trying to figure out if any of these were being made by the big bull was going to be the challenge of the day. I had already seen 3 of the bulls and they were all nice 6 pointers, but not what I was looking for. I continued further up the canyon hoping the next bull would be the one. The wind was swirling like a scene from Twister and every step sounded like I was walking on corn chips, I expected a stampede at any second.
As I was working my way along the ridge following the bugles, I spotted 2 more bulls above me. I was trying to estimate their size when I heard a branch snap behind me. I turned to see more elk moving through the trees heading in my direction. Cows began to filter on both sides of me and I could make out antlers moving through the trees. Tension was growing and the bull was quickly approaching. I would have to make a snap decision. As he entered a small opening I saw huge fronts and a lot of mass…
I nocked an arrow and waited. The bull stopped to destroy a make believe challenger - a 12 foot pine tree, as the surrounding bugles fueled his fury. I could never get a clear look at him but I had decided that if I could get a good shot I would take it. The bull was on the move again and working his way to my left up the ridge line. At about fifty yards he stopped and shouted an insult at one of the hidden challengers. The past 20 minutes had been some of the most exciting of my elk hunting career and it was only getting better!
As he stepped into an opening at 37 yards I softly cow called, stopping him. The Muzzy tipped Vapor arrow was on its way, and only needed a split second to cover the distance. The shot was perfect and forever etched in my memory. The bull spun and headed back down the ridge before tipping over not more than 40 yards from where I was standing. I was both happy and sad, emotions that you can not explain to anyone who has never hunted. I walked over to the bull and was excited to see that I had underestimated him in my snap judgment.
As I returned for the second pack trip, bulls were still bugling and I even heard bulls fighting somewhere behind me, probably over the fallen bull's cows. I imagined drawing this hunt again and chasing my secret herd, of course that was before the 4 mile pack trip with 100 pounds on my back! My support team was excited as well, and waited at the quad the whole time for my return. (There will be no living with my wife now!) I was grateful that they were there to share the experience with me and to help. I can't wait to see what she thinks I will draw this year, and for our daughter to join the team!
Click-a-Pic ... Details & Bigger Photos
Click-a-Pic ... Details & Bigger Photos
Home | Hunting Forums | Photo Gallery | Hunting Articles | Videos

|


Hunts & Tags | Hunt Draw Odds | About Mule Deer | About Elk
Store | Classified Ads | Photo Tours | About this Site | Advertising

|


Older Content | Email Us | Privacy Policy | Links | Podcasts