"The Ten Year Return"
Written by Paul Felski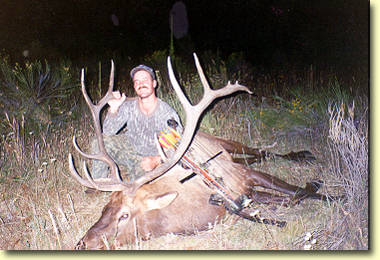 1992 New Mexico Hunt Success
"What are you doing the middle of September?" asked my hunting partner Darrell Bussard. "We finally drew New Mexico again!" I could feel his excitement through the phone, and for good reason. We would be hunting our favorite unit again. The last time we hunted there together was ten years ago. On that hunt we were both fortunate enough to take bulls, and we were even able to get my bull on video. During the past ten years we had hunted together in other areas, and even hunted this unit separately, which I did the previous year. On that hunt I had probably the best elk hunt of my life, even though I did not harvest an animal. Reliving all of the excitement with Darrell when I returned home, made the decision to try applying together again a no brainier. After the thrill of learning that we would be returning again, we named the trip the "Ten year return, double or nothing".
"Where are all these elk, supposedly running through camp that you were telling me about" asked Darrell. "I am not kidding, I had to rope off camp last year just so they wouldn't run into the tent in the middle of the night" I told him again, to help delay the mutiny. I had hunted and camped in the same canyon last year and each morning I struggled to pick out what I thought would be the biggest bull by their throaty bugles. As it was turning out, this year was going to be a little different. "Don't worry", I told him. "They just haven't gotten fired up yet". I wish I could have been a little more convincing, enough anyway that I would believe it myself.
For the next couple days we hunted my favorite ridges and flats from the previous year, hearing few bugles and only closing the distance on one bull. The second evening we had slipped into one of their bedding areas and worked up a decent six point. Darrell had taken a forward position while I dropped back to do some calling. We had the bull pretty well worked up, but he was having that "hundred yard hang up". Darrell crept in closer while I continued to keep him occupied, it was working great until we started to lose daylight, and they decided it was time to hit the flats.
The next morning the woods were dead quiet, nothing, not even a squirrel chattering. After several miles of silent canyons and ridges we decided to take a look at some new country, so we loaded the four-wheeler in the truck and went for a twelve-hour tour. We found a couple of new areas to try and even got into some very active elk before dark. On the way out of the new area, we made a wrong turn and ended up 40 miles from camp, turning a great evening hunt into a marathon truck ride. At least we had plenty of time to plan a strategy for the next morning and eat our trail mix dinner. Yum Yum!
The next morning, long before daylight, we were back in our little pocket of elk with three screaming bulls giving us the run around. We finally closed the distance on a nice six point, with Darrell in the lead we again set up. The bull was hot and worked his way within 35 yards of our little set up. He began to rake a tree with his back to us. I mimicked his aggression on a small spruce next to me. That was all it took, he had to see who was challenging him.
Darrell drew and released what would have been a perfect arrow, had it not found the only twig between the bull and us. Oh well, it would have been an easy pack job anyway, and as some of you know that just isn't our style. We seem to shoot our animals in the nastiest, furthest from the truck, holes, as humanly possible.
That evening we selected the other hot spot we had found. After arriving, we had barely shut the doors on the truck before we heard a distant bugle, this was going to be a good evening!
We shrugged into our packs and headed in the bull's general direction. We worked our way out onto a point over looking a large secluded bowl. We were directly above an elk frenzy, there were at least 4 different herds bundled up down there!
"Did you hear that one", Darrell asked. "Yeah, he sounds like a good one lets head his direction". It seemed like that was all we were doing jumping from one bull to another.
One blunder after another, we were getting pretty good at stampeding elk into the next unit. The way we were looking at it, we wanted everyone else to get trampled on so we would have less competition in the woods. Well, that's our excuse anyway.
We eventually passed up two small bulls after having elk surround us for the better part of an hour, waiting for the big bull to present a shot. We headed back to camp tired and hungry, but laughing all the way from a great evening hunt.
The next morning Darrell decided to get some extra rest, so I was on my own. I headed back towards where we had hunted the previous evening, but decided to follow the elk in from their feeding area in the flats. I started low and followed them up over the ridge we had named K2, keeping the wind in my face as I went. Elk were bugling from every ridge. It was truly one of those mornings that will last a lifetime of memories.
I intercepted one nice bull as he was cresting the ridge, but elected to pass, hoping that the giant I had seen earlier would sound off again. While I didn't connect that morning, I did find an easy way into the area and a good place to start the evening hunt.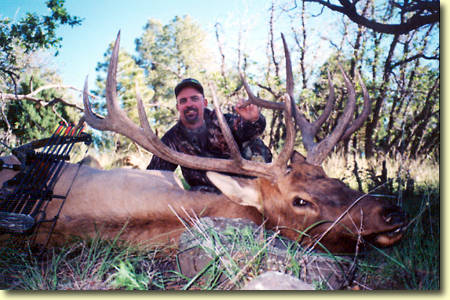 Paul's 2002 New Mexico Bull
After filling in Darrell about my morning adventures, he decided it was time to do some calling for me, since it was my little "honey hole". By 3 o'clock that afternoon, we were headed up the backside of "K2" and by 4 o'clock we had heard our first bugle of the evening. We worked our way towards the saddle where I had passed the bull earlier that morning. Across the canyon we spotted a large bull and his harem.
The bull began to bugle every minute or two, chasing his cows towards the saddle leading to their feeding and rutting area. As we were watching the show a small bull decided to see what all the excitement was about. The big bull immediately postured showing the challenger his large rack and blasting him with an awesome bugle. The smaller bull bugled back, that was all it took! The big bull went crazy and proceeded to chase the smaller bull into the next county.
As the bull returned to his harem they began to move into a large, fairly open flat to feed while waiting to head down to the main rutting area. Darrell and I decided this was our opportunity to move in. We waited till they were out of sight and then slipped in behind them carefully watching the wind. I moved fifty yards ahead and set up, Darrell did his best imitation of the bull that was just run off and started attacking some oak brush. That was more than this bull could stand, he immediately answered with a bellowing scream. He was pissed off! One more squeaky bugle and some raking and this boy would be sitting in my lap.
As Darrell continued to work his magic I ranged various trees and objects preparing for the up coming shot. The bull continued to scream insults at Darrell, and they seemed to be getting louder by the second. I glanced down at my bow to make sure I had nocked an arrow in all of the excitement and when I looked back up I could see antlers and legs approaching. The bull's attention was focused on Darrell's location and at 35 yards he never knew what him. I drew my bow as he passed behind a juniper tree and my fingers relaxed from the string as his front leg moved forward. The shot was solid behind the shoulder, but a little high for my liking. Darrell who was peering through the trees was much more confident. "He is a dead elk Paul, don't worry, I saw the whole thing and he won't go far." He tried to reassure me.
We decided to check his trail to see what type of sign we had to work with. There was not much blood so I was nervous again. Darrell reassured me that the hit was a good one and not to worry. Oh sure, easy for him to say, he wouldn't have this animals life on his conscience that night if we didn't find him.
We followed the tracks around a stand of scrub oak, and there 75 yards away lay our bull. We both felt the joy and sorrow of harvesting this great bull, but were both relieved that it had been a quick clean harvest. Darrell had done a great job of calling and raking, making the whole thing come together. It would soon be my turn again to play guide, after I got done strapping those hindquarters to Darrell's back!
With one side of our "double" done, we stepped up the search for another big boy for Darrell. We found some smaller bulls and even called one in that Darrell passed on, but the big boys were getting tough to locate. We worked hard the last few days of the season, but could never put together the right circumstances to get a big one in front of Darrell's bow. While we didn't quite match our success in terms of filled tags that we did on that faithful hunt ten years earlier, we did refill our memory banks with days of excitement and moments that we will laugh about until our sides hurt or until the next Del Norte Boy adventure. On the drive home we agreed that we would return together and it would NOT be in another ten years!
Click-a-Pic ... Details & Bigger Photos
Click-a-Pic ... Details & Bigger Photos
Home | Hunting Forums | Photo Gallery | Hunting Articles | Videos

|


Hunts & Tags | Hunt Draw Odds | About Mule Deer | About Elk
Store | Classified Ads | Photo Tours | About this Site | Advertising

|


Older Content | Email Us | Privacy Policy | Links | Podcasts