"Trophies on a Budget"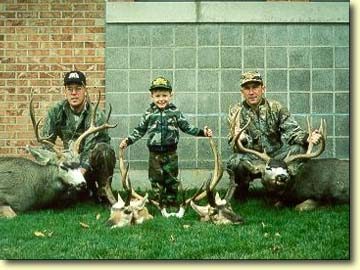 What A Great Season!
I'm like most other hunter's, I love to pursue trophy class animals, but more than anything, I just love being in the wild. I'm ready for the fall hunts long before the first hint of colder weather is in the air. Since I don't have a big bank account and endless vacation time, I have to make hard choices about the hunts I take. I usually get two weeks and half a dozen weekends to hunt—if I'm lucky. So, I have to make the most of everyday available. I also have another roadblock. I'm in the military and must move every 3 or 4 years and that requires me to learn new hunting areas every couple years. Because of this, I put a lot of effort into making my last year in each state the best, and that is just what happened in Colorado in 2000.
I found out I was moving to Colorado in the fall of 1995 and immediately went out and bought a 300 Weatherby Magnum. My grandfather had hunted there many times and gave me some pointers on where to start looking. However, when I arrived in Colorado, I found it wasn't as easy as it was in the "good ole' days." The deer herds were in bad shape and the hunting pressure was intense.
I decided to avoid the crowds and take advantage of the bowhunting opportunities. I also knew I would eventually want to break-in my new rifle. So, I started applying for preference points for every species that I could. That was the only expensive part of my plan. Because of the application process in Colorado, I had to send in a couple thousand dollars with my applications each April, but each June I would get a refund check (minus a three-dollar application fee) and a preference point for each species. Then I would buy an over the counter archery tag and spend every free day in September in the beautiful Colorado mountains close to a herd of elk.
Finally, my long awaited last year in Colorado arrived. I had included a close friend in my plans and we both applied for the best hunts we could with the five points we had accumulated. Needless to say, we were very pleased to receive our deer, elk, and antelope tags in the mail that June. I promised my buddy, Rob, the best hunting of our lives. Little did I know just how true my prediction would be!
The 2000 season began exactly like the previous four. After 5 years of saving preference points, we knew the best place for us to pursue our trophy bull elk was right where we had hunted the past 4 years. Even though this area didn't require any preference points to draw, we were intimately familiar with it and felt confident that we could find some good bulls.
So, once again I backpacked our elk camp 5 miles into the Colorado backcountry. We don't use horses because we can't really afford them. Besides, everyone I've ever seen using horses spends more time looking for them than they do riding them.
I could only hunt weekends until the last week of archery season and Rob would not be able to join camp until the last week. On the second weekend, we always move camp to follow the elk herds early fall gration. This would be the weekend it would all start.
The season had been hot and dry and I was seeing fewer elk than in previous years. The morning hunt was uneventful and I didn't see any fresh sign of elk. I decided to head back to camp early and get the dreaded move over with. On the way back I stopped at a familiar watering hole and began calling. Only a few minutes had past when I heard a twig snap. As I positioned for a shot, I saw the bull walking across the hillside. He was only 20 yards away and I was quite excited. I waited for him to come through an opening, but he had a different idea.
He turned and walked straight toward me until he was within 5 steps of me. I knew if I didn't draw, he would be gone, so I took a chance and drew. He immediately bolted!
Dejected, I returned to camp where another buddy and I broke camp and moved it about 2 miles. We setup in a new area that had looked good during past hunts.
The hot weather made the move difficult and we were exhausted when we finally got camp setup that afternoon. We decided to call it a weekend and get an early start home.
As we headed up the mountain, I noticed a large group of elk on the next ridge over. We watched them for a little while before going back to camp and getting back into our hunting gear. In no time we were within a 100 yards of the herd. We had been in that situation many times and knew the real work was just beginning. We split up and after several failed attempts to get within bow range we finally spooked the herd. As they headed over the hill, I knew what would happen if I gave chase. So, already exhausted from moving camp I headed back.
No sooner had I turned around than I saw a bull trotting down a point about 150 yards away. I could tell he was looking for the rest of the herd, so I called once on my cow call. He immediately stopped and looked in my direct. One more call was all it took to send him on a trot straight towards me. I drew my bow and waited, and when he stopped broadside at about 40 yards, I let the arrow fly.
I watched it fall right beneath him, but he never heard it! He began walking again, so I knocked another arrow and waited for him to stop. This time the arrow found its mark!
The 5x5 wouldn't be a trophy in a lot of peoples eye's, but I had hunted hard for my first bull elk and I will always consider him a trophy.
The rest of elk season went pretty much like past years—plenty of opportunities, but no elk. Rob did pass up a nice 5x5 on the last day of the hunt because it was a marginal shot.
Now, our attention would turn to antelope and mule deer. We had used our preference points to draw units that had overlapping seasons and were close to each other so that we could take a week of vacation and hunt both animals. We thought antelope would be easiest, so we agreed to start Saturday morning in our antelope unit. Our plan was to take the first decent antelope we found, and it didn't take long!
After hunting Antelope for 4 years with a bow, we found it relatively easy to stalk to within 300 yards. It took 5 years, but finally I broke in my 300 Weatherby Magnum on the longest shot of my life. Rob also broke in a new gun on his buck, and we were back home with our first antelope bucks in time for lunch.
All along our real focus was on our mule deer hunt. I had scouted and knew there were some real nice mule deer bucks waiting for us. Because of a problem with Rob's gun, we had to share my rifle the next morning. That didn't worry us too much, since we had hunted together so many years and worked well together. We decided I would get the first opportunity, and it didn't take much longer than my antelope hunt. We started the morning just watching and glassing an area I had found while scouting. Around 7 a.m. we saw a fork horn and a larger buck head into an area to bed down. By the time we got to where they were, all we could see was the fork horn. As I slipped to within 40 yards, he stood up and looked at me. I didn't know how big the other buck was, but I knew he was worth waiting for. For about 10 minutes, I picked apart every inch of the cover looking for him. Finally, he stood up. All I could see was his massive rack and the back of his neck. Even at 40 yards, I wasn't comfortable with the off-hand shot.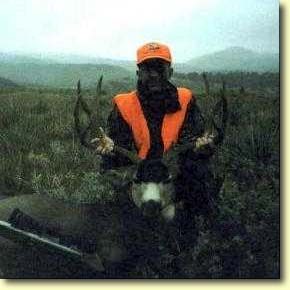 I stalked around to the other side of him where I could get a better shot. My 300 Weatherby once again did its job—this time at less than 50 yards. As we packed out our elk camp a couple weeks earlier, I had told Rob I wanted a mule deer with a rack as big as my elk, he had just laughed. When we both made it to my 5x5 (4x4 plus eye guards) muley, I reminded him of that comment. Again, he just laughed.
We would hunt hard the rest of the day, but with no luck. Then, about an hour before dark, I saw a nice muley with some does on top of the plateau. They were about 300 yards away and by the time I got Rob's attention, the buck had disappeared. We agreed that he was probably bedded on top of the plateau, so we climbed to the top and found him bedded in a little guley right where we thought he would be. All it took was a short stalk to get into a better shooting position and the 4x4 buck was his.
As we drove home that evening, we reflected on our season—our last season in Colorado. We had taken full advantage of our time in Colorado and its preference point system. Five trophy animals; two antelope and two mule deer in two days, and a hunting season that will be remembered for everything that went right. We did this all on our own and on a budget—no guide fees, no trespass fees, and the best thing about it is, we can do it again—anyone can! All it takes is a little planning. We applied for preference points again this year and are already planning a return trip to Colorado.
Written by Phil Callahan
Click-a-Pic ... Details & Bigger Photos
Click-a-Pic ... Details & Bigger Photos
Home | Hunting Forums | Photo Gallery | Hunting Articles | Videos

|


Hunts & Tags | Hunt Draw Odds | About Mule Deer | About Elk
Store | Classified Ads | Photo Tours | About this Site | Advertising

|


Older Content | Email Us | Privacy Policy | Links | Podcasts