"My Best Bull"
Written by Randy Bowler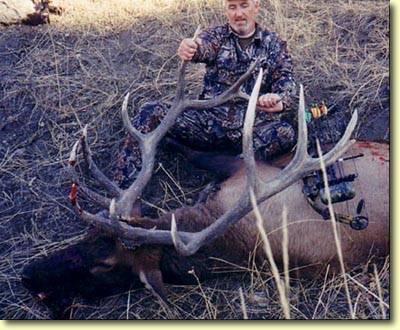 Randy's Bull Gross Scores 342 P&Y points.
My wife, Glenda, and I are avid bow hunters. We schedule our entire year around the month of September and the elk rut. I am a Disabled Veteran with very little to occupy my time the rest of the year. Come September, we pack up the tent-trailer, head for elk camp and you're not apt to see us again for 6 weeks, this year we spent 47 days out there!
Being disabled and not able to get around very well, time is my equalizer, allowing me a greater chance of success.
We began hunting on the 6th of September, opening day of the Montana archery season. In the early days we were seeing a lot of bulls, mostly bachelor bunches of 5 points and raghorns. Mid-September brought the cows, and the rut started kicking in.
My wife and I live for those early mornings when the bulls are bugling and more active. We had numerous close-encounters, almost on a daily basis, but given we had the whole season, we held out for a big bull. The 3rd day of the hunt I had a smallish 5x6 bull standing broadside at 28 yards. I was at full-draw and he never knew I was there, but I let him walk.
We chased elk everyday and saw many big bulls. I guess since we had the time and we love it so much, we were not going to kill just to fill a tag, it means way more to us than that.
On the 29th, all my planets lined up and the clover in my pocket was working its magic. The morning started out perfectly, cool and sunny, with a slight breeze. Glenda and I were sitting on a small ridge over-looking a drainage, just below a known bedding area. We set up a decoy and waited. After about 45 minutes of daylight, a 6x6 bull and 4 cows saw the decoy and headed our way. They turned and started down our left side so we dropped down 150 yards to cut them off. My wife was the shooter this time.
At the last minute, the elk turned again and went right up to the decoy and we were out of range, so goes elk hunting.
Thirty minutes later, another herd came toward us and this bull was big, a nice 7x6 I knew was over 300 P&Y points. This herd did just the opposite, they turned to our right. My wife and I decided that we were not going to make the same mistake again, so she stayed with the decoy and I dropped down the right side to try and cut them off. They were coming right at me, but turned up the next ridge just 100 yards short of me.
Luck was on my side in the form of an unruly 'hot' cow. She came right down in front of me and stopped. I ranged her with my rangefinder, so I knew the exact distance. The bull ran right up behind her. As he was preoccupied, I drew my bow and released a perfect double-lung shot. He only went 100 yards and died on the run. As he went down I heard a big "waaa,,,hooo!"
The bull has 50 inch main beams and green-scores 342 P&Y points, my largest bull to date. In the 10 years I have bow-hunted elk in Montana, I have shot eight 6x6 bulls and this 7x6. This is my 4th to be entered in the Pope & Young record book.
My wife failed to connect and came home with her tag. She had several good opportunities and passed on many. I'm proud of my wives ethics and self control, and I consider her hunt just as successful as mine. And, I'm so very grateful that she is willing to care for me and assist me, otherwise, my time in the field would not be possible. We are already eagerly awaiting next September.
Click-a-Pic ... Details & Bigger Photos
Click-a-Pic ... Details & Bigger Photos
Home | Hunting Forums | Photo Gallery | Hunting Articles | Videos

|


Hunts & Tags | Hunt Draw Odds | About Mule Deer | About Elk
Store | Classified Ads | Photo Tours | About this Site | Advertising

|


Older Content | Email Us | Privacy Policy | Links | Podcasts