"Hunting The San Carlos Apache Reservation"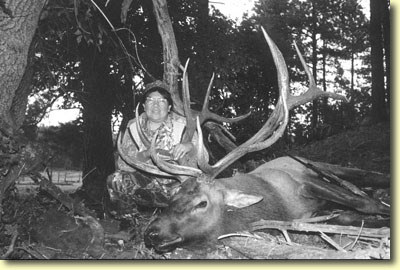 Victoria Joe shot this impressive 373-point bull elk during the tribal members'-only hunt on the Dry Lake unit. She downed the 6x8 early on the morning of Sept. 11 after stalking the bull with her husband, Bradley Joe. "We were stalking a larger one which had moved off into the woods with a group of cows when we heard this one; he was bugling with a distinctive and deep grunt. This one also had a group of about a dozen cows and he retreated into the woods, but we called him back out into the open and he came within 75 yards. Victoria shot him in the brisket, then got to within 25 yards for the shot that dropped him."
Photo courtesy of Bradley Joe.
San Carlos Apache land is unmatched for trophy hunting, fishing, camping & recreation. With seven bulls scoring higher than 400 points taken over the past five years, there's a growing awareness among trophy hunters of the high quality animals managed by this southern Arizona tribe. What hunters are not so certain of is how to obtain a permit. "What do tags cost?" "Do you have a lottery for elk permits?" "How do I apply for one of your hunts?" These are a few of the questions that are answered every week by Recreation & Wildlife Department Director Paul R. Nosie, Jr. and his staff of wildlife biologists, permit sales clerks, and game rangers. Mr. Nosie is a member of the Apache tribe and head of the department since 1995. Let's begin with a few short answers of prime interest to elk hunters; in this article we'll also try to answer a few broader questions about hunting on the reservation.
Q: "What do elk tags cost?"
A:
Non-Indians may hunt elk from various game units of the San Carlos Apache reservation at prices that start at $550 for antlerless elk, increase to $2,500 for Malay Gap region elk, and top out at $20,000 for the bow or firearm Fall seasons at the renowned Dry Lake and Hilltop herds. It's also worth mentioning that a pricing system adopted in 1998 levies trophy fees atop the $20,000 tags for record book bulls (375 B&C or higher). The money generated by the trophy tags is put into a special conservation fund that is dedicated to wildlife management activities, primarily habitat improvements. Because the money goes into this special fund, many hunters have been able to use it as a tax write-off.
Q: "Do you have a lottery for elk permits?"
A:
No, all six tags that are available for non-Indians to hunt the Hilltop and Dry Lake elk are sold to the first takers. First come, first served is the same approach to selling the other 53 elk tags available to non-Indians during fall and winter seasons on the San Carlos reservation.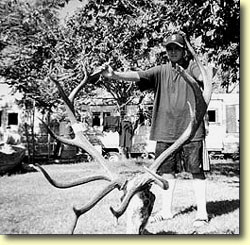 What a way to start the season! High School sophomore Harding Jesse Haozous, age 16, has hunted deer, turkey and javelina on his San Carlos Apache reservation homeland over the years. He bagged his first elk on Labor Day after opening weekend of the tribal members' trophy hunt from the Dry Lake Game Management Unit. Haozous shot this impressive bull elk with a scoped .270 at a range of about 30 yards in the vicinity of Turkey Creek. He was hunting with his dad Willard Haozous and his Uncle Sanford Cassa. This impressive 7x7 trophy was green scored at 382 & 2/8 points on the Boone & Crockett scale.
Photo courtesy of Willard Haozous.
Q: "Do I need an Arizona state hunting license to hunt on the reservation?"
A:
No, tribes within the United States are sovereign nations, and state licenses are not required for any hunts on Indian land. Waterfowl hunters must obtain the required federal duck stamp, however.
Q: "How do I apply for one of your hunts?"
A:
Contact the San Carlos Apache Recreation & Wildlife Department with a toll-free call to (888)275-2653 or else (888)475-2344. You may also call (520)475-2343/2653 or write to the department at PO Box 97, San Carlos, AZ, 85550. Licenses to hunt big game must be purchased directly from the department, either in person or through the mail.
Q: "Am I required to hire a tribal guide?"
A:
Yes and no; a tribal guide is required for the premier trophy hunts for elk, sheep and white-tailed deer. However, most of the hunts available - such as for turkey, bear or javelina - do not require a guide.
Q: "How can I learn more about what it is like to hunt on the reservation?"
A:
The Recreation and Wildlife Department provides lists of the names and phone numbers of sportsmen who have hunted here (broken down by species and hunt season and unit) and who are willing to talk to other hunters about their experiences on the reservation. Additionally, information is available regarding success rates and other data (such as number of animals seen per day, average number of days hunted, size of animals harvested) for all big game hunts.
Q: "With so many 400+ bulls harvested are there any left?"
A:
Absolutely. The Hilltop and Dry Lake elk herds are managed to produce several 400+ point bulls annually. Aerial surveys are flown each year to monitor the herds and several 400+ point bulls are generally seen during those surveys as well as during ground surveys. Hunting pressure is very limited and bull survival is high, which is key to producing huge bulls. The largest elk harvested at San Carlos tend to be older than 10 years of age, and biologists maintain high bull-to-cow ratios in the trophy herds, about 60-to-100. The department also conducts habitat improvement projects to maintain high quality habitat.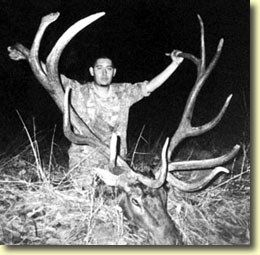 Ivan Stevens shot this impressive typical 6x7 bull elk while hunting in the Dry Lake Management unit on December 16, 1998. This was during the winter hunting season. The bull earned a gross green score of 397 6/8 points on the Boone & Crockett scale, but deductions from mismatched points and broken tines reduced the net score to 374 3/8. Nice trophy Ivan!
Q: "How long is your waiting list?"
A:
San Carlos hunters are not kept on waiting lists; tags are offered and sold during each hunting year. Regulations are set annually, and new commission orders usually are issued each January. Many reservation hunts sell out very quickly so it is best to contact the department as soon as you are interested in a hunt.
General Reservation Information
Hunter density is generally very low as compared to most state land hunts. Sportsmen who are looking for outdoor adventure will find it amidst the 1.8 million-acre San Carlos Apache reservation that straddles Gila, Graham and Pinal Counties in Arizona.
Most of the San Carlos Apache tribe's 10,500 members live in the communities of San Carlos and Bylas. Both communities are located close to Highway 70, one of the main East-West roads through Arizona. Most tribal services, government offices, businesses and homes are located in downtown San Carlos, but there are also a scattering of residential areas beside the paved roads. The community of San Carlos is about a two-hour drive from Phoenix and Tucson.
Except for a few Apache cowboys, foresters and firefighters, higher elevation areas are uninhabited. And the wilderness where elk hunting is prime is undisturbed by development other than logging and fire access roads.
Nearly 50 Apaches are certified by the Recreation & Wildlife Department to guide hunters, and lists of their names and addresses are available from the department's headquarters adjacent to Highway 70. Hiring a local guide is a requirement for trophy hunts in the Dry Lake and Hilltop game management units where the record class bulls live. Apache hunting guides have acquired a national reputation, too; so securing their services for your hunt is essential. Guides are a valuable resource, they know the habits and haunts of the big game.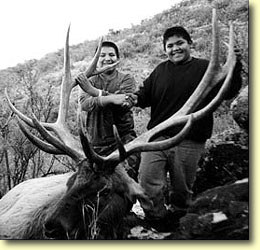 This photo shows a 1997 Dry Lake bull taken by hunter Kevin Goode (left) and his brother Eric Goode.
Another resource hunters should be aware of is the wildlife biology program within the Recreation & Wildlife Department. The tribe has funded a wildlife management division since 1988, and is now reaping the benefit of this investment through the high-quality trophy management program that is growing at San Carlos. Wildlife biologists use field observations, hunter check stations and questionnaires, and aerial surveys each year to closely monitor elk demographics. Using all this information they make recommendations about habitat improvements, harvest limits and bull-to-cow ratios. The department has a two-fold mission: while trying to develop trophy class hunting from the Hilltop and Dry Lake herds they also manage elk as a food resource for tribal members, in fact 470 elk tags were available to Apache tribal members during the fall and winter seasons of 1997. A five-member commission appointed by the Tribal Council sets hunting seasons, and these Apache commissioners also weigh the many decisions of policy and strategic planning for the department.
Staff at Recreation & Wildlife numbers nearly three dozen, with about 20 Game Rangers, two wildlife biologists, a habitat specialist, and the remainder serving as dispatchers and office support staff. The office is open daily, and is well worth a visit if for no other reason than to check out the taxidermy display of trophy game and fish and the "walls of fame" that showcase scores of photographs of hunters shown with their kills.
Trophy elk is not the only species available on the San Carlos Apache reservation to non-Indian hunters. There are also a handful of tags sold for pronghorn antelope ($2,500-$3,000), 120 permits for coues deer - whitetails - at prices from $500 to $3,000; 130 permits to hunt black bear at prices ranging from $400-$700; 100 tags for fall turkey at $100 each and another 250 tags for spring turkey at $200 each. Also popular - and unique to Arizona - are hunts for javelina. The Apaches sell 800 permits each year to "hunt pigs" with bows and rifles in January and February, at prices between $75-$175.
The tribe occasionally also offers one tag to hunt Rocky Mountain bighorn sheep or desert bighorn sheep. In recent years these tags have been auctioned, for $35,000 in the case of the Rocky Mountain bighorn taken from the Nantac Rim herd, and at $131,000 for the desert bighorn hunt approved by the Recreation & Wildlife Commission in 1997.
Predator hunters should be aware that one of the undiscovered treasurers of reservation hunting is the challenge of chasing lions. Mountain lions are large and also fairly common throughout the San Carlos reservation, and several of the Apache hunting guides have trained hounds to trail and tree the big cats. Lion hunts are inexpensive, too. Permits are available year-round at $10 per day to hunt lions with bows or firearms from game management units A, B, and C. You may also hunt them in Unit D (also known as the Mineral Strip, an area normally off limits to non-Apaches) but a tribal member guide is required in order to do so. In an effort to reduce the numbers of these predators, the Recreation & Wildlife Commission also recently approved a bonus lion tag which is free for the asking to any big game hunter, that is, with the exception of turkey hunters.
San Carlos Apache hunting guides Donavan Case and Bradley Joe are shown with the 8x9 bull elk that they helped New Jersey hunter, George Harms harvest during the 98-fall season. The trophy green scored 389 2/8 B&C. To inquire about guiding services contact Bradley Joe at (520) 475-2694/Cell 520-200-0819 or write to Associated Guides - P.O. Box 112 - San Carlos, AZ 85550. Photo courtesy of Bradley Joe.
If you need more convincing to plan a reservation hunt, consider that:
* The 1997 season saw a pending world record set with the 9-by-10 bull officially scoring a net of 487 Boone and Crockett points that was taken from the Dry Lake region. This was one of three 400-plus point bulls harvested that year; in fact seven Boone & Crockett record book elk have been taken over the past three years.
* Other trophies include a Pope & Young World Record coues whitetail deer, Arizona's #2 Desert and #3 Rocky Mountain bighorn sheep.
* Among the most massive largemouth bass - a 16-pounder - ever recorded from inland waters of Arizona was taken from San Carlos Lake in 1996. Also available are flathead catfish, black crappie and bluegill.
* A recreation permit costs just $7 per day. This allows holders to hike, camp, take photographs, mountain bike or pursue other activities on this undeveloped and spectacular country.
* Mountains, ponderosa pine forests, rivers, lakes, Sonoran desert, and a wide variety of habitats are found within the 2,933 square miles encompassed by the reservation's boundary lines.
* Tribal land is traversed by about 1,000 miles of roads, from paved highways to scenic dirt roads through remote mountainous regions. However, most roads are fairly primitive and 4 wheel-drive is recommended.
Written by Paul Wolterbeek
Click-a-Pic ... Details & Bigger Photos
Click-a-Pic ... Details & Bigger Photos
Home | Hunting Forums | Photo Gallery | Hunting Articles | Videos

|


Hunts & Tags | Hunt Draw Odds | About Mule Deer | About Elk
Store | Classified Ads | Photo Tours | About this Site | Advertising

|


Older Content | Email Us | Privacy Policy | Links | Podcasts