"Are Turkey Feathers Really Lucky?"
Written by Rick Ellsworth
Luke, my son, has been hunting with our family since before he could even walk, so the months after he drew his first Colorado buck tag until opening day must have seemed like a lifetime. Luke, his brother Jake and myself, Rick, had been out scouting a few days prior to season and had seen lots of bucks, but most were forks, small threes and a couple of medium four pointers. Our family lives near our hunting area, so we all knew that bigger bucks roamed the area, but we wondered if a 12 year old could hold out for a big one on his first deer hunt.
Opening day was unusually warm and dry for a late October hunt, but Luke, his mom Linda (who only had an elk tag) and I were still able to locate bucks - just not anything big. I have to give Luke credit for passing up a couple of the medium four pointers, especially with his mom saying, "I don't know, but I think you should take that one" each time one presented itself. I think it also had something to do with him finding a "lucky turkey feather" early in the day, or it could have been me telling him, "Don't worry, I think we'll find a bigger one". He just kept passing those lesser bucks up.
He kept his turkey feather in one of the shell loops on his rifle sling; I thought it looked kind of cool, and a little luck never hurts anyway. I've always thought that getting that shot at a big one is 20% skill and 80% luck. But as with most opening days, sunset came way too quick, so we went home worn out and never saw that "shooter" buck.
Just as it is anywhere in Colorado, you can always count on the weather to do one thing....and that is to change! The second day we woke to a blizzard and almost zero visibility. That had never stopped us before and it wasn't going to stop us on that day either. Luke was hunting with his mom and me again with plans of hooking up with the rest of the family and friends later to do some drives. It was about an hour after sunrise when the storm lifted just enough to see a little. I figured the deer would all stay bedded and the odds would be against us. The first deer we saw were two fork horns, then later a group of does.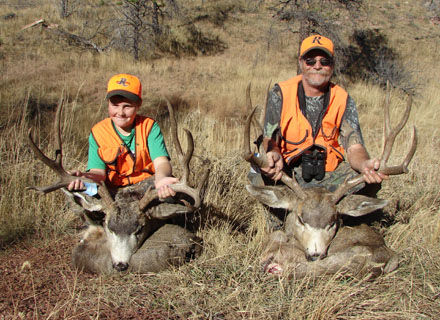 All the deer were up feeding, so our hopes were high that the big ones just might be out where we could find them. We decided to work our way up a steep canyon where Linda almost got a shot at a real nice buck the year before. We were about a quarter of the way up when she said that there was a nice buck bedded up the hill. He was about 150 yards away and it only took a quick glance for me to tell Luke that it was a shooter. I also had a buck tag, so that was Luke's first bit of luck that I was using binoculars instead of my scope to size up the buck, or this story would be about me instead.
Anyway, Luke didn't waste any time getting the crosshairs on the buck, but it was going to be a tough shot because all you could see was the head and neck. Linda and I had confidence in his abilities due to his practice and years of participation and competition in 4-H shooting sports. Plus he had already taken a nice buck antelope a few weeks before. As he squeezed off the shot with his Ruger M77 30.06 it was like time itself slowed down. Unfortunately, the shot went high due to shooting uphill (a mistake I still make myself). I'm not sure if it was the boom from the rifle or the thud from all three of our hearts dropping, but the buck jerked his head to look in our direction and it would only be seconds before he would bust out of there. Without any word from us and reacting like a true veteran hunter, Luke racked another round in aimed a little lower and let another one fly.
I don't know if was the feather or the weather that kept that buck in his bed as the first 150 grain bullet zipped by his head, but he made the mistake of letting this kid get a second shot. The sound had hardly hit my ears when we saw the big guy just roll over, never getting to his feet. As we all went up to check on the monster with Luke leading the way, I had to wonder just how much of this was truly luck. I do know that if you are out hunting and find a turkey feather, a cool-looking rock or yes, in my case, a shed antler, you might want to pick them up because you never know when you might need that little bit of Luck.
P.S. I shot a nice 27-inch-wide buck later in the season and he has never let me forget that his is 29 ½ inches, but then again I didn't find a lucky turkey feather.
Click-a-Pic ... Details & Bigger Photos
Click-a-Pic ... Details & Bigger Photos
Home | Hunting Forums | Photo Gallery | Hunting Articles | Videos

|


Hunts & Tags | Hunt Draw Odds | About Mule Deer | About Elk
Store | Classified Ads | Photo Tours | About this Site | Advertising

|


Older Content | Email Us | Privacy Policy | Links | Podcasts