Cutey and the Beast
Written by Bob Mancuso
My 13 year old daughter Tina was lucky enough to draw a coveted Idaho controlled bear tag in 2010. This hunt is spot and stalk only, no bait or dogs allowed. Approximately 500 applicants put in for 75 tags and she scored one. She surely has her mother's luck because her mom has drawn this tag twice and has scored nice bears both times. So having some knowledge of this unit, and knowing that bear numbers would be high, I set the bar pretty high for Tina's first controlled hunt tag.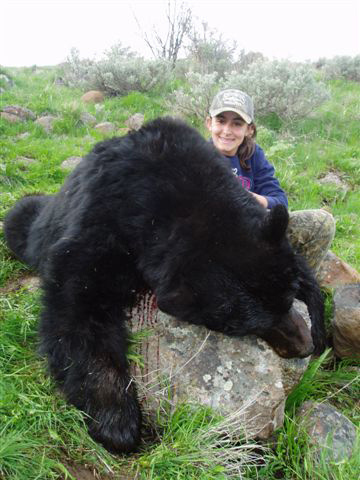 We live in the country and have a firing range set up in the back yard which reaches out to 600 meters. I have started both my kids off shooting and motorcycling at 4 years old. A structured shooting program based on safety and marksmanship has enabled Tina to hit the 400 meter target consistently from various shooting positions with her 7mm/08. I also printed black bear pictures off the internet offering different positions, angles, and sizes and had Tina work on vital hit placement with her 22. I even had her running to the shop and back to get her heart rate up to simulate climbing a hill and then take a shot. So by the end of March she was ready to reliably and comfortably take a shot at her bear.
We took a few family scouting trips to her area prior to the opener to keep an eye on snow levels and to get out and enjoy spring in Idaho. April 1st couldn't come quick enough, and with it came a weather front that dumped new snow in the hills. By the time it melted, school spring break was over so we were hunting weekends only.
The first trip out Tina and I saw seven different bears with one being a good shooter except he was 550 meters away, too far for the little 140gr hand loads, so we passed him up.
My brother, John, flew in the next weekend to help his niece find a bear and pack out the meat. Her 10 year old brother, RJ, who harvested his first turkey a few weeks before, would be along as well. So with a fully stocked camper and glassing and packing help in tow we headed out. We set up camp and quickly rode to the bear hills. Uncle John immediately spots a black phased medium size bear which we quickly decide will live another summer.
The next day, I spot a big black dot on the onion patch across a canyon and up a draw about a mile away. After inspecting him thru the spotting scope, I verified that boar was a shooter. Big head, short legs, and the typical "I own this onion patch" lumbering walk tells me this dude is king of the hill. After a quick wind check, we formulate an approach plan and hauled butt down the hill while John and RJ watched thru the spotting scope. About 45 minutes later, we caught up with Mr. Big as he was grazing in the middle of the onion field. As we set up for the shot, a bull elk spooks out the bottom and moves the bear further up the hill. Luckily, the elk didn't seem to bother him too much and he got back to feeding quickly. We repositioned across the draw from the bear 200 meters away and after Tina settled down, she was ready to shoot. As if on cue, the bear turned broad side and picks his head up. Recognizing a "trophy shot" opportunity, Tina let one fly for a perfect double lung hit. The bear ran down hill and as he did she fired again for another hit, anchoring him for good. John saw the whole show thru the scope. He watched us get into position, recognized the bear hunch up as a hit, and then heard the shot ring out across the canyon. He saw the bear drop and quickly brought the packs and RJ up the hill.
I knew he was big, but when we got up to him his size really impressed me. What a toad! I have killed big bears before, but this guy is the biggest I have ever seen on the ground. Tina struggled to lift the head, his neck was so big. His coat was perfect, no rubs or scars. I had a hard time moving him onto a photo rock, but got him just rite as John and RJ came up for high fives and hugs. With pics out of the way, we caped and boned him out and packed him down the hill. I'm glad John was there to help as the head and cape was at least 100 lbs alone. It was dark by the time we reached the last hill, so we climbed it under flashlight which was a great experience for the kids. The next morning we revisited the kill site to clean up and pack out the last of the meat. By the way, spring bear is some of the best wild game meat to be had, and we had a lot of it.
Tina was lucky to draw this tag and lucky again to harvest such a big bear. Because it was Tina's first big game harvest and he was king of the hill for so long, I need to honor this old brute with a wall mount.
Thanks to Uncle John and RJ for the entertainment, glassing, and packing!
Click-a-Pic ... Details & Bigger Photos
Click-a-Pic ... Details & Bigger Photos
Home | Hunting Forums | Photo Gallery | Hunting Articles | Videos

|


Hunts & Tags | Hunt Draw Odds | About Mule Deer | About Elk
Store | Classified Ads | Photo Tours | About this Site | Advertising

|


Older Content | Email Us | Privacy Policy | Links | Podcasts