Living Among Them:
In a Colorado Wilderness
Written by Roy E. Grace
I couldn't believe how energized I felt as we crested the last alpine ridge before descending into the remote wilderness bowl; a place we would call home for the next ten to twelve days. All the months I spent running and preparing for this type of backpack hunt was paying dividends, as fatigue was not a factor after the multi-mile hike in.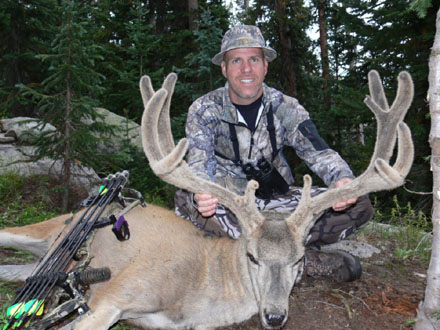 Roy's Fine Muley
Who knows, maybe I really was tired but was unable to feel it, as my senses were overcome with by an uncontrollable desire to glass? After all, we were in the area where trees gave away to open tundra like terrain with occasional stunted spruce trees and the sounds of alarmed picas barked in their sheltered rockslides.
This day began shortly after daybreak that morning when Fred, Wally and I left the truck at trailhead and started our long trek into backcountry with nothing more than our frame packs and our bows and arrows.
I have grown accustomed to this type of adventure over the last few years in Colorado. There's just something magical about this time of year above timberline at elevations more suitable for mountain goats than mule deer. Since we were after the latter, we quickly unloaded our packs and made our camps in a small alpine spruce thicket near the edge of a large open bowl. Once camp was made and water filtered for the week to come, we grabbed our spotting scopes and binoculars and took a short hike to a nearby vantage point to glass. With thunderstorms looming and a cool brisk breeze blowing, I was already having the time of my life!
Almost immediately, Wally spotted a very nice 180" class 4x4 bedded underneath a cliff about 800 yards off on an extremely steep hillside. He had three other bucks with him, but he was, by far, the best out of all of them. He had unusually deep back forks, thus the nickname "Backs". That first evening we saw at least ten P&Y class bucks, along with numerous other smaller bucks and does. But we knew we'd have to keep an eye on all of them until the season opened two days later.
The next two days seemed to mirror each other, as we would spot the same group of bucks in the morning and evening. What we couldn't duplicate was locating the large buck ("Backs") from the cliffs, as he seemed to have vanished. We did, however, spot a fairly wide and heavy 5x4 that appeared to be an older age class buck that was regressing a bit. He was feeding about 300 yards above camp the evening before opening day. We decided to call him "Mr. Mass". With a little luck, maybe one of us would spot him in the morning.
It's a different type of hunting camp in the wilderness when you're "living right among them". The constant whispering, no loud noises, and no camp fires rule may be boring to some, but I've come to learn if you want to be successful, remaining undetected is a definite plus. We literally had bucks come through camp as we covertly ate our morning entrée of oatmeal and instant coffee. Something I'm sure would change the moment we spoke in a normal tone or sat around a campfire at night. Those were privileges that would have to be earned. I usually try and camp a bowl or two away, but this particular drainage didn't offer that, making us change our behavior traits a bit.
Opening day found all three of us on our vantage point spotting deer. We had several bucks spotted, including a few 155" type bucks fairly close to camp, but we decided to look for something a little bit better this early on. I left Wally and Fred and went to the far side of the bowl as they stayed put. Shortly after I left, a group of bucks came by them at 40 yards, including a nice 165" type buck that never offered them an ethical shot opportunity. I had a few close encounters, but nothing panned out that morning.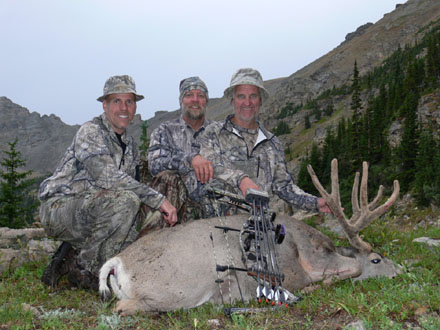 Wally's Fine Muley
As the morning grew into mid-day, we decided to have some lunch at camp and glass from there while we formulated a game plan for the evening hunt. After a tasty freeze dried meal, Wally and Fred decided to sit on the edge of a small drainage next to the tree line where we had seen bucks come out of in the late afternoon. I decided to hike to our vantage point about 200 yards from camp and try and locate a buck I could stalk. About 60 yards out of camp, I happened to look directly below camp and saw "Mr. Mass" bedded not 150 yards down the ridge from camp. I'm convinced that living among the deer and remaining quiet throughout the day allowed this buck to feel comfortable and bed so close to our camp.
Since I was out in the open, I laid flat on the ground and glassed the buck for a while to ensure he didn't see me. I was in a bad spot, so I began to crawl back towards camp to get out of his line of sight and to get the wind in my face. Once I was out of the buck's sight, the stalk was on. As I closed the distance to about 75 yards, I took off my boots and pack and crept in closer. The shadows were getting longer as I peeked over the small ridge directly above where he was bedded. To my surprise, he was gone.
Knowing there was only an hour before dark and the wind was strong in my face; I felt the buck was close by and probably feeding. I crept on, glassing everywhere in front of me every two or three steps. Finally, I saw half of a rack and body protruding out the side of a tree just above tree line and directly below me. After verifying the buck was "Mr. Mass", I crept in even closer, as his head was totally obstructed by the tree.
At 40 yards, several picas were ringing their natural high altitude alarms above me. The ol' buck knew something was amiss, as he stood and stared looking in their direction. I came to full draw and settled the pin on the quartering away buck. At the shot, I could tell I hit him a bit further back than I would have liked. He took off on a full run and ended up going right by Wally at mach 2 speed. Wally met up with me and showed me where he last saw him. As we were looking, I could see the buck slowly walking off through a small opening of the timber. We decided to leave him alone for a bit and give him time to bed down.
After locating my arrow, I could tell I had hit the buck in the liver. A lethal hit, but usually takes about an hour to be fatal. With only about 30 minutes before it grew dark, I decided to leave the buck overnight and take up the trail alone the next morning, as I didn't want to push this deer further down the canyon and lose any potential blood trail. It was a long night in my one-man tent, as I replayed that shot over and over through my head. My wristwatch alarm clock brought me out of my dreams and back to reality.
After a wonderful breakfast of oatmeal, Wally and Fred went the vantage point to spot, as I headed down below camp to the last place I saw the wounded buck. If they didn't get onto anything, they would meet me back where we last saw my wounded buck. As I got to the small opening I last saw the buck move through the evening before, I searched the forest floor for any sign of blood. I found none. Panic began to sit in. All I could follow was his enormous track as it meandered downward through the timber.
About 60 yards later, I found him piled up and from the rigor present; he had been dead most of the night…..probably an hour after I last saw him. The decision to leave him overnight was definitely the right one in this case. After a short prayer, I punched the tag and began to take care of the buck. Although it wasn't a long distance from camp, I had about 1000' of elevation gain to get back.
The buck was definitely not my biggest, but by far one of the most unique. He was 29.5" wide, had 4" eye-guards (G1's), about 20" of mass per side, but short tine length. What he did have though was two dime sized ear tags with numbers on them from the Colorado Division of Wildlife. Of all the deer I've taken over the years, it seems I'd taken one that had been captured by wildlife officials for testing purposes. I was hoping after my hunt, that I could find out some info on the buck.
After de-boning the carcass and caping him out, Fred and Wally soon arrived and helped with the load back to camp. With the cool daytime temperatures in the 50's, I decided to hang the meat in the shade and wait to pack it out until someone else was successful. I didn't have to wait long.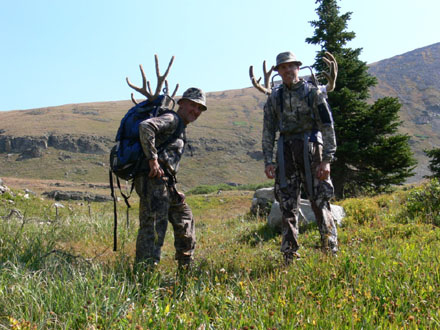 The Pack Out
On Sunday evening, Fred, Wally and I hiked out to the edge of the bowl and looked towards the cliffs. The everyday afternoon thunderstorms were present once again, as rain pelted us while we waited for it to clear. Just as it began to clear, Wally spotted four bucks on a steep hillside no more than 300 yards away. Two of them were P&Y caliber bucks; one had massive mis-matched points and the other a beautiful symmetrical but narrow 4x4. Wally marked their spot and planned his route as Fred and I decided to hunker underneath a tree to watch the show.
About 30 minutes later, the rain had stopped as Wally was closing in on the unsuspecting deer. As he peered over a small ledge directly above them, I could tell the bucks were suddenly alert. Both P&Y caliber bucks were looking up his way; I just couldn't tell if he could see either of them. Seconds later, they trotted off about 10 yards and stopped as Wally came to full draw. One arrow through the narrow 4x4's chest was all it took as Fred and I watched the buck go down 100 yards below where he had just stood.
Fred, Wally and I made quick work of his deer and shared the load again to get the meat and antlers back to camp before dark. The next morning, Wally and I took all our meat, capes, and antlers out to trailhead to get processed. Fred stayed in the high-country, trying to locate the big buck we saw before the season started.
After taking care of the meat and velvet antlers in a nearby town, we spent the night in a motel and had a real meal for a change and a much needed shower. The next morning, we were on our way back into the wilderness to help Fred fill his tag. We arrived in camp about mid-day and planned our afternoon hunt.
We all went back to the vantage point and began glassing the steep cliffs on the hillside again. Just before dark, Wally spotted "Backs" feeding on a steep cliff. As I looked at the buck, I caught a little movement to the right and immediately cranked up the power on the spotting scope. I couldn't believe my eyes, as I was now peering at a new buck that was an absolute giant B&C caliber typical.
Wally and I could only watch as Fred admired these two bucks and planned his stalk for the next day. All we had to do was spot the bucks in the morning, as there was not enough light left that evening for a stalk.
The next morning we were glassing once again from our perch trying to stay warm in the early morning freezing temperatures. It's funny how relaxing one is yet still excited when you no longer have a tag and you can truly soak in the high country and all it has to offer.
About an hour after sun-up I spotted "Backs" high up on the steep hillside bedded. The big typical "BT" was nowhere to be found, so Fred decided to try for "Backs". Fred began his stalk as Wally and I sat there with a front row seat. About 3 hours later, Fred was within 100 yards of the buck who had now been joined by three other smaller bucks. As Fred inched closer, one of the smaller bucks stood, obviously catching his movement on the open hillside above them. As Fred came to full draw, "Backs" stood up and looked around. At the release of the arrow, we weren't sure if Fred had connected, as the buck ran straight up hill. We later learned that he had shot just underneath the buck, which bounded up and out of the bowl.
Fred had a few other close encounters and even passed a legitimate 40-yard broadside shot at a 155" caliber buck with the hopes of having another chance at "Backs" or "BT". After 10 days in the wilderness, it just never happened again for him. The price you pay sometimes when hunting a specific deer. I don't think Fred would change anything, except for maybe adding a few yards on his one and only shot of the week.
As we all packed out our camp for the long hike back to trailhead, we couldn't have really asked for a better trip; a new area, plenty of quality deer, and memories to last a lifetime. As we closed the distance to the truck, I was already looking forward to my next wilderness adventure. It's truly a wild and free way to chase mule deer with a bow and arrow in country that few venture into. There really is nothing like "living among them"!
Side Note:
After returning home, I received information from CDOW about my buck. He was captured on the winter range 5 years ago and tested for CWD. After testing the buck, he was aged and reported to be four years old at the time, putting him at nine years old at the time I took him. He was definitely an old mature buck, which explains his mass, width, but short tine length. In reality, a perfect age class buck to arrow and in country that, historically, can be very harsh on mule deer.
Click-a-Pic ... Details & Bigger Photos
Click-a-Pic ... Details & Bigger Photos
Home | Hunting Forums | Photo Gallery | Hunting Articles | Videos

|


Hunts & Tags | Hunt Draw Odds | About Mule Deer | About Elk
Store | Classified Ads | Photo Tours | About this Site | Advertising

|


Older Content | Email Us | Privacy Policy | Links | Podcasts