"Two BIG Utah Bulls"
Written by Ryan Carter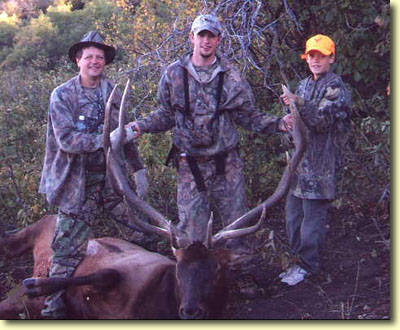 Pictured: Ryan's Dad (Paul), Ryan, and Kevin
Living in central Utah, I feel very lucky to reside next to some of the most beautiful elk habitat in the world. In a short five-minute drive I can spot record class bulls any time of the year. This has led me to watching the local elk year round. Winter and springtime, I am consumed with collecting sheds, summer is a constant search for familiar bulls, and fall time is for hunting. Unfortunately, it's next to impossible to draw an Any Bull tag.
When April came around, and my letter from the fish and game came in the mail, I halfheartedly opened it expecting to see my eleventh unsuccessful draw. To my surprise, I had drawn a limited entry elk tag for the unit right behind my home.
Through July and August I spent every spare moment exploring new country, and looking for large bulls. I would score them to the best of my ability and continue checking in on them almost daily. Some of the bulls were familiar to me, but I seemed to find new bulls every time I went out. I contacted a lot of people who had hunted the unit before and took careful notes on where they were successful and where they had seen the biggest bulls. I almost memorized my topo maps.
The bow hunt was set to begin on the 21st of August and I wouldn't be able to make it because I scheduled all of my time off during the rifle hunt. However, I did manage to glass the mountain that morning. I had located two monster bulls in one particular area that was hard to find bulls due to the lack of good vantagepoints. One was an 8x8 that I thought would score around 380 inches. The other was a 7x6 that I thought would score in the 370 area. Both bulls were together for most of the summer, but when they had shed their velvet they split up. I thought that I had the bulls mostly to myself due to the fact that I had never seen anyone else watching them. There were two trails that they both used throughout the summer to get from their water holes to their bedding areas. Had I had the time off work, my plan would have been to set up on one of these trails. It just worked out that opening morning one of the bulls was working one trail and the other bull was working the other trail. Just my luck!
I work graveyards and Friday morning I still didn't get off early enough to get on the mountain, but stopped to glass. I didn't see either bull and decided to hike in and find their watering holes and hang a tree stand. That night my dad and I were glassing from my spot when another hunter pulled up to glass as well.
It was Kurtis Hogan and his dad, Mark. Kurtis was another hunter that drew the same tag as I did. He was also a bow hunter that (as far as I knew) was the only other hunter trying for his bull with a bow. Kurtis and I were friends growing up, but I hadn't seen him in at least ten years. His dad used to be a guide and was well educated in the pursuit of big bulls.
So, there I was watching the place I didn't want anyone near, when they pulled up. I was mad at first, but it turned out to be the best thing that could have happened. As we started talking we realized that we had been watching a lot of the same bulls. Kurtis invited me to go with him the next day so we exchanged phone numbers and went home at dark.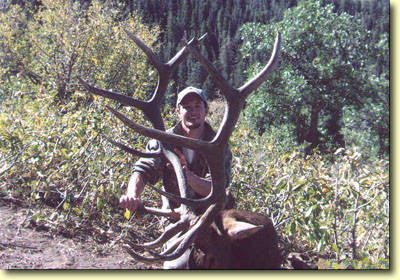 Ryan with his 368 7/8 gross bull
We hunted for eleven days together throughout the next two weeks. Neither of us had shot an arrow due to our stalks being spoiled or the bulls just weren't big enough. Knowing that we had a chance to hunt with our rifles allowed us to be a little picky throughout the bowhunt. Kurtis found a 7x10 that he thought would score over 400 inches, he got within 73 yards, but waited for a more lethal shot and lost the bull. At one point, another hunter had gotten lost on the mountain where the 8x8 and 6x7 were hanging out. There were tons of people on the mountain with a helicopter flying around. The lost hunter walked out the next day without a scratch on him, but that was the last day I saw the big bulls during the bowhunt.
Friday the 12th, was the last day of the bow hunt, then the rifle hunt began. Kurtis invited me to go out to where he had patterned a 380 bull hanging out with a 360 bull, but I declined, knowing it would be too hard to set up for 2 shooters right at first light. Instead, I wanted to go back out on a trail where we had stayed during Labor Day. It was a very secluded area that was four miles down an eight-mile trail. In this area, we had never found any record book bulls, but a good half dozen or so that would score in the 350 to 360 class.
My good friend, Scott Bergera, and I left at 2 o'clock down the trailhead. When we got to my lookout, I spotted a nice 340-class bull coming out of a wallow in the bottom. He was bugling back and forth with another bull that we couldn't see. Soon the other bull materialized, but was no bull at all. It was some hunters on horseback bugling with the bull. I was foolishly hoping to have the place to myself. After watching them until dark, we set up camp and started dinner. My Dad and brother Kevin made it in to camp about a half an hour after dark.
The bugling bulls kept us up all night long. At one point we had one bull screaming within yards of the tent. As light hit we decided to stay near camp and see what kept us up all night. There were two small 6-point bulls in a saddle below camp and some smaller bulls down on a ridge where Kurtis and I had seen a 360 bull two weeks earlier. We decided to slip into the canyon west of us where I had heard a large bull during archery season. On our way down we saw a few decent bulls, but nothing to go after. Then we spent an hour trying to look into some pines on two big bulls that were fighting over some cows. The one bull was a large bull that I thought I recognized from Labor Day weekend. When we realized that they were headed in the opposite direction, we left and headed back to camp.
That night I sent my Dad and Kevin on the ridge that went west from camp, from there they would be able to watch a big saddle that went all the way to the bottom of the mountain. That way, if one of the two bulls we were trying to see that morning came out on top, they would see him. Scott stayed to watch over the canyon north of camp and I went to the bottom thinking that is the direction that elk go in the evenings. It is a good mile and a half from camp so I left immediately. My dad was on the radio saying that there was a lot of elk calling from the pines we were watching that morning. When I reached the bottom, I sat down and called in three different smaller 6 points, but the big fella and his cows were nowhere to be seen. As it started to get dark I got up to leave and noticed that my radio had shut off. I turned it on and asked if anyone was seeing anything.
Scott said, "You're about to miss the chance of a lifetime."
The big bull and his cows from that morning had come up on top over a half an hour ago and Dad, Scott, and Kevin were on the upper ridge watching him. I looked up to the towering ridge above me and felt total hopelessness. I only had another 20 minutes before dark and the big bull was over a mile away. I asked Scott the next important question. "How big is he?"
Scott thought the bull looked to be in the upper 350's and that was all it took. I was off on a dead run straight up hill. My gear weighed me down considerably, but I knew the opportunity was there. As I stopped to take a breather, I told my Dad to meet me in the saddle below camp to take some of my gear and guide me which direction to go from there. When I reached the saddle I looked to the west to see the sun setting. I didn't have much time. Dad said that the bull was fighting another bull just 200 yards down. With the wind at our backs, I felt very pessimistic, but since they were fighting I thought that I had a chance. As I moved closer, I could hear the crash of their antlers and a lot of grunting and snorting. The cows sounded to be off to the bulls right by about 50 yards and I could tell that they were moving off. More than likely, the cows could smell me coming. I knew the bigger of the bulls would not be far behind them.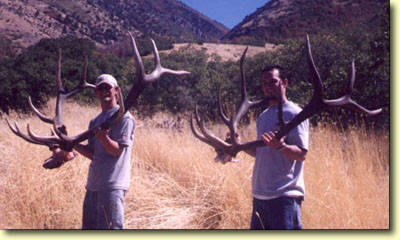 Ryan and Kurtis with their Utah bulls
Within a few minutes, the sparring had quit and I soon heard the small bull bugle off to my left. Almost before he ended his rebuke the bigger bull called back. I took my cue and let my call scream and the smaller of the two bulls came running at me. He stopped just ten feet away then turned to run, but I called again which made him stop and stare. Just then the bigger bull called and I could hear him glunking on the other side of some brush in front of me.
I slowly slipped around the brush to see him standing next to a cow less than 30 feet away. He was staring at me with his rack highlighted by what was left of the setting sun. At first glance I wasn't that impressed. His tines were so inline with his main beams that I thought I had made the big hike for nothing. But when he turned broadside I saw the length of all his tines I knew he was the bull I was after. I put the crosshairs on him and gently squeezed the trigger. The gun roared but the bull just stood there looking my direction. As I kicked in another round the bull turned 180 degrees and tipped to his side. The cow left and he was down less than 25 feet away. I turned around to see my dad standing right behind me. He dropped everything and ran over to give me a hug. It was the most nerve-racking moment in my life. After we dug out the flashlights, we went to where he was lying. His left antler was buried in the dirt and brush, but just looking at the right side made the nerves flush right out of me.
From there I called Kurtis. His bull was shot out from underneath him and he had a hard day with lots of hunters in all of his favorite spots. I told him about my bull and he was happy that one of us had success. Next I called Dave Marvin to see if he could come bail me out with the horses. Dave's an old friend from high school and had scouted with me a couple times through the summer. He enthusiastically obliged and said he would be there at first light.
That night, sleep came easy with a month of hard hunting behind me. Not even the rutting bulls could keep me awake. The next morning when we crawled out of the tent, (way after first light) we watched 2 smaller bulls fighting over 6 cows right below camp. Just as the fighting was beginning to cease, here came a rider and 3 horses over the saddle and into the middle of the herd. As the elk scattered I saw that it was Dave and I was sure glad to see him.
We spent the rest of the morning taking pictures and doing the breakdown. I was somewhat disappointed that it was over and felt overwhelmed leaving that morning. That Friday, Kurtis killed his bull at dark. He had called in his bull to within forty yards. Both of us had killed our bulls within bow range, but with our rifles. His bull was a monster with a lot of character. The bull has big G3's that lay out, and a five-inch devil tine on his left G1, his beams had tons of mass. I met him at the trailhead Saturday morning to take some pictures of our bulls together. After a good look, I recognized the bull and realized that I had the sheds off his bull from a few years back. But by far the most amazing outcome of our hunt is that our bulls initial green score grossed exactly the same, 368 7/8ths B&C.
Click-a-Pic ... Details & Bigger Photos
Click-a-Pic ... Details & Bigger Photos
Home | Hunting Forums | Photo Gallery | Hunting Articles | Videos

|


Hunts & Tags | Hunt Draw Odds | About Mule Deer | About Elk
Store | Classified Ads | Photo Tours | About this Site | Advertising

|


Older Content | Email Us | Privacy Policy | Links | Podcasts