"The Hart Mountain Trophy"
Written by Brian Latturner, as told by Scott Larson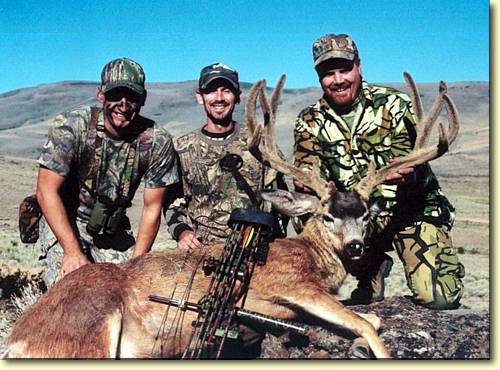 Scott's buck is 29-3/4" wide and green scores 190-6/8".
When Scott Larson, Rafe Natho, and Kirk Natho learned that they had drawn archery deer tags for Hart Mountain, located in central Oregon, for the second time in five years, they were more than just excited. Though they had no luck on the previous hunt five years earlier, they knew there were some great bucks in the area and were determined to find and harvest a trophy.
Early on opening morning, Scott and Rafe spotted a bruiser of a buck about 700 yards out. They devised a plan and then Rafe set out. As Rafe stalked the buck, Scott continued watching and giving Rafe hand signals, guiding him closer to the wise ole' muley. Rafe was able to close the gap between himself and the unsuspecting buck to 70 yards, but then the bucks defenses kicked in. The buck caught wind of the hunter and spooked.
Throughout opening day, they continued seeing lots of deer. Nearly two dozen bucks in that one small area alone! It was going to be a great hunt!
Day two found Scott and Rafe hunting the same area where the big bruiser had been seen the previous day. To their surprise, they spotted him again. He was about 1000 yards away and traveling with approximately 15 other deer. They patiently waited and watched the feeding deer, hoping they would bed in a location that would give them a chance for a stalk. But before the deer were able to lay down, Rafe's brother, Kirk, accidentally spooked them as he hunted through some nearby rim rock.
The deer began moving up through the rim rock, planning to escape over the top and into the next canyon. However, before reaching the ridge, something turned them back. They began moving around the hillside, then disappeared from Scott and Rafe's view.
Scott and Rafe decided to try and catch up to the deer. They were sure that the deer would bed soon. Scott was going to first catch up to Kirk and let him know what the plan was, but before doing so, he spotted the group of deer again. They were coming back around the ridge, and in a hurry. They were headed towards a huge flat at a dead run. Scott quickly spotted a little valley and had a gut feeling that the deer would pass through. So, he hightailed over there and setup in a small clump of sage.
He was judging yardages in each direction when suddenly, to his left, appeared a doe and a small buck coming from a small break in the rim rock. At first he thought he had gone too far and that all the deer would pass by just out of range, but good luck was with Scott that day and the buck appeared and was within bow range. He slowly drew his Proline bow launching a Muzzy tipped, 2219 xx78 arrow. He placed his 50 yard pin just behind the bucks shoulder and let it rip.
The buck dropped right there as the arrow actually hit a little high, breaking the spin.
Soon, Rafe, Kirk, and Scott were all standing over the trophy buck hooping and hollering. Three other hunters also came down to look at the big buck that they too were trying to harvest. In fact, they were the ones who had spooked the bucks back towards Scott, giving him the opportunity of a lifetime.
The 29 3/4 inches wide, 4x4 buck green scores 190 6/8", making it one of the finest archery bucks ever taken in the state of Oregon, or for that matter, anywhere!
Click-a-Pic ... Details & Bigger Photos
Click-a-Pic ... Details & Bigger Photos
Home | Hunting Forums | Photo Gallery | Hunting Articles | Videos

|


Hunts & Tags | Hunt Draw Odds | About Mule Deer | About Elk
Store | Classified Ads | Photo Tours | About this Site | Advertising

|


Older Content | Email Us | Privacy Policy | Links | Podcasts