"Tumble Bull"
Written by Steve Slagle
As we trudged along up the steep snow covered slope, thoughts were churning in my head. I couldn't help thinking about how many days I have spent over the years in pursuit of a really big trophy elk. Let's see, 25 years of hunting, probably drawing a tag half of those years and spending at least four days on each hunt equates to 50 days or 550 daylight hours of hunting. Granted, I have taken some decent bulls in that time, but nothing deserving of being on my wall.
I looked ahead at Frank as he peaked over the ridge and suddenly dropped to the ground making a downward motion with his hand. I instinctively knew I needed to get my rifle out of the scabbard as quickly as possible. I accomplished this rather quickly as we were leading our mounts up the steep slope, but Frank's downward motion had me confused. As I stood there not knowing what to do, Frank whispered, "Just drop the lead rope and get up here, fast!"
I scrambled up next to him peeking over the top as I was chambering a round in my 300. My first view was of a leafless tree. Wait a minute, it's moving. As I write this I can, and hopefully always will be able to close my eyes and remember the sight of the bull's huge fighting tines sticking in the air. The bull was with five or six cows. They were getting antsy and knew we were there, but did not know what we were. We later concluded they had probably seen Frank's horse and thought it was another elk. The bull was quartering away to the left, and I was tempted to shoot it high in the rear raking his spine at that angle. One big step and he would disappear down the ridge and be gone forever. I mentioned this to Frank and he hissed that the shot was too iffy and we should just wait. Like clockwork after five seconds or so, the bull turned to the right and offered an excellent broadside shot. There was one little tree covering his backside and one tiny branch protruded past his chest. My sight through the scope was good with a solid rest. I thought to myself, there is no way I am going to hit that little tiny branch from here with all of the open space around it.
I had drawn a late season elk tag in a coveted area just forty miles west of my home in Thermopolis, Wyoming. As a graduation gift for completing Graduate Banking School the previous spring, my dad arranged for me to hunt with our mutual friend, Frank Robbins of the HD Ranch. I have hunted both elk and mountain lion with Frank before, and knew he had some of the best elk habitat in Wyoming, maybe even the nation.
On a beautifully crisp fall day I met up with Frank at his house, and was introduced to two other hunters that would be sharing camp. Steve and Chad McDonald from Wisconsin were a father and son team who had hunted with Frank a couple of years before. Steve owns a large insurance firm, and Chad owns a company that develops and sells remote triggered cameras that send pictures out on the internet so they can be retrieved instantaneously from e-mail, kind of a cool idea. After checking the zero of our rifles, we headed out to camp.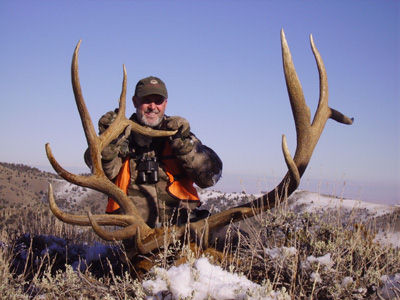 Our camp consisted of a cabin and several buildings that once belonged to a silent western film star named Tim McCoy back in the thirties. The cabin has been renovated and is extremely comfortable. It is situated in a well protected valley with surrounding mountains on all sides and a stream that flows through camp, even though it was frozen at this time of year. Frank's lovely wife Karen was in camp to prepare meals and add some class to the place. This is a first class hunting operation and every detail is well thought out in advance.
I would be hunting with Frank the following day, while the Wisconsin boys would hunt a different drainage with Josh Longwell, Frank and Karen's son-in-law. Having hunted here before, we were all excited about the prospect of getting into some big bulls. That night around the fireplace we had a very good discussion about past hunts, and it occurred to me that I had never been on an easy elk hunt. Due to the terrain and habits of free ranging elk, any hunt is a hell of a hard hunt and usually a true test of perserverance. I had been fighting a stomach bug that was going around town and I found out the next day that Frank was kind of under the weather too. But this did little to dampen my anticipation of the following day. My excitement, combined with the tremendously loud snoring from Steve in the next bunk made for very little sleep that night. Steve would get into a regular rhythmic pattern and I would just be on the verge of sleep when all of a sudden he would let out a high pitch ripper that would startle me back awake. I couldn't help but remember an old TV commercial about an old west gunfighter that said, "He was so mean he once shot a man for snoring."
Opening day started early, very early. The sun would not make an appearance for a couple more hours, and I was extremely happy to be rolling out of a sleeping bag inside a warm cabin as opposed to a cold tent because it was 5 degrees outside. After a huge breakfast and gear sorting session, we saddled the horses and took off. Frank and I heading Northeast while Steve, Chad and Josh went Northwest. The early morning chill combined with the clacking of the horse's hooves on frozen ground brought back a flood of memories from past hunts. I couldn't help but think how absurd life seems. We work so hard all year long just so we can enjoy true pleasures such as this for a few fleeting moments in the Fall, if we are lucky.
The going was fairly easy in the south facing slopes, but in the protected areas Frank's mule's hooves kept balling up with ice and he would start to stumble. This required some chipping with a dull instrument periodically until the ground warmed a bit. Interestingly, the horse I was riding did not experience this problem. Most likely due to the fact that his hooves were much bigger in diameter. The spot we were hunting is an elk wintering area. As the hours passed, we glassed huge basin after huge basin. It became apparent the big numbers of elk we expected to see were not there. As a matter of fact, we didn't even cut many tracks in the two day old snow on the ground. We finally spotted a couple of cow elk at the spine of a ridge about a half a mile away, and decided to continue traveling in our current direction to check out one more big basin.
Way off on a distant ridge we spotted a huge herd of elk that probably numbered at least three hundred. They were five or ten miles away, and we made a mental note that it would be a good spot to be at sun up the next morning. It was about noon, and we decided to lead the horses along the ridge where we had sighted the cows earlier in the day. This was a welcome relief to my saddle sore knees and butt. After a pretty good hike, the lunches in our packs were getting heavy. The decision was made to redistribute that weight into our bellies rather that on our backs. After a quick bite and some more glassing, we continued on up to where we had spotted the cows previously. We hoped there was a bull or two on the other side, out of sight.
As I stated earlier, my sight through the scope was good with a solid rest. I thought to myself, there is no way I am going to hit that little tiny branch from here with all of the open space around it. The shot was not a hard one at only 120 yards, and all the elk scattered and headed down the ridge to the east. You would think with a massive bull filling my scope I would forget everything else, but in the back of my mind I was worried my horse would spook at the shot and I would end up walking back to camp. Looking back on it, if he had, it would have been all downhill anyway. Luckily he stayed with the mule. When I approached the downed bull, he was still kicking so I gave him a couple of finishing shots to the spine. The bull was huge with tremendous mass all the way through and had seven points on each side. Both Frank I were elated to have stumbled onto such a huge bull considering that was the only bull we had seen that day.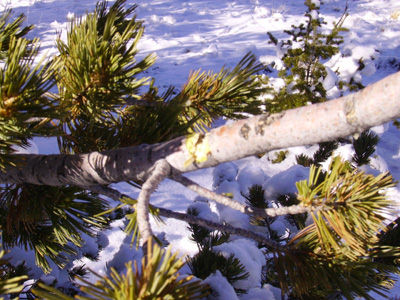 When we were field dressing him, we noticed that the entry hole was much larger than it should have been roughly the size of a quarter. That's when I remembered the small tree branch and went over to examine it only to find a groove in it where my bullet had grazed it before hitting the elk. Some times things just fall into place no matter how hard I try to screw them up, and this was one of those times. Had the bullet struck the tree a fraction of an inch lower, it probably would have disintegrated. Had it struck a fraction higher, it may have been deflected off into space or merely wounded the animal. We figured after hitting the branch, the bullet was tumbling when it struck the elk. This had created the large entry hole. Despite entering sideways, the bullet still went clear through the animal and exited on the far side. I believe this is testimony to the Elmer Keithian theory that a large caliber fast moving magnum gives you an added bit of insurance on tough western game.
We brought in some more horses and got some extra help from John Cain, who works at the ranch, the next day packing the bull out. Before we left the site, Frank had me rub my orange vest under my shirt to saturate it with as much man smell (IE: stink) as I could and tie it to the antlers to flap in the breeze. Hopefully this would keep the wolves and coyotes away from the kill site until we could get back in the morning.
Rather than returning by the circuitous route we had come in on, we decided to just bail off the steep ridge that we were on in an effort to beat the setting sun. This proved to be a an adventure in itself and after some excellent route finding by Frank that would of made Louis and Clark envious, we finally made it back to camp. We were happy and very tired with a feeling of deep contentment, which only fulfilling a much sought after goal and hard physical labor can give. I believe that few people outside of big game hunters and mountaineers actually know this feeling.
The boys from Wisconsin had seen a couple of really big bulls early in the day, but did not get a shot. The decision was made that they would trailer the horses and head over to where the big herd was that we had seen earlier in the day. Josh talked to a couple of other hunters that were in that area that night back in town, and they said they had seen seven wolves chasing elk on that side. I think the wolves in the area probably had much to do with the disrupted wintering patterns of the elk in this unit.
That night in camp I moved into a different room to sleep. Away from the tremendous rumbling of Steve, and I slept like a rock. If someone snores that loud and consistently, it's only fair that their face should hurt the next day.
The next day was also a long one, butchering and hauling the bull out. I took off for home with a huge smile on my face and a giant elk rack on the top of my car. This was one time in my life that I wished I had a long trip back home, so I could show off the elk. Even with the short drive to town, I received many thumbs up as people gawked at the rack. It occurred to me what a different reaction I would receive if I was tooling down a road in New York or California with my trophy on the car, and I was proud to live in a place where the personal freedom to hunt still holds such a big value.
I found out later that both Steve and Chad took nice bulls that day and enjoyed their time spent with the Robbins family as much as I did.
Click-a-Pic ... Details & Bigger Photos
Click-a-Pic ... Details & Bigger Photos
Home | Hunting Forums | Photo Gallery | Hunting Articles | Videos

|


Hunts & Tags | Hunt Draw Odds | About Mule Deer | About Elk
Store | Classified Ads | Photo Tours | About this Site | Advertising

|


Older Content | Email Us | Privacy Policy | Links | Podcasts