"My Once-in-a-Lifetime Sheep Hunt"
Written by Tim Ashley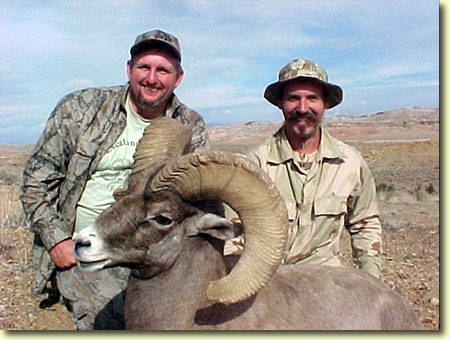 Pictured is Mike Fisher (left) and Tim Ashley (right).
My story begins like many others, at the mailbox! I was walking up my driveway thumbing through the mail when I saw the letter from the Utah Division of Wildlife, so I quickly tore it open.
As I walked into my house, I said to my wife, "They must have made a mistake. It says I am successful in one area and not in the other". Not thinking about it too much, I put the letter down and went to another appointment. Upon returning home two hours later, I searched for my Utah hunting proclamation. After no luck locating it, I called a friend who lives in Colorado. He asked if I was sitting down, then confirmed what I was wondering about and told me that I had just drawn a 2002 desert bighorn sheep tag for the north San Rafael area! Wow, I was in shock!
I have only been applying for six years, and know of several people who have applied for twenty five years or more, and never drawn a tag.
The next thing to do was to talk to someone about whether or not to hire a guide or just do a do-it-yourself hunt.
I contacted Garth Carter and he suggested that since this was a once-in-a-lifetime tag, I should definitely go with a guide. I'm sure glad I did too, as I had no idea where to hunt in such a large area like the north and south San Rafael. Garth suggested Brad Turner, of Escalante Safaris, and said he hunts strictly for sheep.
I made a phone call to Brad, and he told me he was going to send a tape of previous hunts. And, after viewing the tape, my mind was made up!
My summer was spent doing a lot of biking, hiking, jogging, and just thinking about the hunt. And when I awoke that first day, I was more than excited.
Before day break, Brad and I met up with another guide by the name of Mike Fisher, who also knew the area very well.
Brad and I set out for the lookout spot about one and a half miles from Mike's position. The morning was spent spotting sheep with 50X Doctor Bino's, mounted on their custom made tripods.
Brad quickly spotted a small band of ewes, lams, and smaller, lesser rams. We then spotted two tram rams, which are four or five year old rams looking for ewes, but none were quite what we were looking for. So, we went to check with Mike. He was watching a small group of ewes and two rams, one of which was about a six year old with good bases, but short on length. The other was a bigger ram that Brad estimated would score about 150. He was courting a ewe, so his attention was on her. He had flared out ends and was heavily broomed off. Everything I had dreamed a trophy to be!
The sheep were approximately one and half miles away, so we decided to cut the distance while Mike stayed up on the lookout to give us directions.
The sheep were eating on a large black sage flat below some really rugged cliffs, and we took advantage of the landscape, using wash outs and gullies to get us within rifle range.
Brad estimated the distance to be about 275 yards, and a quick check with my Lecia 1200 yard range finder, put them at 310 yards. Brad asked if I could shoot leaning in a sage bush, and I felt confident to do so.
My shot echoed, and the sheep ran about 40 yards and stopped. Brad was filming, so I asked where my shot hit? His reply was, "I don't know." He didn't see any dust fly.
I was worried because my barrel was not clear of the bush, so I readjusted and let another bullet fly, and it found its mark!
My model M-65 Tika 30-06, topped with a Leupold 6.5-20 adjustable objective scope, performed well.
All in all it was a great 2002 Utah sheep hunt, and one that I will never forget!
Click-a-Pic ... Details & Bigger Photos
Click-a-Pic ... Details & Bigger Photos
Home | Hunting Forums | Photo Gallery | Hunting Articles | Videos

|


Hunts & Tags | Hunt Draw Odds | About Mule Deer | About Elk
Store | Classified Ads | Photo Tours | About this Site | Advertising

|


Older Content | Email Us | Privacy Policy | Links | Podcasts