"A Horseshoer's Hey Day"
Written by Tim Clark

One June day the telephone rang, on the other end was life long friend and hunting partner, Flint Hoskovik. Although he knew I had plans to hunt another unit, he asked me to come with him to one of his favorite sweet spots for the whole season. After some deliberation, he convinced me to abandon my plans and go with him. That's where it all began, our plans merged and the preparation got under way.
October 1st came; just a short time to the hunt and we both got slammed with last minute hunters needing their horses shod before season. Fortunately, we had started preparations early, and we did the shoeing daylight to dark.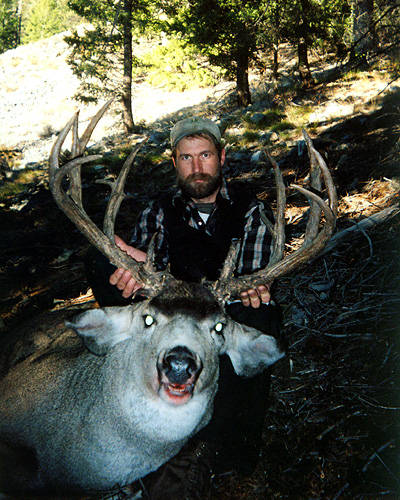 Tim's Big Buck
Finally, the hunt was here! Loaded down heavy, the truck groaned its way up into the shadow of the Sawtooth Mountains.
The plan was to hunt from the highest peaks and find a bruiser at 10,000 feet. After nearly a week of hunting and glassing, our bodies ached and our eyes hurt. We finally realized that a bit of bad weather earlier had shoved everything down except the mountain goats and us.
We moved our spike camp down to our main camp and began hunting 1,000 feet lower. The hunting was much better down lower, as we passed on 22 bucks; including a 3x4 we called "Tommy"---a very heavy 29-incher.
On our way back to camp, after a long day of hunting, I spotted a deer. We could tell it was a buck, but couldn't see just how big. He was feeding with his head down behind a tree. Flint had his binoculars on him immediately, as he always does. He told me he would keep an eye on the buck while I got my spotting scope out of my pack.
Daylight was fading fast, and by the time I got the scope on him, it was too dark to tell how good he was. Flint did catch a good glimpse of the buck's antlers and was sure that the buck was heavy and a possible taker. So, there was no choice, we had to be there the next morning.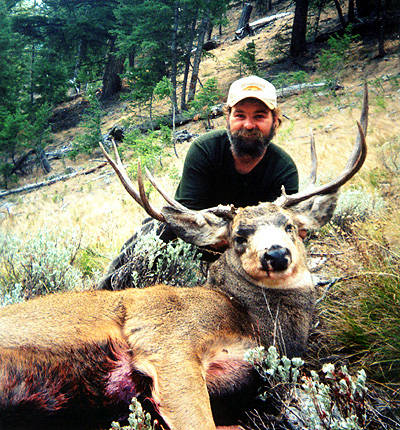 Flint's Big Buck
Four thirty came really fast the next morning and we hustled up the mountain to the spot. In the low light of dawn, Flint made an exceptional spot on some does feeding about 300 yards from where we had last seen the buck. About ten minutes later, I saw him. "That's my buck", was all I could say, I knew we had found him. After a fine shot and some great teamwork, many hours later we were headed to the meat locker with the finest buck I have ever taken.
The next day we were back at it for the next one, Flint's. We decided to hunt the same area, because the elevation and feed seemed just right. Traversing terrain too rough for a horse, we had daypacks on and lots of clothes. A stop to shed some clothes proved to be very profitable, as a monster was just up the avalanche chute above us. He chose that moment to stand up, stretch and turn around. We had spotted the motion immediately.
Crouching down, hearts pounding, we glassed him from the cover of the brush. Finally, deciding to take him, Flint needed both of our daypacks to get a rest high enough to make a clean shot. I was terrified my motion would blow it for him. Fortunately the magnificent animal did not detect anything amiss. Flint made an incredible shot to down the 32-1/2 inch buck that would make any hunter proud.
Click-a-Pic ... Details & Bigger Photos
Click-a-Pic ... Details & Bigger Photos
Home | Hunting Forums | Photo Gallery | Hunting Articles | Videos

|


Hunts & Tags | Hunt Draw Odds | About Mule Deer | About Elk
Store | Classified Ads | Photo Tours | About this Site | Advertising

|


Older Content | Email Us | Privacy Policy | Links | Podcasts