"A Long Awaited Dream"
Written by Tim Townsend
As I opened the mail from Colorado's Division of Wildlife, I felt as if I was a ten year old at Christmas. I was hoping for a 2006 Unit 61 deer tag this time and not a bicycle. I have been waiting seven long years for this day, to peek inside and see if I had finally been drawn.
I have always been a do it yourself hunter, find a place, do the research, get some maps, and talk with the fish and game. I knew this place was my chance at a world class buck. I have friends that once hunted here before it was a draw. My older brother had drawn this same unit seven years before and was blessed with a 29 inch monster. As we got ready for this hunt, my brother Kevin told me, "this is your chance; you need to hold out for the buck of your dreams". I knew this was a good spot and I knew it would be the last time I may ever get to hunt there again.
The first morning we each went up a finger ridge hunting to the top of the mountain. I had spotted a few deer off to my left. I called my friend Ray on the radio and said, "I have a few deer on the next ridge I need to check out". He said "good luck, and get a big one". I walked over two ridges and put a great sneak on these deer, there were six bucks with one possible shooter. I watched them for about 30 minutes, when Ray called me on the radio and asked if I had seen anything. I told him "there is a nice 3 by 3 about 25 inches wide and five other bucks with him; he is a nice 3 by 3". Ray told me "it's up to you, I have a couple of bucks over here I need to get closer to myself". As I watched these six bucks I heard Ray shoot, then Ray came on the radio " I got a nice 4 by 4 and there is another good buck with him." After I heard Ray on the radio, I decided to pass up this buck and go help Ray with his buck. When I got to Ray, my brother Kevin was already there, they were taking pictures of Ray's beautiful 25" 4 by 4. I told Ray congratulations and we started taking care of his deer. The other buck that was with Ray's was a nice 3 by 3, and Kevin decided to pass on him as well.
The next morning, Kevin and Ray went to the top of the mountain as I hunted the oaks and aspen draws up to them. As I started up the first oak-brush draw, I spotted a doe. I glassed all around and she was all alone in the draw. So, I put my backpack on and started up the hill once again. After only a few steps I looked to my right on the next ridge. I turned into Gumby, you know that green clay character on TV. It has been along time since I have had buck fever like that. This buck was a monster; he was everything I had dreamed about. He had mass, width, and height. I took off my pack and got out my shooting stick's. But when I sat down the brush was too high and I couldn't see. So I found a tree near by and used it for a rest. I took a few deep breaths to get my composer back as I looked at him in my scope. Each time I took a breath my scope would fog over and I couldn't see a thing. So I pulled down my rifle, cleaned my scope, then I went back to the tree to rest my rifle. I took another deep breath, and squeezed the trigger. I missed him, so I judged the distance and shot two more times and nothing. The big buck went into the next draw, I was sick, how could I have missed this buck. Well I got myself together and marked the spot from where I had shot from, then marked where I had last seen the big buck. I decided that this day was going to be spent looking for any sign at all if I had hit him or not.
I went to where I had last seen the buck and started to search every inch of that hill. I walked back down the hill to where I had shot from and looked back up the hill to recreate the scene. I looked for hours and found nothing. My brother called me on the radio as he looked down from the top of the ridge, and asked if that was where the buck was when I shot. I answered, "Yes this was where he was." He told me that they had watched a big buck go over that hill into a basin two more ridges away. This made me feel a great deal better that I had missed him clean. But, that night I couldn't help but think: was that my chance, did my dream buck get away? That was a long night as I was thinking over all the things I had done wrong.
The third morning arrived and we decide to hunt the basin that my brother saw the buck go into. The plan was for me to hunt a ridge line to the top of the basin and then circle around and push out the basin to my brother Kevin. As I reached the middle of the ridge, I saw six deer in the basin. I was about a thousand yards from the deer, but I could tell that one of those deer was him, the big one. I called Kevin and guided him up the hill to where he would have about a two hundred yard shot at the big buck. As my brother closed the gap, the deer had fed down the hill and out of my sight. About ten minutes later, Kevin had reached the top of the ridge and said to me, "I only see five deer and they are all does" I told him that I had lost sight of them and there were six, and the big buck was one of them. Kevin glassed the basin for along time and said "I only see five; he must have went down the bottom and out". I called him back and said. "I will keep going to the top and hunt around the basin like we planned".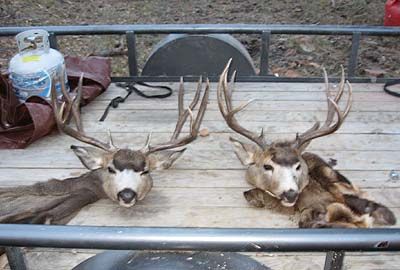 As I reached the top of the basin, I began to walk around the rim when I saw something walking up the center of the draw. It was him, the big buck I had missed the day before, would I get another chance. The buck had gone to the bottom of the basin, and then started back up to the top underneath my brother; who was unable to see him. The buck was about 350 yards from me and had stopped to look back down the draw towards my brother. When I took aim and shot, off he went, the shot was low. As I waited for the big buck to stop, I was able to get a comfortable rest against an oak tree. When the buck stopped, I shot again, this time he was hit, but he was still on his feet. Almost to the other side and to freedom, he stopped. I took aim and fired, the sound gave no doubt that the buck was hit. He disappeared from sight. Kevin called on the radio and said "are you done yet". I told him that the buck was down.
We decided that I would stay where I was and Kevin would come up and around to make sure the buck was down and couldn't get out of that basin. As my brother walked to the top, I watched where the buck had disappeared with my binoculars. After about 30 minutes, I spotted the buck up the hill about 75 yards from where he had vanished. He was on his feet watching my brother coming up the ridge. I called Kevin and told him that the buck was up, to stop where he was and that I had to shoot one more time. I took a long time getting into position; I wanted this shot to be the last. You always want it to be a one shot harvest, but if you hunt long enough you know that does not always happen.
As I squeezed the trigger I felt real good about the shot, as I heard that unmistakable sound as the bullet hit its mark and the big boy went down. I was so relieved to know he was down; no one ever wants to wound an animal. I talked with Kevin and we decided I would stay where I was and guide him to where the buck went down. As Kevin and Ray got closer to the deer, they came down the hill from above him, just in case he had not expired yet. I called them and said, "He should be in front of you, maybe 25 yards or so". As I watched Kevin approach where the buck was, I couldn't believe my eyes when the buck came to his feet and tried to escape from around the brush where he had laid.
I was so thankful Kevin was prepared for that very thing to happen and was able to get a clean finishing shot at the big buck. I have seen some tough deer in my hunting days, but this buck tops them all. Kevin called me on the radio and said "he's not as big as you said he was Timmy, he's just an ok buck". I was speechless, I just couldn't believe it. I told him I would be there in a few minutes. As I walked up to where Kevin and Ray were I couldn't help but wonder, did I misjudge this buck? Did I just picture the big buck, as I harvested an average buck? All those things were running through my mind as I walked up the ridge. When I arrived to my brother, the look he had on his face was priceless, he gave me a hug and said, "look at that my friend, you have been looking for that all your life Timmy, he's the biggest buck I have ever seen on the ground." Kevin was just teasing me as I had been walking up the ridge.
I have harvested many deer in my 32 years of hunting, but this buck was without a doubt the largest bodied animal I have ever seen. The big buck was 27 inches wide, and a 5 by 4 with great mass. We estimated him weighing about 275 plus pounds and green scoring 190 B&C points. I just stood there looking at this magnificent animal. I had so many emotions running though me. I pictured my dad, who had taught me how to hunt and had past away years before on a deer hunt with my brothers and me, and of good friends, who I have had the pleasure of hunting with over the years. There were so many things I was feeling at that moment in time. I remembered stories my father had told me about the big bucks he had seen while hunting in Wyoming. This buck was everything I had hoped for. This hunt was a long awaited dream come true.
Click-a-Pic ... Details & Bigger Photos
Click-a-Pic ... Details & Bigger Photos
Home | Hunting Forums | Photo Gallery | Hunting Articles | Videos

|


Hunts & Tags | Hunt Draw Odds | About Mule Deer | About Elk
Store | Classified Ads | Photo Tours | About this Site | Advertising

|


Older Content | Email Us | Privacy Policy | Links | Podcasts