"Two Hunts I Will Never Forget"
Written by Wayne Baskins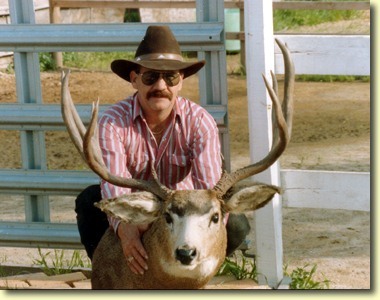 Wayne's 1990 Colorado Buck.
Let me start this story by saying I am 52 years old and have hunted deer since the age of 13. I have been very fortunate in taking my share of nice deer, but that buck of a lifetime doesnít come along very often. I live in California where I hunt every fall, but make at least one and sometimes two trips out of state each year.
In 1990, I was lucky enough to have my oldest son Jared with me in Colorado where we were hunting public land outside of Craig. The morning started off very miserable and snowing like crazy. Visibility was about 50 yards and it looked like this storm was here to stay. After about an hour and a half we reached the top of the mountain where we were going to hunt. We decided to split up, but only about 100 yards apart, because of the visibility and the fact we didnít know the country very well. My son went right and I went left on the ridge top.
As I approached a fence, not far into my walk, I sat down and looked down the hill from the way we had just come. After about 30 minutes of sitting there, not being able to see any distance at all, the clouds suddenly lifted and there below me about 500 yards were 7 of the biggest deer I had ever seen in my life. All seven of these huge bucks were feeding away from me, but they had no idea I was above them. One buck in particular was absolutely huge. He looked so big he made all the others look small in body, but they were all true trophies in anybodies book.
He happened to be the closest buck to me. I was shaking so badly, and it wasnít because I was cold, I had ďBUCK FEVER!Ē I took a deep breath and rested on the fence post for the shot. I was shooting a Browning A Bolt in 300 mag. caliber, with a Leupold scope, and 180 grain Sierra hand load that I had all the confidence in the world in.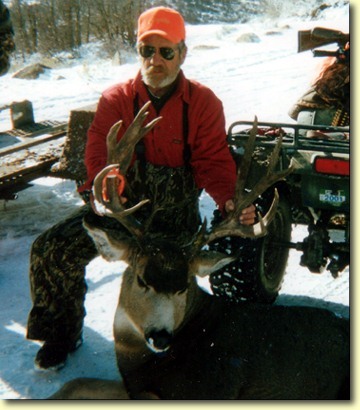 Wayne's 2000 Colorado Buck.
I donít have a clue where my first shot hit, or the 2nd, or the 3rd or the 4th, but by the time I reached shot number 3 the deer suddenly turned and started right straight towards me. When number 4 hit the snow right over him, I new what I needed to do, RELOAD, RELAX and REGROUP.
I simply sat there and watched this huge 4 pointer keep coming right at me. At about 250 yards he stopped, turned broadside and just stood there. Shot number 5 dropped him in his tracks.
As I approached the deer he got bigger and bigger, and before I got anywhere near him I knew this was no tow job my son and I were going to do alone, we needed help. After getting help, and getting the buck back to the vehicle and into town, then and only then did I realize what a really trophy animal I had. Hanging in the locker he weighed in at 325 lbs., was a perfect 4 pointer with 3 1/2 inch eye guards and had a 31-1/2 outside spread. This buck green scored 194 and netted out at 191. Only about 4 points short of making the book!
Now itís been 10 years since I shot this buck and I never thought I would top that. In 2000 I was back in Colorado and much to my amazement I took another trophy buck, this one weighed in (at the locker) 380 lbs. was a perfect 6x6 with a 28 inch spread. He was a monster.
Click-a-Pic ... Details & Bigger Photos
Click-a-Pic ... Details & Bigger Photos
Home | Hunting Forums | Photo Gallery | Hunting Articles | Videos

|


Hunts & Tags | Hunt Draw Odds | About Mule Deer | About Elk
Store | Classified Ads | Photo Tours | About this Site | Advertising

|


Older Content | Email Us | Privacy Policy | Links | Podcasts