How to Prepare Your Body for High Country Hunts
Written by Roy Grace,
aka BOHNTR at MonsterMuleys.com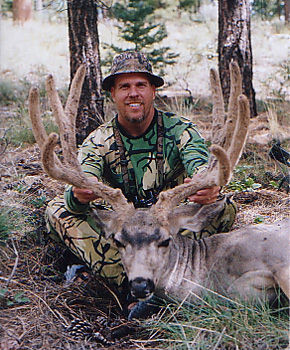 Roy Grace is a highly accomplished bowhunter,
with many P&Y trophies to his credit.
Here's what I do to prepare for these types of hunts. I'm by no means an expert in this area, but it works for me. Some think its extreme, but I do what it takes to hunt these areas where most will not.
First off, to hunt at high elevations, being in shape is a must, IMO. It will save you hours of pain not only in your muscles, but your brain when you experience decreased oxygen levels. However, there are some things you can do to alleviate your pain.
When I decided a few years ago that I was going to start backpacking into high elevation wildernesses, I quit lifting heavy weights and saw a nutritionist. I immediately went on an all natural food, low daily calorie diet that dropped my weight from 196 to 161 pounds over a five-month training period. This was combined with my daily routine of running which I've always done to keep my cardio level high since my profession requires it. I usually run between 8-15 miles per week, at a fairly quick pace to burn fat and calories (average 9.5 minute mile and a half run).
This combined with an 1850-calorie daily diet of all natural foods, and I've been able to remain in good shape. I'll be honest; it's not easy when you're in your 40's and for many will be a life changing routine. Basically you eat 6 small meals a day, which include fresh vegetables, fruit, skinless chicken, fish, and venison. You limit your starchy foods and NEVER eat any white flour products (whole wheat only). No soda, sodium, caffeine (one cup of coffee a day is allowed), artificial sweeteners, etc. If you use salad dressings or eat yogurt and granola, they must be fat free and low calorie.
EVERY meal I eat is weighed, so I can assure the amount I'm eating is correct. Example-6 ounces of grilled chicken, 1 cup of salad, 1 cup of green beans. Remember, when you eat too large a meal at any sitting, the remainder of that food is stored immediately to fat. Furthermore, if your "diet" is eating one meal a day, you are actually storing food to fat, as your body has been starving all day. As a result, when it receives food, it stores a portion to fat reserve to save when you fast again. This is why small meals throughout the day will "trick" your body and boost your metabolism rate.
This diet, coupled with physical conditioning (running / hiking program) makes the transition from sea level to 12,000' much easier. Some other "tricks" to reduce altitude sickness is taking pure activated "charcoal tablets" within 24 hours of your hike. One should also drink A LOT of water……even when your stomach can't take anymore…..drink some more.
Lastly, try not to gain too much elevation in one day. When I arrive in the high country, I drive as high as I can (elevation) when I get to trailhead or the end of the road. Where I begin my hike in Colorado is about 11,000'. When I first arrive (generally mid-morning) I spend the entire day there and take it easy. I then spend the night at trailhead to acclimate myself. When morning arrives, I begin my hike. This "formula" has worked well for me and I've yet to experience altitude sickness since implementing this routine.
This program works for me and maybe will help others prepare for physically demanding hunts.
Click-a-Pic ... Details & Bigger Photos
Click-a-Pic ... Details & Bigger Photos
Home | Hunting Forums | Photo Gallery | Hunting Articles | Videos

|


Hunts & Tags | Hunt Draw Odds | About Mule Deer | About Elk
Store | Classified Ads | Photo Tours | About this Site | Advertising

|


Older Content | Email Us | Privacy Policy | Links | Podcasts