Colorado Guides, Outfitters, Leases & Cabins
Rocky Mountain Ranches -- Hunt some of the finest ranches in N.W. Colorado. This area is famous for its extraordinary game herds. Our ranches are managed for superb elk, mule deer, and antelope hunting. We specialize in non-guided, do-it-yourself, and trespass fee hunts and drop camps on quality private property. Colorado License #2694.

Blue Mountain Outfitters -- Unit 10. Trophy deer and elk in Northwest Colorado. Guided hunts with guaranteed tags that do not affect your preference points, trespass permits for private ground, cabins and other options. Group hunts for cow elk as well. Call Kent (801) 562-1802 or email: bluemtnoutfitters@comcast.net

Frazier Outfitting -- If you're looking to go on a great Colorado elk hunt, we've got it. Come hunt unit 76 with us. We know it well and produce great bulls every year in the backcountry of Colorado. We'll take you on a hunting trip you'll never forget, cause hunting the highcountry with the use of horses is what it's all about. Visit our site ... Click Here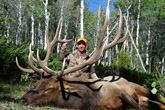 CJ Outfitters -- GOT PREFERENCE POINTS? We hunt Colorado's premier trophy units, 2, 10 and 201. We have hunted these areas for 25 years for Trophy Elk, Deer and Antelope. We have the experience, knowledge and equipment to help you on your once in a lifetime hunts. Visit our site ... Click Here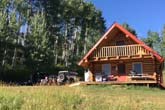 Unit 61 & 62 Cabins -- If you're planning to hunt unit 61 or 62 and need a place to stay, here's an option that will allow you to remain on the mountain and still have all the fine accomodations that can really make a hunt extra nice. Cabins come equipped with beds, shower, cookware, T.V. and more. More Info.? ... Click Here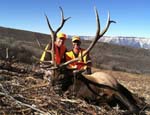 Colorado Private Ranches -- Looking for non-crowded, highly productive area to hunt deer and elk? If so, let us put you on one of our 14 Colorado ranches in units 13, 15, 23, 26, 42, 65, 131, 214 and 231. Completely furnished cabins and lodges on most leases. Visit our site for more information ... Click Here

Allout Guiding & Outfitting -- Offering mule deer, elk, bear and cougar hunts in Colorado units 40 and 61. Because of the focus on those two units, our knowledge of each area is vast, which means greater success rates and better quality for clients. Our #1 priority is to provide our clients with a high quality, fun hunting adventure. Visit our site ... Click Here
Is your Guide or Outfitting business listed here? Should it be? Click here to find how you can get your business listed.
Click-a-Pic ... Details & Bigger Photos