New Mexico Guides and Outfitters

JFW Ranch Consulting, LLC (JFWRC) -- We specialize in providing the highest quality public and private land big game hunts based on "your needs," not ours. Our mission is to provide you with the best big game hunting experience of your lifetime. Visit our website at: http://www.newmexicobiggamehunting.com for up to date information on hunts available as well as up to date news about NM that will help you get that trophy of a lifetime.

San Juan River Outfitters and Livery Co. -- We specialize in premium big game hunts. Our season is hardly over in late fall before we begin to plan (and daydream) another September, another elk and deer season, another camp, another rut, and another adventure. It all starts with our archery elk and deer hunts in early September and continues through the various combinations of rifle and muzzleloader hunts all through the fall. We end with our trophy mule deer hunts in our home unit, Unit 2 in northwest NM.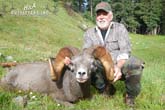 H & A Outfitters, Inc. -- Specializing in professional private and public land hunts since 1992. For Elk, Mule Deer, Bighorn Sheep, Pronghorn, Black Bear & Mountain Lion. Guaranteed Licenses - Quality Hunting Experiences. Visit http://www.nmbiggamehunting.com to learn more and see what we have to offer you.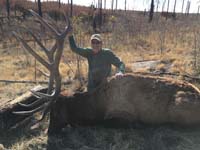 505 Outfitters -- Offering world class public and private land big game hunts for trophy Mule Deer, Elk, Antelope, Oryx, Ibex and Barbary Sheep. Rifle, Muzzleloader and Archery hunts available. Contact Pete Vigil with 505 Outfitters and experience a hunt of a lifetime!

Desert Meadow Outfitters -- We focus on big game hunts within the coveted Gila National Forest. We are dedicated, hardcore, hands on hunters and we believe in the total experience of the hunt as well as the harvest. Elk, Mule Deer, Coues Deer, Antelope and Coyote hunts available. For more info visit us at www.desertmeadowoutfitters.com.
Is your Guide or Outfitting business listed here? Should it be? Click here to find how you can get your business listed.
Click-a-Pic ... Details & Bigger Photos
Click-a-Pic ... Details & Bigger Photos