"Robert's Utah Smokepole Muley"
Photo provided by: Robert Wilcox
Robert Wilcox writes, "I was a little disappointed when I found out my job would require me to be in St. George, Utah for the opening morning of the Utah muzzleloader hunt, but it was real good training, and I didnít want to miss it.
I had thoughts of driving the 6 hours back after the banquet, but my wife put a big no to that. We got back around 4:00 pm, and Ethan, my 4 year old, and me loaded up the mule and took to the hills.
I have taken Ethan out before, but not opening day. We didnít see much. I would have been happy to shoot anything with my son there. He is already hooked on hunting, and knows all about it. He knows all the gun safety rules and likes to ask me about them. He doesnít know how to be quite while hunting. We were sneaking after a small 2 point, and I told him he would have to whisper. Needless to say, that didnít work very well. We still had a blast, and I know we are building lasting memories.
The next day I got up early and went and beat the trails. I spooked out a nice 3 point, but it was real thick, and didnít get a clear shot. That evening I called up a buddy and asked if he wanted to go beat the same trails I hiked that morning. We decided to go to another spot. We brought some camping chairs and decided to sit on the top of a hill, just below a deer trail. I have a real hard time sitting for more than a 30 minutes, so when a hour went by with nothing, I was ready to try something else.
Suddenly, a small spike came across the trail. My buddy tried to get me to shoot it, but I declined. I said his eye guards were nice, now if the rest of the horns would just grow in. We sat for about another 30 min. and I was ready to go again. We looked behind us in another field and we saw two deer feeding. One of them was a little 2 point. I decided to try to sneak down to see if I could get a shot off. The wind was blowing towards them, so I thought they would spook at any time. I got within 150 yards of the buck, and sat down to get a good shot. I had my shooting sticks with me, so I had a good rest. Before I shot, I looked around the field again. I spotted a bigger bodied deer, and started having buck fever when I saw the horns. It was a 4 point!
Wow, I knew it wasnít the biggest deer in the country, but it was the biggest one I have ever had a shot at. I got control of my breathing, and got a steady rest. I squeezed the trigger and heard a big kerplunk. I knew I hit him good. He was facing me when I shot, so I aimed for his front neck, shoulder area. He walked about 20 yards and stopped. I sat there and watched him for 5 min. or so, thinking he would go down at any time. He made it to cover, but I still had a good view of him. I then thought to myself, reload dummy. It took me a minute to regain my senses, but I reloaded. My buddy was coming down to see what I shot at. He was watching the 2 point when I shot, and didnít realize there was a bigger buck there. I stood up, and walked a little closer to see if I could get another shot off. I took another standing shot and hit him again. I lost the buck in the cloud of smoke. I knew I hit him again, so I didnít think he would get far. We waited about 10 min. then went over to the field where I hit him the first time. We couldnít find any blood. I was sick. I knew I hit him, and I hit him good. We went over where he was standing when I shot the second time, and still couldnít find anything. We then heard some crashing through the trees. I didnít know where it came from, so I started looking for his trail.
We finally spotted some blood and started following it. We then lost the trail again. There was a heavily traveled trail I was following looking for any sign. Nothing. I got that sick feeling again. Then Joe, my buddy, found where he had broken some branches. We then picked up his trail after that. He was bleeding good, and I thought it would only be a few yards before we found him. I was wrong. He was bleeding good, and I knew I had hit the lungs, but he was a strong deer. He went about 400 yards before he finally expired. When Joe finally saw him, he said nice buck. He also said a few other things that I wonít mention. A little pissed he didnít see him first. Oh well, he was still happy for me. It was getting pretty dark by then, so we took care of him, and drug him to the road. We I got home, I told Ethan I had cut myself, thatís why I had blood on my pants. He wasnít fooled a bit, when he saw the buck, you would have thought it was the biggest deer in the world. By the grin on his face, it was!"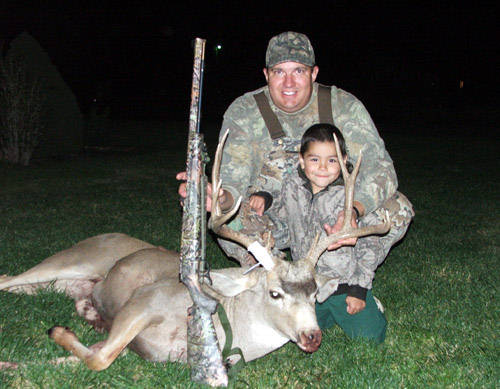 Click-a-Pic ... Details & Bigger Photos
Click-a-Pic ... Details & Bigger Photos
Home | Hunting Forums | Photo Gallery | Hunting Articles | Videos

|


Hunts & Tags | Hunt Draw Odds | About Mule Deer | About Elk
Store | Classified Ads | Photo Tours | About this Site | Advertising

|


Older Content | Email Us | Privacy Policy | Links | Podcasts