"Matthew's 27-Inch Idaho Trophy"
Photo provided by: Matthew Morris
17 year old, Matthew Morris writes, "My oldest brother Jared, my Dad, and I got up at 6 o'clock in the morning on October the 21st. We got all of our gear together and left the house for the area we had decided on. We chose an area about one hour from our home just west of Rexburg, Idaho.
One half hour after sunrise we came to the spot to park the truck. My Dad told us to push through the timber patch in front of us, and meet him on the ridge on the opposite side of the timber. We spread out and pushed through the timber. After a near hour and fifteen minutes of hiking, we met up on the ridge and no one had seen any game, or any fresh tracks in the snow. We quickly decided where each of us would go. My dad would stay on the ridge, my brother would walk along the west side of the ridge, and I would walk along the east side of the ridge. The east side of the ridge was steep, and covered with thick timber. I walked down about 100 yards off the ridge and started to side-hill.
There were very few openings in the trees to be able to see down the mountain side. After about ten minutes of side-hilling I came upon a narrow gap in the trees where I could see downhill for about 120 yards. At the other end of the clearing my eyes were instantly locked on the rack of a buck that was bedded down under a pine. He was looking right at me. His rack looked like gold in front of the dark pines. I instantly stopped and pulled up my Ruger M77 30-06 and found him in the crosshairs of my scope.
For a moment I wondered if I should let him stand up to present a better shot. He decided for me as he sprang to his feet, and I pulled the trigger.
Down he went, but quickly jumped back up, and ran straight down the long, steep slope. I ran down to the spot where he had been bedded and to my satisfaction found blood. I immediately began tracking him. I followed his tracks into the timber for over 100 yards, when I decided to stop and listen for him. I couldn't hear him running, but knew he had to be nearby. I then heard him wheezing a short distance away. I stepped to the side to get a better look, and saw him still standing but swaying side to side. After a moment he collapsed and I waited and watched until he was motionless.
As I approached him I couldn't believe just how big he was. I had dreamed of moments like this but couldn't believe it was actually happening. I quickly tagged him and headed back up to the ridge to get my dad and brother.
On the way back to the buck I told them my story. When we reached him there were high fives and a few pats on the back. After the celebrations we cleaned him, and then the work began. After five hours of dragging the buck up and down the steep slopes, having shared a can of Country Time lemonade and a half of a peanut butter and jelly sandwich, we arrived at the truck.
He measures 27 inches wide, his back forks were an even 12 inches deep, and was a full 26 inches tall. This is the 2nd mule deer I have harvested and was well worth the work and the wait. I was lucky to share the experience with my dad and brother, and especially greatful to have them there to help pack my buck out!"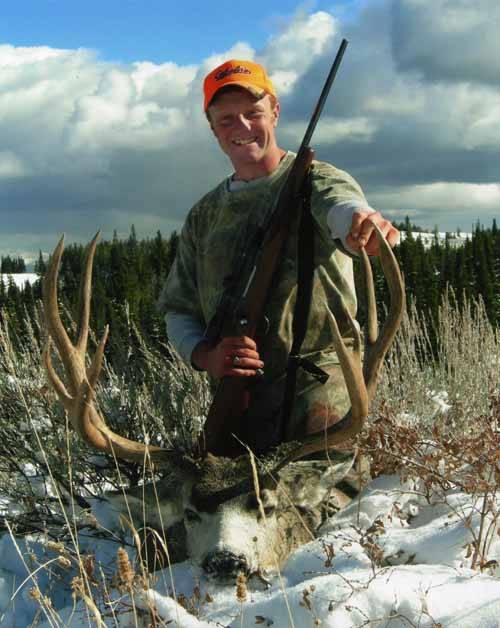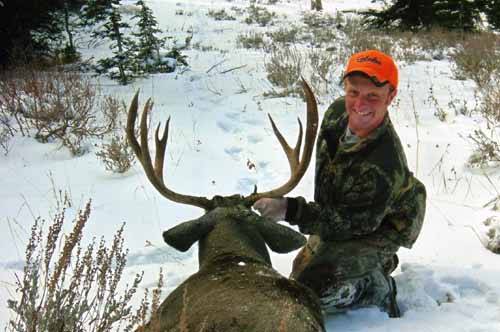 Click-a-Pic ... Details & Bigger Photos
Click-a-Pic ... Details & Bigger Photos
Home | Hunting Forums | Photo Gallery | Hunting Articles | Videos

|


Hunts & Tags | Hunt Draw Odds | About Mule Deer | About Elk
Store | Classified Ads | Photo Tours | About this Site | Advertising

|


Older Content | Email Us | Privacy Policy | Links | Podcasts