"A Great Day of Hunting for the Blea's"
Photo provided by: Rico Blea
Rico Blea, his dad, Robert, and his brother, Robert Jr., had a great opening day.
Rico writes, "I grew up hunting with my dad since I was knee high. I've learned to hunt through experience; watching and participating in hunts with my dad, Richard, for years. I used to take gigantic steps as a little kid to step exactly in the same spot my dad did….trying to be just as sneaky as him. As I got older, I was able to walk on my own and this was about the same time my younger brother, Robert, took over being my dad's shadow. Robert learned to hunt the same way I did, following and watching my dad. My dad, my brother, and I have been hunting North Central New Mexico for about 30 years, dating back to my dad. This particular area we had been hunting for about 7 years. In all those years we have only taken one other buck, a small 7 pointer.
Year after year, we would see huge track, fresh sign, but no deer. We figured our day would come. I always said when we see one it is going to be a big bodied buck with a nice rack. Sure enough, this year was our lucky year. My dad and my brother both had rifle tags for the 1st hunt. One week prior to the season, my dad and I went out and did some scouting. Sure enough, we saw fresh tracks and scat. Not wanting to push them out, we backed out of the area slowly and quietly. We knew they would remain in the area if we did not spook them. I did not have a tag, but I knew I had to be along with my dad and my brother. We like to say we are just carrying on a family tradition.
Opening morning came and we planned to park the truck about ¾ of a mile from where the good area started. We sat in the truck, full of excitement, knowing that we had a good chance. My dad and I sat in the dark listening to the radio, laughing at Robert who was in the back seat snoring away. At shooting light, we started to walk. There was a cold chill in the air, but the excitement kept us very warm. As the sun rose in the east, my dad turned to us and said, "This is the perfect situation, sun at our back and wind in our face". I looked around and it looked more like an antelope hunt as we walked through an open grass pasture, with our sights set on the nearby wooded ridge.
We quietly and slowly creped through the pasture and soon enough we got to the area where the Pinion and Juniper trees begin to paint the landscape. It took us about an hour to get here. We walked our way about ¾ the way up the ridge, not wanting to skyline ourselves. Then it happened. No more than 15 minutes after the smell of Juniper filled the air we saw him 100 yards out. He was bedded down in the sun, sunning himself. I'm not sure he even knew we were there. My dad said, "There's a deer, it's a buck". Robert pulled out his legs of his Harris bi-pod, one leg not extending all the way and popping back with a loud snap. My dad and I just looked up at the buck to see if he had heard anything, and he was still there without a clue. Robert sank to a squatting position, and as he did my dad told him, "Don't miss, don't miss. Take your time and squeeze." All you could see was the neck of the buck, as he was broadside but turned looking into the sunrise. My dad took his place to the right getting ready for a back up shot if need be. Right before Robert shot he said, "Dad, be ready if I miss". My dad who had grabbed a dead cactus (and a couple thorns) just laughed and said, "I'm ready son". Then the silence was broken. The buck stood up stretching his neck, he was hurt. We said shoot him again, Robert bolted another round and shot again. This time he missed. A second later my dad let an ear shattering shot fly and the buck's hind legs dropped. He dropped out of sight.
We began to celebrate doing the curly shuffle (our victory dance), and exchanging high fives and hugs. We walked to where he should have been and nothing. We knew he was hit and hurt, so we picked up his track and immediately started finding large splotches of blood. I stayed behind letting the armed ones guide the way. Then, there he was! He jumped up right in front of us running away, my dad and brother both let another shot fly, but missed. He wasn't going far though, as his tracks were showing that he was hurt bad. The hooves were splitting when he would step. That is a sign of a mortally hurt deer. 100 yards later, he came to a rest and one more shot from Roberts .243 and he was done. He came to rest just 30 yards from the road we parked on. It was perfect. Robert was shooting his .243 with Ballistic Silver tips 95-grain reloads, and my dad was shooting his .270 Ballistic Silver tips 130-grain reloads. We had one tag filled by 9:00 in the morning opening day. It was one of the best days of all of our lives!"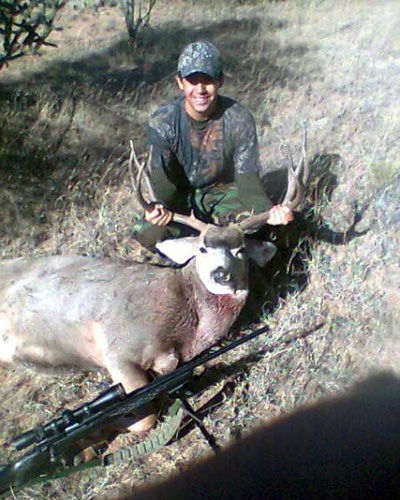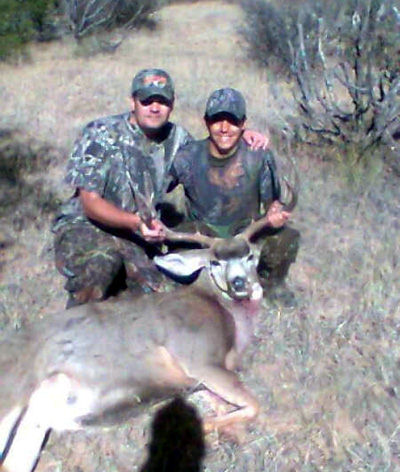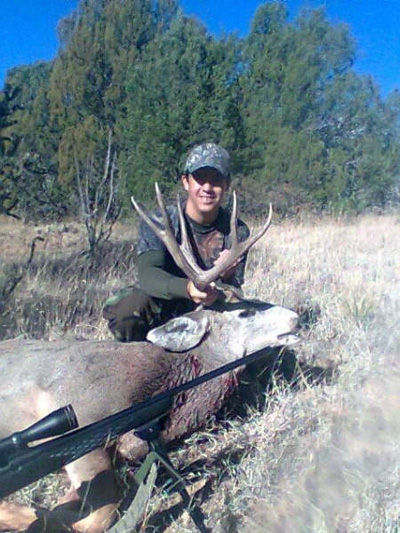 Click-a-Pic ... Details & Bigger Photos
Click-a-Pic ... Details & Bigger Photos
Home | Hunting Forums | Photo Gallery | Hunting Articles | Videos

|


Hunts & Tags | Hunt Draw Odds | About Mule Deer | About Elk
Store | Classified Ads | Photo Tours | About this Site | Advertising

|


Older Content | Email Us | Privacy Policy | Links | Podcasts