"Heavy 34-Inch Kansas Monster"
Photo provided by: Dexter Leach
Dexter Leach writes, "It was Tuesday, December 1st when I got word from my friend Curtis that his wife and some of his kids were sick with the flu and he would not be able to join me the next day for the opening day of the 2009 deer season. I had taken a personal day from work and decided to go ahead and go without him.
Curtis and I had hunted a big mule deer buck we had named "Moosehead" the previous year and I was hoping for another chance at him. Last year the deer was on Curtis' family farm and the neighboring properties. I had stalked him several times, but had never been able to get, what I thought, was an ethical shot at him, before one of the locals proceeded to chase him out of the county. To my surprise, he had been spotted again this year. We had made arrangements for the opening day, but due to work responsibilities, I had not been able to scout that area. I could only rely on the experiences I had the previous year to help develop some type of strategy for this years
attempt at Moosehead.
I am usually a heavy sleeper, but opening morning I was waiting for the alarm to wake me at 3:30am. Having packed the night before, I was ready, and started off on the 2-hour drive to my sunrise location. The drive seemed exceptionally long as I recalled the memories from last years hunt. I had regretted that I had not at least taken a long shot into a strong wind to try to get this big buck down last year. He had never really presented me with a good shot and I had figured that I could get a better one, knowing that I enjoy the stalk as much as any part of the challenge. This area is full of big pastures with limestone bluffs broken up with a maze of cracks and crevices that the deer use for concealment and escape routes. I have never had the opportunity to hunt in a desert setting, but this reminded me of that type of situation, only was in Kansas.
Moosehead had used his skills and instincts to escape from me last year and I wanted to at least see him this year and hopefully have another chance to take this big buck.
I was where I wanted to be at 5:50. I had enjoyed some breakfast burritos my wife had prepared for me and I was ready for the sunrise. It was a beautiful morning with a full moon and the sunrise was outstanding even though somewhat delayed by a bank of clouds on the horizon. Finally, I had enough light to see the area. I glassed the nearby pastures without seeing anything, so I moved on to check out some of the other places that possibly could be holding deer. I spotted several deer on the horizon and some whitetail and mule deer close to the road. Moving on, I spotted some mule deer in a wooded area right behind the house of the neighbor that owned the big pasture that I was going to hunt. The deer were not alarmed and I watched carefully as they moved around in the woods and sunflowers not more that 50 yards from me. There was a buck or two that I could have taken, but passed, as I hoped the big buck would show up at any time. After 30 minutes, I quietly left the deer in their peaceful habitat, satisfied that the deer I wanted was not there.
A couple of hours later, I began to get restless and was starting to wonder if I was going to see anything that I wanted to shoot, thinking that Moosehead might not be around. I was trying to think where he would go to get away from hunting pressure, as several hunters were in the area. I also thought about the possibility of taking a big whitetail buck if I saw one. I have several nice mule deer on our wall at home, but I do not have a trophy whitetail buck yet. I found a high point where I could glass across the pastures and the limestone bluffs. The sun was in a position that I could really see clearly and I wanted to spend some time with the binoculars looking into every hiding place available. The excitement of spotting wildlife with the binoculars is really neat and after about 10 minutes I saw a buck bedded behind a yucca plant on a hillside. It looked like a smaller buck with a nice rack. Then I thought it was a whitetail that I might be interested in. It was far enough away that I wasn't sure. I decided to just watch it and see if it would give me any indication of something else nearby. He was perfectly content to just lay there watching me. Keeping track of him, I continued to follow a grid pattern looking over the rest of the area. Just over the ridge behind him I could see a group of deer bedded on another hillside. They appeared to be bedded down for a while with very little movement. They were a long distance away. I could not see if there was a buck there, but I thought the chance of a good buck being in the vicinity of them was good. I was getting excited now. I looked back at the previous buck and he was up and looking around. Another buck that evidently had been bedded somewhere near him was up and he looked good. I glassed him, but I did not think that was Moosehead. I watched them as they went downwind and worked their way over the ridge. It looked like they were going to come into the other group from the downside side. I knew if there was a dominant buck in the group there would be some activity. I decided to move to another vantage point where I could observe more clearly. Sure enough, a few minutes later, the two bucks approached the bedded group and deer started standing up. A deer in the middle of the group stood up and moved toward the two deer. This deer was big and as the light conditions improved I could see that it was a buck. It was Moosehead. The two bucks moved around the perimeter and a third buck joined them in some light fighting. All three worked their way back into some fingers in the terrain and eventually bedded down. The main group of deer moved up into the sun on the hillside and bedded back down. I had spotted the deer I wanted to get and I had a problem. There were too many deer with keen eyesight and an excellent sense of smell. The wind had come up and it was getting very cold. The deer had moved up into the sunshine and out of a strong northeasterly wind. They had positioned themselves where they could see the whole pasture to the south and anyone approaching from all directions except the east. That was the only direction I might have a chance of putting a stalk on them. It was flat to the east of them and if they moved up the hillside at all they would be able to see that direction too, but it was my only chance. I went back to the truck and drove several miles back around to the east. I parked the truck, got a quick drink, and headed across the flatland. One-half miles later, I was starting to get close, and as is always the case, the terrain from a distance does not always look like it does when you get into it. I was about 100 yards from where the hill started to drop off and I was not sure I was at the place I needed to be. Suddenly about 150 yards away, I spotted a bedded doe. She did not know I was there and I got down on the ground. She could not see me while I was on the ground, but I could not see them either. It took me several minutes to crawl, very slowly, another 65 yards. I completely stopped several times to just try to calm down. I had done this before only to get to the edge and find that the deer had heard or smelled me and were already gone. When I got closer, I lifted my head just enough to see if they were still there. They were, and the big deer was bedded on my side of a yucca plant. I stopped. I could not go anywhere or they would bust me.

Laying flat on the ground the barrel of the rifle was too low to clear the ground in front of me. My rifle, using my gun-mounted bi-pod even at its collapsed setting) was too high to stay out of sight and it was an awkward angle to shoot from. If I could crawl another 15 feet to a cow path that crossed in front of me, it might be just the right depth to set the legs of the bipod into. I moved ever so slowly and got the gun into position. It would work. I was able to lay flat on the ground and observe everything
through the scope. If the deer stood up the bullet would clear the ground in front of me and I could stay undetected. I glanced at my watch and it was 9:16. All of the deer were still bedded and did not know I was there. The wind continued to pick up speed and the temperature was dropping. In all of the excitement I had left my gloves in the truck and the cold was beginning to penetrate my clothing. I tried to slip my hands back into the sleeves of my jacket, realizing why animals have hides and humans get cold. The deer were very comfortable and did not seem to have any reason to move. I checked my watch and it was now 9:40am. I did not know how much longer I could stand the cold. I thought about how years ago I had shot a big buck right in his bed. This was different. The shot would be about 220 yards with a strong side wind. The target was not very big with the deer bedded. I might hit the ground in front of me. I convinced myself to try to stick it out. I needed him to stand up and face into the wind in case the bullet drifted with the wind. Five minutes later my neck was really getting tired from lying in the prone position looking through the scope for such a long time. I put my head down to rest. When I looked back up the deer were on their feet, restless about something, and ready to bolt. I didn't have time to get nervous. I quickly put the crosshairs on him and squeezed the trigger. The 7mm Browning Magnum came through again and Moosehead was hit. With deer scampering everywhere, the strong buck tried to leave with them. I did not want him to get away and certainly not to suffer so I fired another round. It was high and grazed the horns. The third shot hit him solidly as he disappeared into one of the limestone crevices. I stayed on the ground for a minute or two, no longer cold, realizing what had just happened and hoping that the big buck would be just out of sight over the ledge. In waiting for the opportunity to take the shot, I had determined that I thought the buck was a wide, heavy, 5x6. I was anxious to find out. I topped the ledge and the buck was lying at the bottom of the dropoff. I watched to see if there was any movement or signs of life. I walked toward him and there was no ground shrinkage. He was better on the ground than he had appeared on foot. His rack seemed to grow as I got closer. He was a big-bodied deer and his heavy antlers were 34 inches wide with a lot of palmation and points. That was why we called him Moosehead. He was an outstanding deer and the experience is one I will never forget."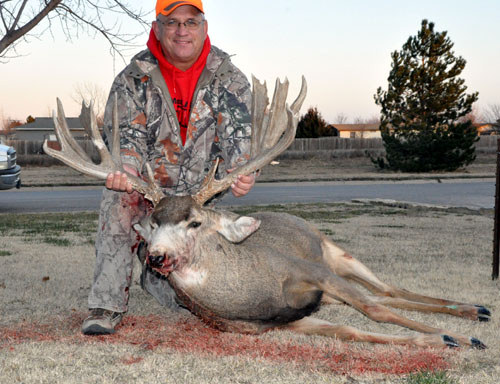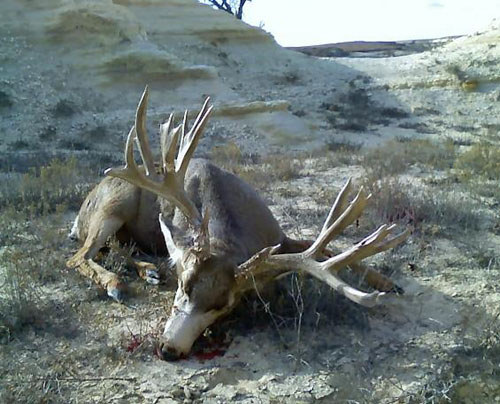 Click-a-Pic ... Details & Bigger Photos
Click-a-Pic ... Details & Bigger Photos
Home | Hunting Forums | Photo Gallery | Hunting Articles | Videos

|


Hunts & Tags | Hunt Draw Odds | About Mule Deer | About Elk
Store | Classified Ads | Photo Tours | About this Site | Advertising

|


Older Content | Email Us | Privacy Policy | Links | Podcasts