"Awesome Idaho Archery Muley for Travis"
Photo provided by: Travis Nowotny
Travis Nowotny writes, "Opening day of the 2010 Idaho archery season, I found myself peering into a sage brush filled canyon, where I had regularly watched several nice bucks that live among the rim rock canyon walls. I was perched high above, scanning the basin for any sign of the buck I had been watching all summer long. After about ten minutes of gazing through my new HD Swarovision binos, I had to stop and rest my eyes for a minute. The lack of sleep, high winds and brutal glassing routine was taking its toll on my already worthless eyesight. After resting my eyes, I picked up my glass and started to pick apart the drainage below. Almost immediately, I spotted the velvet tines sticking above the olive sage. I knew the buck below was worth the short 150 yard stalk. I began to slip off my boots and slide on my brown wool socks. This was it, the stalk was on. Ten minutes later, I found myself just out of sight and bow range from the bedded buck. Just in front of me lay not only a worthy buck, but a thirty yard rockslide from hell. This was it. If I could make it across the treacherous rock pile, I would be about forty yards from the buck. Halfway through the slide, I could finally see there was an end in sight. I was tip toeing like a lion stalking in on his prey knowing that if he made it through the rocks, there would be a hearty meal awaiting his blood thirsty appetite. My last few steps out of the slide I could tell I was now within bow range. I slowly began to raise my rangefinder up to my eye. I punched the button several times in disbelief. Twenty-three yards from the buck...I started to tremble in my socks. I tucked my rangefinder away in my pocket and then nocked an arrow. Twenty minutes had passed, and I could tell the buck was getting restless from the summer heat beating down on his back. I could only see the tips of his antlers sticking out of the brush, so I was still unsure if this buck was a shooter or not. The buck began to stand as I drew my eighty pound Hoyt. When the big boys rack emerged from the sage, my jaw hit the ground. I was twenty-three yards away at full draw from the buck of my dreams. It didn't take long for me to settle my top pin low behind the bucks front shoulder. I eased my finger in front of the trigger on my release. Punching the trigger, I could tell the buck was done for. He sprinted from his position in the maze of bitterbrush and sage, and ran until the wrath of my broadhead began to take effect. He toppled over in the cliff rose that once nourished his handsome figure."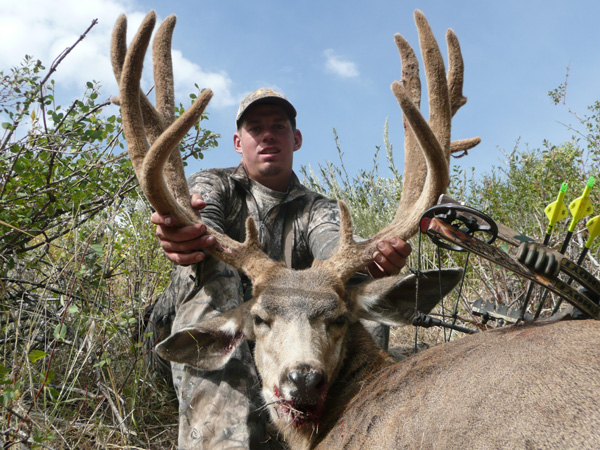 Click-a-Pic ... Details & Bigger Photos
Click-a-Pic ... Details & Bigger Photos
Home | Hunting Forums | Photo Gallery | Hunting Articles | Videos

|


Hunts & Tags | Hunt Draw Odds | About Mule Deer | About Elk
Store | Classified Ads | Photo Tours | About this Site | Advertising

|


Older Content | Email Us | Privacy Policy | Links | Podcasts