"A Great Day = Big Bull for Jayson"
Photo provided by: Jayson Harvey
Jayson Harvey writes, "On Wednesday, September 15, 2010, I open my eyes and realize the sun is up. So, in a panic I quickly got dressed, grabbed my bow and pack and ran out the door of the trailer. Fifteen minutes later I found myself at my destination on my four wheeler. Glancing at my phone, my only way to tell time, it says 10:15 am. I'm thinking to myself, "Holy Crap I slept in!" I was upset with myself because I only had two days left to hunt my L.E. Manti-LaSal Archery tag in Utah for elk and had been hunting hard for the last 18 days. About 5 or 6 minutes after I killed the bike I could hear about 8 bulls bugling, so I took off. I got about 20 yards away from my bike and realized I didn't have a release. I had left it in the trailer. After a short panic attack I found an extra one in my pack, and proceed down the mountain. No less than a minute later a bugle rang out right on top of me. I looked down the trail about 80 yards and saw monster tines and a half a tree coming towards me. I quickly moved over to some small trees for cover and ranged where he would step out....21 yards. I drew my bow back and out he stepped. As I was following him he turned and looked at me. He was now at 9 yards, and still looking at me. He bugled and the moment he was done screaming I hit the trigger. I could not believe what had just happened as I watched my arrow hit the mark just behind the shoulder. He jumped and ran. I quickly hit my cow call to stop him, and instantly that was the last thing on my mind. I found myself in the middle of an entire herd of elk. I literally was surrounded. There was a 6x6 no more than 20 feet to my right. A 5x6 to the left and below me walks out "the" big bull that I had just shot, or so I thought. I start to doubt myself and panic again, but I'm confident I hit him perfectly. I stand up and walk over to where he was standing when I shot him and find my arrow painted red, and I hear the sound of the big bull crashing to the ground. I walked 40 yards towards the sound and the 7x6 I had just shot had grown. There was no ground shrinkage here. It is the biggest bull I have ever killed and everyone hunting that unit could have heard my excitement. Seven hours later I was back at the trailer. WHAT A HUNT! I want to thank my wife for giving up her summer weekends to go scouting with me and for supporting me. My dad also drew the same tag, but he was only able to hunt for 3 weekends. I also want to thank my in-laws, Gary and JoAnn, for their help, support and delicious food."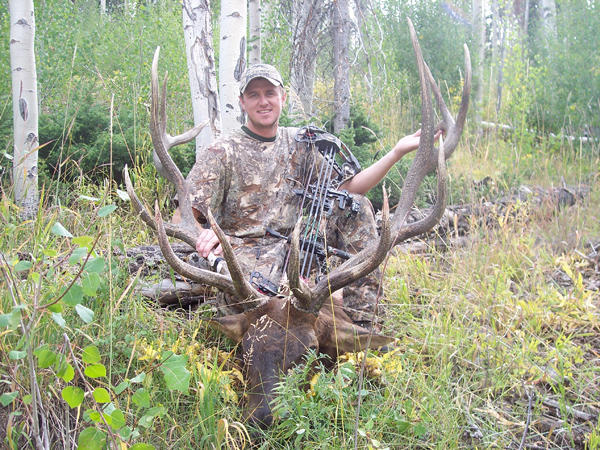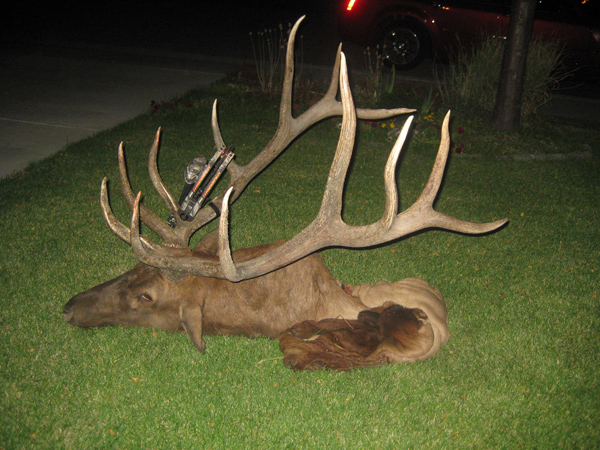 Click-a-Pic ... Details & Bigger Photos
Click-a-Pic ... Details & Bigger Photos
Home | Hunting Forums | Photo Gallery | Hunting Articles | Videos

|


Hunts & Tags | Hunt Draw Odds | About Mule Deer | About Elk
Store | Classified Ads | Photo Tours | About this Site | Advertising

|


Older Content | Email Us | Privacy Policy | Links | Podcasts