"Bill's California Big Horn Sheep"
Photo provided by: Bill Hayes
My California Big Horn Sheep
Shared By: Bill Hayes
Applying for a Big Horn Sheep hunt was just something I did every year that I can remember. It was a habit more than an expectation of actually receiving the tag. That all changed this year when I checked on the computer to see if I was drawn for a special hunt. I looked at the list and it said no on deer, no on antelope, second alternate on elk (which means no) and said I was a winner on Big Horn Sheep. I just stared at the computer screen for about a hour. Reentering my ID information and again it said winner for the sheep hunt. That was the end of my work day as my hands just started to shake, my brain started to wonder and nothing else was getting done that day.
I called my brother (Mike) and my hunting partner (Chris) and told them the news. They were very excited for me, I think, but it did not matter, either way, because I had the tag. I started planning my trips right then. I would make a scouting trip to just check out the area (White Mountains), see who I could get to volunteer to go with me on the hunt and how many days of work I could get off.
Scouting trip – It was time to pack up the truck and Cali, (my cattle dog) for a three day trip to Bishop to meet Mike Morrison, Fish and Game Biologist and get any information on where to start looking for those sheep. I meet with Mike for about an hour, and then headed up to the White Mountains. The first time you see the White Mountains, it can take your breath away. How in the heck is a guy going to find anything in these wilderness mountains. They are huge. We made it to our camp, set up the campsite and headed out for our first adventure. We took trips each day, a little disappointed in not finding any sheep, but very excited about the upcoming hunt.
Hunt #1 – This trip did not start out to good for us. Mike and I started out and had a small accident on the way to our hunt. Did some damage to our trailer and truck, but no one was hurt and the hunt was still on. We meet up with Fish and Game for our briefing and tag pick up. Our first hunt was heading up the White Mountains trail, working to the east along the top of the White Mountains. Mike had a case of altitude sickness, so we took our time and did a lot of glassing. No sheep. We then heading to the back side of the Whites and headed into Indian Creek. We worked our way to the wilderness, set up camp and hunted for three days. It was extremely hot in the mornings and nothing was moving. We did finally see one deer and a couple of sheep tracks but that was it. Again, no sign of that Majestic California Desert Big Horn Sheep we were looking for.
Hunt #2 – With time running out, no sheep sightings and getting worn down for all the walking, I decided to go with Dry Creek Outfitters for my last attempt to fulfill my dream of taking a Ram. We set a date, and after celebrating my 60th birthday with a week at Lake Shasta, I was off for one last try. We all met at the Grandview camp ground, site 21 and made plans for our first of three days of hunting. We were up at 4:30 in the am, having our morning coffee and finalizing our plans for the day's hunt. Dry Creek Outfitter's Cliff and Tim were there with two additional guides Jason and Clay to help in our search. Our plan was to head to Piute Mountain, about 12,500 feet up to begin the hunt. We split up into two groups and headed up the road to our planned spots. I was going to hunt with Cliff and Tim, with Clay and Jason coming up the back side of the mountain to make sure we do not miss anything. We get up about three quarters of the way to the summit and receive info that 3 Rams were spotted on top of the summit heading our way. We split up from Tim and make it to about 200 yards for the top, get set up and wait to see if the Rams make it our way. I have seen sheep during other game hunts, but this would be my first time while have a tag in my pocket for one. After about an hour, we realize that they had already passed buy or headed in another direction. We begin to work the back side of the mountain for the rest of the day to no avail. After finding nothing all the way down the back side of the Piute, we start working our way back up to the summit to see if we may have passed them up. We worked up and down the mountain until almost dark and then started our 2 mile hike back to the truck. We were very disappointed that the Rams were able to give us the slip.
Day two – We were again up at 4:30 in the a.m., but this time we were off and heading up to our spots before the sun was even thinking about coming up. Cliff and I made the same climb up Mount Piute to the top of the summit and started to work our way down the other side. Clay had worked his way down below us to the bottom of the ravine hoping to find the rams below us. About noon, we decide that the Rams had left the area and are not on Mount Piute. Cliff suggests that we work our way over to the Fish Hook to see if we could find the sheep there. We headed back up to the summit and across the side of the mountain to the Fish Hook. After reaching our destination, it was not even 5 minutes when Cliff says, "RAMS"! He is looking across the canyon and below us about a mile away. I see the biggest Ram that I have ever seen standing there, looking as majestic as a King in his domain. What a beautiful site! This was a big ram. Cliffs says there are two other rams with him. I only concentrate on the King!
The sheep were in a location that was almost impossible to get close to for an ethical shot. We take our time and make a game plan. Cliff and I would work our way back to the truck, drop down into the next ravine and make a 3 mile hike down the valley and climbed the steep hill side to see if we could get close enough for a shot. This sounded all good, but, that is one long hike that will take us more them 3 hours to accomplish. Tim decides to stay there and watch the sheep as we attempt to implement the game plan. We started out straight up Mount Piute, cut over to the valley side, went up to where we could make an attempt to cross the valley floor and got into the ravine on the other side. We decide to go up even farther; as we would be in plain sight it we attempted the cross in the open. Another climb and a hike through another small ravine and we find a small group of deer standing in the middle of our path. We quickly try to work our way below them, forcing them to flee uphill away for the rams. It works perfect, except for the buck bedded below them, who ran down hill and within a few yards of our rams. That was not good!
Wasting no time, we keep on moving through the valley until finally reaching the other ravine. We were about two hours into the stalk. Down the ravine we go, stumbling on lose rocks as we make our decent to the landmark. We finally make it up the step side hill. Peaking over the ridge, Cliff spotted the rams about 460 yards away. That was as close as we could get from this vantage point. We back track half way down the hill and try to side hill it down and around. This did not work since the hillside was covered with large boulders that were impossible to maneuver through. Our only choice was to go back down the hill, farther down the ravine and up the hill again. This is when I started to doubt all my training for this hunt as I was getting worn out. Cliff just keeps on moving. Not wanting to be left behind, I did my best to keep up with him in our pursuit for the Majestic King Ram that was only a few hundred yards away. We made it down the ravine and started our last climb up the hill. We are about three hours into the stalk when I really felt burned out. With a stumble, I fell down, rifle and all. Cliff checks on me and the rifle, picks up the rifle, sees that it is good to go and hands it back to me without a word spoken. I get the hint, this hunt is bigger them me! It is a once in a life time hunt and I just happen to be the lucky shooter.
We finally get to the top of the hill and snuck over until Cliff spots the rams just under 360 yards away. I dialed my scope to the 350 yard mark and then tried to find the big ram in my scope. I was having a hard time finding them until I see movement in the rocks across the valley. Finally, it has come down to me and that Majestic Big Horn Sheep. I got into a prone position, placed the cross hairs on the big ram's front shoulder and squeezed the trigger. I watched as the ram made a leap down the hill about 10 feet and froze up. I knew I had hit him hard. I reload, place the cross hairs again on his front should and sent the second round to meet my Majestic California Big Horn Sheep. I did it. I had taken my first Big Horn Sheep and what a beautiful Ram.
There were a lot of high fives and several minutes of celebration. It took us another half hour to get to the ram. We had to go down the other side of the hill and up to where the ram lays. Finally, I got to hold this majestic animal in my hands. He is much larger than I expected, both in body size and horns. Cliff does a quick field measurement and comes up with a score of 162 inches. Amazing! Never in my life did I think I would be standing there with a ram that was so close to being a Boone and Crocked California Desert Big Horn Sheep. It was officially measured by the California Department of Fish and Game at 163 5/8 inches.
I would like to thank Dry Creek Outfitters – Cliff, Tim, Clay and Jason for all their help and knowledge about sheep and the White Mountains. Without their expertise, I would not be writing this story. I would also like to thank Mike, my brother who accompanied me on the first hunt and Roberta, my wife, who told me to go get my Ram and then get back home.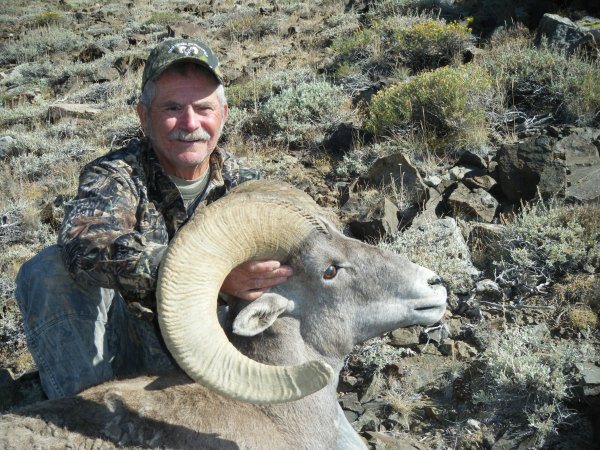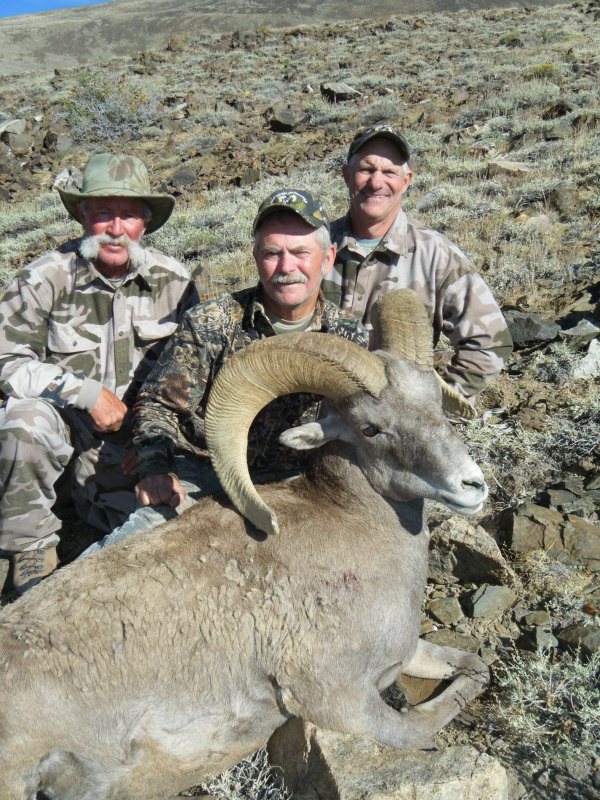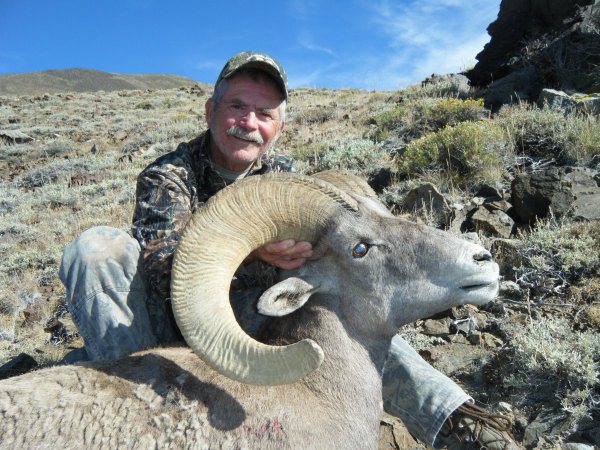 Click-a-Pic ... Details & Bigger Photos
Click-a-Pic ... Details & Bigger Photos
Home | Hunting Forums | Photo Gallery | Hunting Articles | Videos

|


Hunts & Tags | Hunt Draw Odds | About Mule Deer | About Elk
Store | Classified Ads | Photo Tours | About this Site | Advertising

|


Older Content | Email Us | Privacy Policy | Links | Podcasts