"Sweet Southwest Idaho Whitetail"
Photo provided by: Harold Rose
Harold Rose writes, "This buck showed up on our property in November 2013. However, because I held a regular deer tag in hopes of harvesting a late season archery mule deer, I could not hunt for the whitetail that year. Although it was difficult to watch him for the rest of the winter knowing that someone could get him if he left our place, I was able to get a really fine archery mule deer to help ease my pain. As hard as I looked, I was never able to find his sheds.
With all the trail cam pics of him until March, it only made sense to "put all chips in" on that deer for the 2014 hunting season. I bought the whitetail tag in full anticipation that this would be the buck I would harvest. In July, the work began. Since I was not sure where he was living, I put out several cameras on as many neighboring properties as I could get permission to. Although I was getting photos of a lot of deer and many good bucks, Big A (as we had nicknamed him), was nowhere to be found. Had he moved somewhere else, been hit by a car, or something worse? Many questions went through my mind as I hunted all of the early archery season, all of the general season and the entire rut without a single glimpse of this buck. My hopes were fading away. After conceding to the fact that I may not ever see Big A again, I had only a few weeks of the late archery season left to harvest a deer. You cannot imagine my excitement when I pulled the camera card on December 11th and found that Big A had returned to our property on the 9th. I now had just over a week to try for him. He was on the camera daily, but he was still mostly nocturnal. A few times when I sat in my tree stand, he would sneak around inside the neighboring property which is off limits to hunting. My hopes were again fading away.
I had one day left to hunt, the last day of the season, December 19th. I would have to skip my work Christmas party to sit that day, but for a hunter, it seemed like the only sensible thing to do.
I hadn't anticipated hunting in the morning, but a snow storm came in and there were a lot of deer out feeding that morning. I decided that since all bets had been placed on this deer, I have better play every hand I was dealt. I got my warm clothes on and to the stand I went, ready for a long day.
The snow was very wet and heavy, but the temperature was pretty pleasant. About an hour after I began my hunt, a one eyed spike, a small 5-point and his twin 6-point came into the field to feed. Things were now real again! As I carefully watched them feeding, I considered my options. I decided that if the blind spike gave me a shot I would try to take him. I started looking for where my best shot opportunity would be. As I played different scenarios in my mind, another very nice 10-point jumped the fence and began feeding also. As a 7-1/2 year old deer, he too would make a great trophy. I had already determined that because he had a broken brow tine, I would not harvest him this year. Yet, now the temptation was mounting. The blind spike was working his way closer and I had to prepare for a shot. Then, as I was getting well positioned, I could see another deer coming through the forbidden property across the fence. In an instant the deer appeared, standing at the fence and my heart stopped. It was 11:30am and there stood Big A 75 yards away, but in a spot I could not take him if he was 5 yards away. Would he followed the same course as the other bucks?

He finally came into our field, but turned and went straight to the opposite end of the field. As he fed on the opposite end as the other bucks, I could hardly dare blink. I knew that if the other bucks spooked, my hunt was over and I would be eating tag soup. After what seemed like an eternity, the other bucks left the field and soon after, Big A turned and was coming straight towards my stand. How could this be? What stars had lined up so perfectly that day? Would my luck last 5 more minutes? As a million thoughts rolled through my mind, I realized I needed a plan...and fast. I also knew I could do nothing until he turned away. Like a well written script, he turned away at the base of my tree giving me the perfect chance to draw back my bow. I had a small target to hit at that angle, but at 15 yards it should be very do-able. As my release loosened and my arrow took flight everything seemed to play out in slow motion as the buck started to duck the arrow. However, the arrow found it's intended target and hit him between the shoulder blades in the spine. He fell in his tracks and I was able to get a second arrow placed to finish the job. My emotions were flooding and I realized I had not felt this extent of "buck fever" in a very long time. Christmas had come early for me.

I had always believed that we had the genetics of great deer in our area but this buck, at 169.5 inches, was now a testament to my beliefs."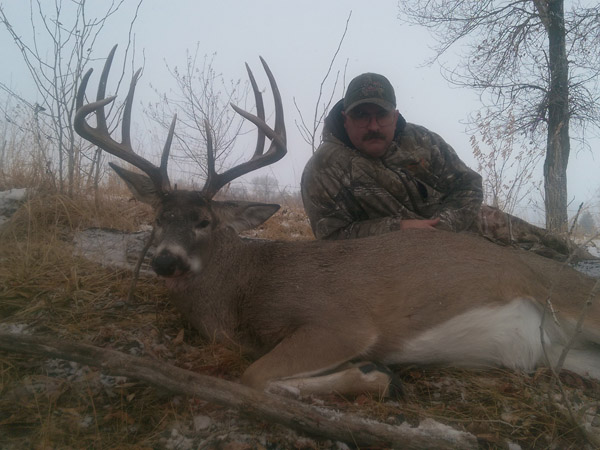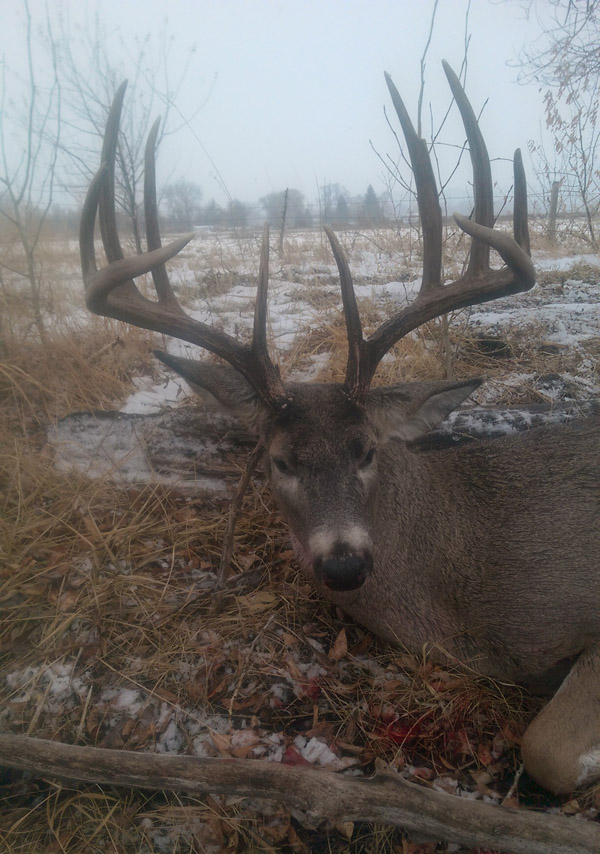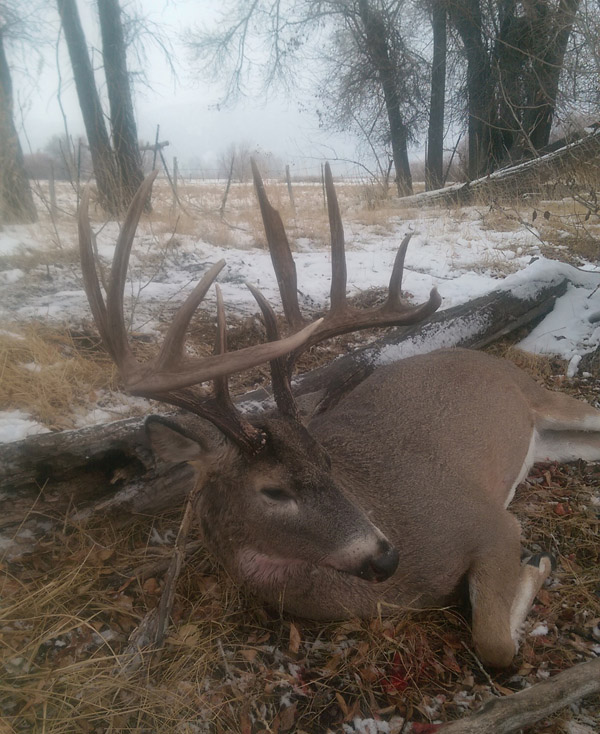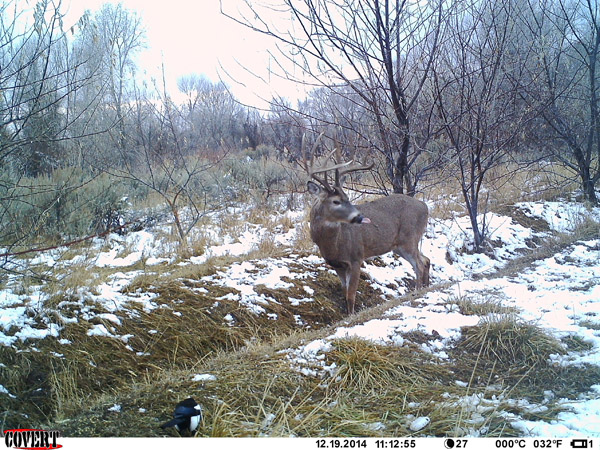 Click-a-Pic ... Details & Bigger Photos
Click-a-Pic ... Details & Bigger Photos
Home | Hunting Forums | Photo Gallery | Hunting Articles | Videos

|


Hunts & Tags | Hunt Draw Odds | About Mule Deer | About Elk
Store | Classified Ads | Photo Tours | About this Site | Advertising

|


Older Content | Email Us | Privacy Policy | Links | Podcasts