"Whopper La Sal Mountains Trophy Bull"
Photo provided by: Travis O'Neil
Travis O'Neil, aka Twabbis writes, "My story begins on an early spring morning. My phone rings telling me it is time to wake up and get ready for work. I notice I have some new emails, so I start going through them, sure it's all junk mail to be deleted. I see an email from the division of wildlife resources, nothing to be excited about as I'm sure it's another unsuccessful letter to add to the pile. I scroll down and much to my surprise I see next to the La Sal muzzleloader bull hunt, in bold letters; SUCCESSFUL!! Never having been on the La Sal unit I knew I had some work to do. I talked to some friends who had some experience on the La Sals and had come to the conclusion that I was going to be in for a good hunt and hopefully come away with a good mature 6 point (300-320" bull). So as the scouting season approached, life happened and I was only able to spend 4 days total scouting the unit. Not having seen much, I was quite worried about the hunt. I called in a small 6 point 5 days before my hunt was to start and saw a huge track in the same area, so that's where I decided I would start. Luckily for me, my good friend, Mark Grace, and my dad, Randy O'Neil, came down and were going to help me on the first day that I could hunt. I arrived at camp after work Monday night and my dad and Mark told me there was a bull that had a nasty growl and sounded big down in the same drainage where I had seen the big track several days prior. So the next morning we got up before light and went to listen for the bull that we were now calling "the growler." We couldn't hear his nasty growl so I headed higher up the drainage where we could hear some other bulls bugling. I wasn't out of the truck for 15 minutes when Mark called on the radio and said the growler was growling! So I busted butt back to the truck and went back down to where Mark was sitting and for the first time I heard the growler let out his symphony! He sounded 600 or 700 yards away down in the quakies at the bottom of the drainage. So we decided that I would move in closer while Mark would stay up on top keeping him growling so that I could track his location. The wind was blowing steady down the drainage, so I made sure to stay just downhill of him and went straight at him. As I approached within 300 yards he stopped making any noise and I was afraid he had somehow busted me. I kept slowly working towards the last place I heard him, when I heard it. The growler inside 100 yards! I had a large boulder in front of me, so I got a good rest on the rock and softly blew a couple cow calls towards him. No more than 1 minute passed and I would set eyes on the beast for the first time! And what a sight he was! I saw the blades on his back end and that was all I needed to see. I cocked the hammer back, took aim and squeezed the trigger. After the smoke from the muzzleloader cleared I saw the bull had jumped and took a few steps towards me. So I ducked under the rock and quickly tried to get reloaded (quite a humorous endeavor when shaking from shooting at a big bull). I peeked back over the rock and could not see the bull. I told Mark on the radio I thought I hit him and I was just going to walk over far enough to look for blood. I walked to where he was standing, and less than ten yards away I could see those blades sticking up out of the weeds. The growler was down! He was beyond anything I ever dreamed of taking off the La Sals! I'm quite sure that there was not any elk in that drainage for several days after the whooping and hollering I did, I was on top of the world! I went back to the road where dad and Mark were waiting and went up to where my bull had made his last growl. It was a moment to be cherished when my dad (who is currently battling liver disease) made it up to my bull and and got to share the happy moment with me. It will be a day I will never forget, and am glad I could share it with a couple of old guys like dad and Mark."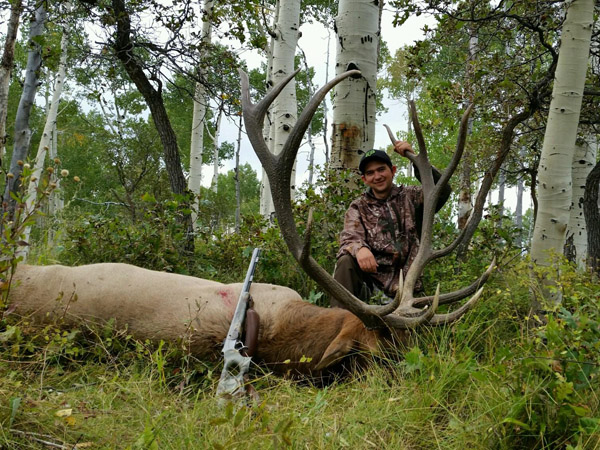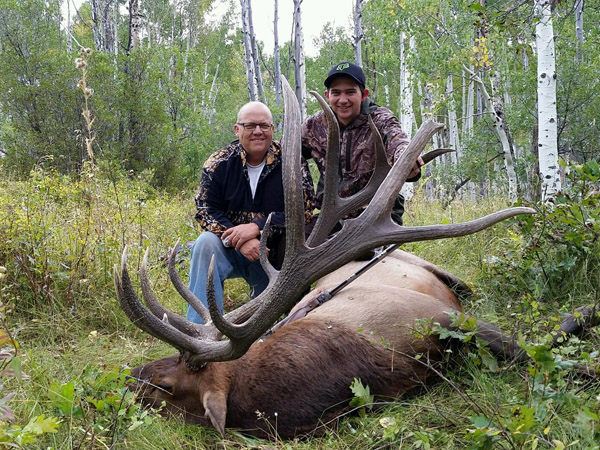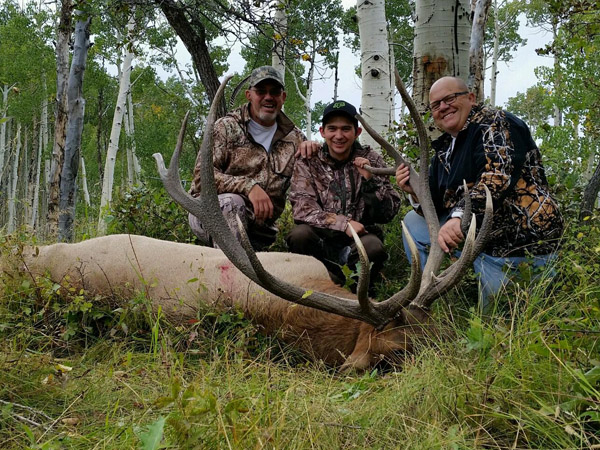 Click-a-Pic ... Details & Bigger Photos
Click-a-Pic ... Details & Bigger Photos
Home | Hunting Forums | Photo Gallery | Hunting Articles | Videos

|


Hunts & Tags | Hunt Draw Odds | About Mule Deer | About Elk
Store | Classified Ads | Photo Tours | About this Site | Advertising

|


Older Content | Email Us | Privacy Policy | Links | Podcasts