"Two General Season Wyoming Bulls"
Photo provided by: Hunter Watts
Hunter Watts (aka Elkrazy01) shared in our forum the fun Wyoming elk hunt that he and his buddy had. He posted............
"Pair of Wyoming General Season Bulls - I took my friend to my normal hunting spot this year for an elk hunt. Well the first three days were screwed up by weather, heavy rain then light snow in mornings followed by sun in evenings on first two days. To our surprise the elk started migrating even though the snow was only an inch or two deep. We couldn't figure it out. Then we woke up the third morning to 30 inches of snow at camp, which equates to around 4 feet where I normally hunt. Spent all of day three packing up camp and horses then making a plan for our next 6 days since our original plan was ruined.
Day 4 we go to an area where I know the elk migrate heavy into if there is enough snow, which I wasn't quite sure if there was. We get in there and there is some tracks but not the migration we were hoping. We found 2 seperate bulls, 5 point and a tag, over two miles away and way uphill. No real way to hunt them so we moved on, then we spotted 2 bulls together, a 5x6 and a rag also 2 miles away. They were in a huntable spot but it was going to be an all day deal. We debated, then they layed down and it was on. 1/3 of the way there I check on them and they stood up. We kept going anyway. About 3 miles later and 3000 feet in elevation gain we get to where they originally bedded. No elk. Followed tracks into the next deep Valley which was extremely thick for the most part. Then my friend spotted the rag feeding on the opposite hill about 800 yards. So we snuck that way then we spotted 4 Bulls laying down a few hundred yards from the rag. 700 yards.
It was plenty thick and they had no idea we were near so we snuck closer, even though Im confident with my gun to 1000 yards. Next opening was 450 yards and I said we are taking the shot.
My friend wasn't comfortable with his gun at that range so I decided to let him take the first shot at the biggest bull with my gun. Dialed it in, got steady and he nailed him through the lungs. I grab the gun and off my knee I put 2 bullets in my bull, both felt good but I wasn't sure since it wasn't the easiest shot off my knee. His bull stood there while mine moved out of sight so he shot his again and knocked out a front knee which sent the bull rolling downhill. We raced to my bull since he was moving steady uphill and I was worried it was a gut shot. We got on him 100 yards and put him down. Turns out my 2 shots were a heart shot and a front shoulder shot, just a hair high of the joint.
The 4 Bulls included the 5x6 we originally saw, my bull a medium 6x6, my friends bull a slightly larger 6x6 and a good size 5x5.
So all in all we got 2 6x6's on general otc tags, public land.
My bull 242-1/4" (Top Pic)
Friends bull 278-3/4" (2nd pic)"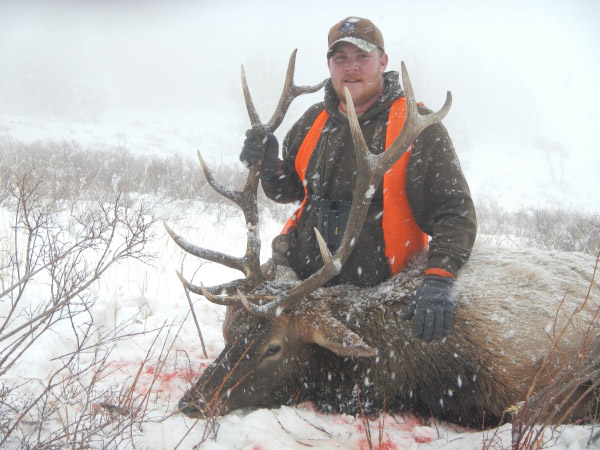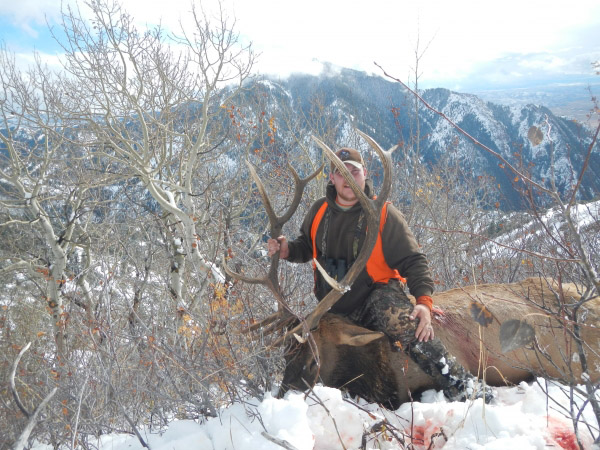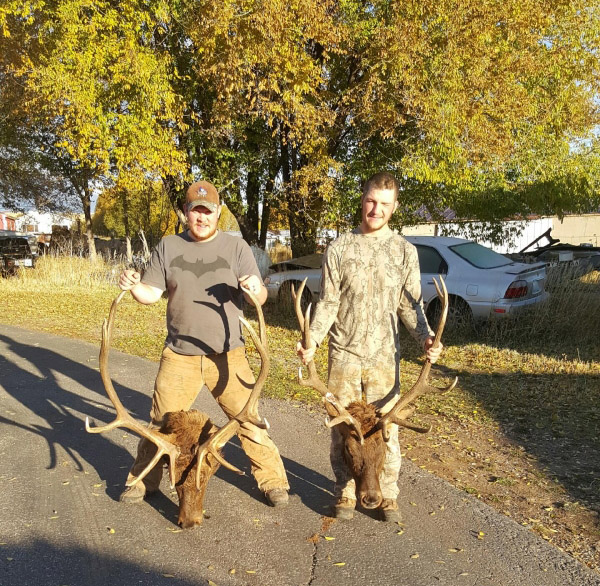 Click-a-Pic ... Details & Bigger Photos
Click-a-Pic ... Details & Bigger Photos
Home | Hunting Forums | Photo Gallery | Hunting Articles | Videos

|


Hunts & Tags | Hunt Draw Odds | About Mule Deer | About Elk
Store | Classified Ads | Photo Tours | About this Site | Advertising

|


Older Content | Email Us | Privacy Policy | Links | Podcasts