"Couple Fine Oryx for the Padilla's"
Photo provided by: Colton Padilla
Colton Padilla writes, "On March 20, we headed out our door at 3:15a.m. for our 2010 oryx hunt. That morning we saw a herd of about 70 head. We tried to put a stalk on that herd, but ended up getting beat by a couple of guys that had a pretty exuberant celebration of yelling and jumping up and down. We tried stalks all morning to get within 300 yards (my effective range), but ended up to no avail. After having lunch we ended up circling around under the base of a mountain. We ended up in a jungle of green mesquite bushes. Our friend instantly spotted the herd again in a flat on the other side of the "Jungle". Me and my Dad (Joe Padilla) ended up circling to the west and then tried coming up on the back end of the herd. At about 600 yards, we had a small bull spot us and we hunkered down behind a yucca bush. My dad asked me if I had my gloves and I said yes. So we started crawling and at about 300 yards from the herd the cover got sparse. We started belly crawling and stopped after 70 yards. My dad got up and ranged a good bull at 233 yards. My dad was setting up the sticks to shoot and in the middle of that a shot rings out. It turned out some guys we saw that were crawling got their first and took a nice cow. That evening we went to a waterhole we heard about from a guy who killed a good bull. On the way their we stopped to glass and when we got off the road about 20 yards we spotted a herd as we cleared the brush at about 200 yards. My dad took two shots and downed a good bull. I took 4 shots, but those were my first shots on a big game animal and well I missed all four. We made quick work of my dad's bull and left the range for the night. The next morning we spotted a few oryx 400 yards out, but never got close enough for a shot. While going by the same waterhole from the night before, we took a road to the foot of the mountains and bumped some oryx at 800 yards. They headed up into the mountains. We thought they would bed down in the canyon. So I said to heck with it "Go Big or Go Home". When we got on top of the mountain we thought they were below. Turned out they were gone and when we turned around a lone oryx was at 338 yards. My dad told me we could get a closer shot. So we got on top of the mountain and the oryx just kept coming to us. I was prone on the edge of the mountain with and oryx at 200 yards. The oryx bedded down and I thought, "here we go!" Then my dad told me that it was a good shot and to take it. So I took my breaths and got steady and out of nowhere I hear the BOOM!! The oryx got up and ran for about 30 yards and stopped. My dad said, "HIT HIM AGAIN!!!". I had to turn down my scopes power and when I got him in my scope he just fell over and expired. We were allowed to go off-road to get the oryx, but we couldn't get any closer than 800 yards. After a three hour pack out job, we both thought the hunt could not have ended any better."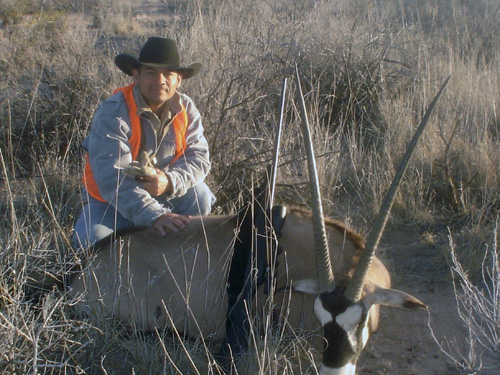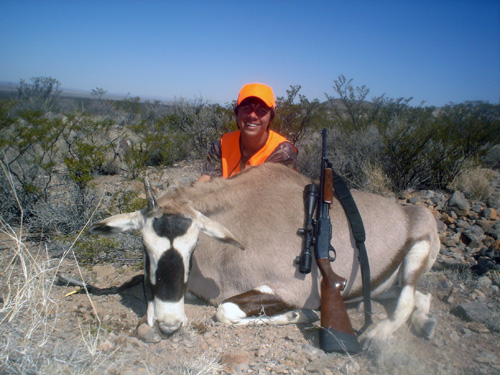 Click-a-Pic ... Details & Bigger Photos
Click-a-Pic ... Details & Bigger Photos
Home | Hunting Forums | Photo Gallery | Hunting Articles | Videos

|


Hunts & Tags | Hunt Draw Odds | About Mule Deer | About Elk
Store | Classified Ads | Photo Tours | About this Site | Advertising

|


Older Content | Email Us | Privacy Policy | Links | Podcasts