"Great Mule Deer Hunt for Kaden"
Photo provided by: Steve Hallows
Steve Hallows writes, "Pretty great hunt for my son, Kaden. It was his first year of deer hunting himself, with a gun. I had dropped one boy off in one spot, and then Kaden in another spot, about 10 minutes later and then I drove up 10 more minutes and stopped myself. As soon as I got situated, I figured I had better make sure my new bino's were clear and focused, so I pulled them up and the first and only thing I saw was a big buck trotting over the skyline at about 1,000 yards away all alone. I think he had been spooked and he went over the skyline trotting so I figured he was long-gone. So, we sat and sat for another 30-40 minutes and hadn't seen a thing, not even ONE deer, other than the one I had! My boys were getting restless so I told them I would drop down the canyon and back up the other side to where they were looking and then I would walk towards them, hopefully to scare something out of the oak brush. Anyway, once I dropped down to bottom of ravine and got up the other side, I realized at that time, I was only a couple hundred yards away now from where I had seen that one buck about an hour earlier. So…I asked the closest boy (Kaden) if he wanted to check on that buck and hopefully he just bedded down or stopped to feed right after that hilltop I had seen him go over. Kaden said yes, so I waited for him and then we put the sneak on. I told him where I had last seen the buck and that he needed to be super quiet and circle around to the left slowly while I circled wide right and would hopefully push it down to him if the deer had fed uphill. So, the sneak was on….. Kaden was to set up right at the crest of the hill while I went wide right. I was literally only 25 yards away from coming on top of the crest from the right, when I hear "kabam." Kaden had shot and he yelled, "Buck down." Well, I ran there- it only took me about 5 seconds - and I couldn't hear or see anything, it was crazy. No deer trying to get up, no grunting, no nothing. So, I asked Kaden, who was about 100 yards away, "Where is he?" He said, "I think he went down by that cedar tree." Well, I couldn't find a thing and crazier, I could not HEAR one thing! It was not by the cedar tree he thought so I started circling every cedar tree close by (because I knew a 13 year old on his first hunt probably had a little buck-fever and lost track of WHICH cedar tree it really was J) . I circled about 4 cedar trees, dumbfounded until I walked up on this buck lying there, absolutely motionless. Wow, what a shot that must have been! I have never seen a buck go down so quickly, or any animal for that sake. I told Kaden…"you lucky little bugger!" so he came over quickly and we were high-fiving, etc. It was awesome, it really came together for a change all about about 9:45 am on the first morning !! Kaden gutted the deer himself and everything! What a kid! So, we were looking at the deer and he shot it right in the neck, but we couldn't really see an exit wound, but we thought nothing of it at the time. Kaden was slightly downhill of the deer at about 80-100 yards when he shot. He said he crested the hill and saw its butt and so he knelt down, got as solid (and calm) as he could and when the deer raised its head, he saw it was the buck but he only had two options- either a butt shot, or a neck shot. So…he shot him in the neck , and down he went, like a sack of flour. Later, after our buddy was doing the Euro mount for us, guess what??!! He told us he found the bullet lodged in the skull of the deer!!
This bullet had gone thru the back of its neck, going upright and lodged in the harder part of the skull upwards through the jaw. Pretty wild. Definitely a hunt we will never forget!! Another cool thing is that later, after asking my other son Colton where he was, he told me he had gotten cold pretty early on and started walking pretty soon after I dropped him off…..so, that made me think that HE probably jumped that buck and that's why he was trotting in the first place, he kind of scared him up, so all three of us got to take part in the harvest in one way or another! Proud dad moment for sure! A year we'll never forget in hunting – 2017!"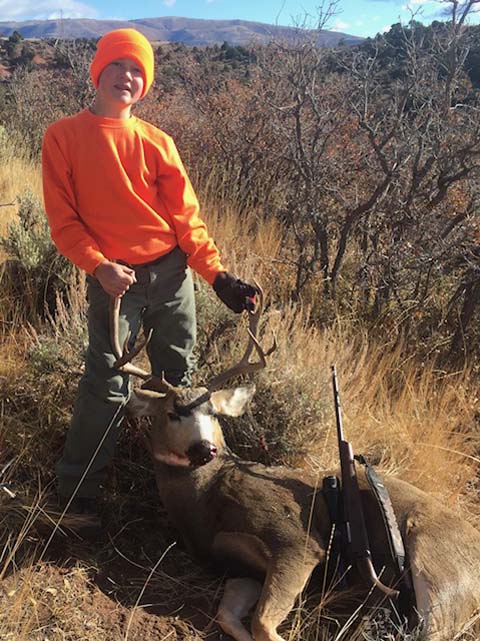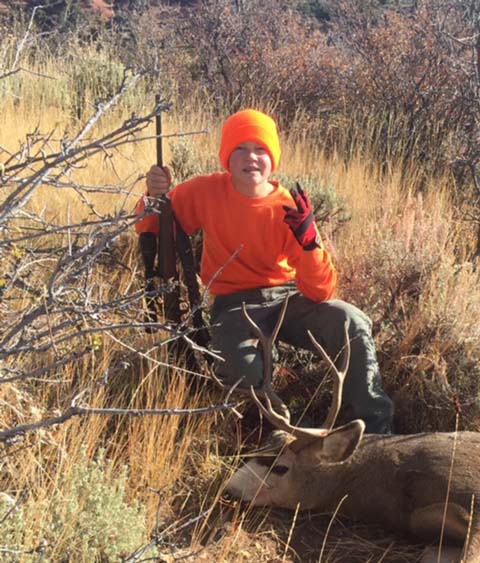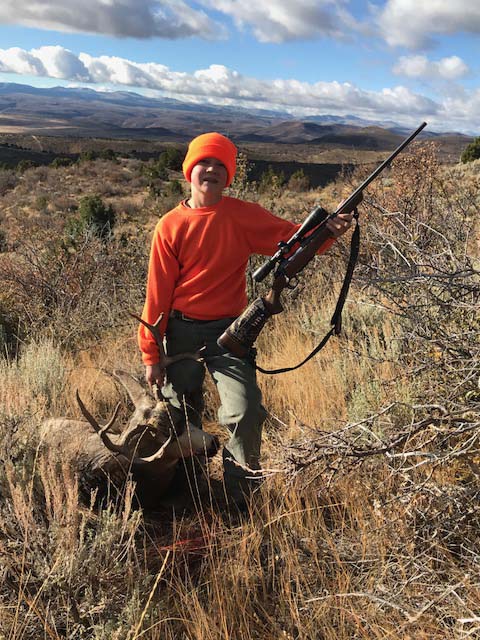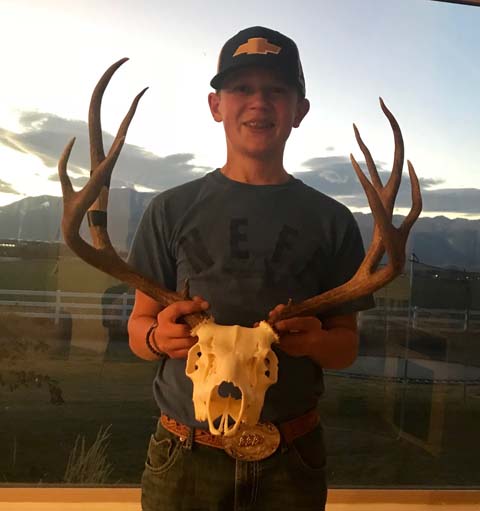 Click-a-Pic ... Details & Bigger Photos
Click-a-Pic ... Details & Bigger Photos
Home | Hunting Forums | Photo Gallery | Hunting Articles | Videos

|


Hunts & Tags | Hunt Draw Odds | About Mule Deer | About Elk
Store | Classified Ads | Photo Tours | About this Site | Advertising

|


Older Content | Email Us | Privacy Policy | Links | Podcasts