"Benny's 189-inch Colorado High Country Muley"
Photo provided by: Benny Espinoza
Benny Espinoza (aka NMBugleJunky) had himself some fantastic success in the high country of Colorado. Here's what he shared.......
"Unit 74 Above Timberline Success!! - I was super busy this summer and was extremely disappointed that I burned 14 points and was unable to scout even 1 day until Monday before the hunt. I went to the La Plata Mtns. and only found tiny bucks on my very short morning scout. Wednesday I was able to take the evening off of work to head up to the Siverton area. I did drive to a few spots more to get my bearing than to really scout, since I had never been in this country before. For those who rag on guys for burning points or putting in for a unit they never stepped foot in, should just keep there mouths shut! Not all of us have the resources and or time to scout a potential hunting unit years in advance as well as hunt our own state. Venting over. At about 7pm on Wednesday as fate would have it, I asked my dad to stop so I could look up at the mountain in front of us with the binos, (more out of amazement of how big these things are, and thinking that I am gonna have to climb one of those) as soon as I picked up the binos I saw this buck directly on the skyline 2000 yards away!!! I was so excited, this was the 1st buck we had seen that day. I was able to watch and phonescope video him and 1 other buck I would put at 170ish for about 5 minutes before they were out of site. I went home and studied Google Earth and liked what I saw. Just on the other side of the mountain, right from where those bucks came from was a fantastic basin that I believed to hold these bucks. I went back on Thursday morning and evening in hopes that those bucks would show themselves again, no luck, NOTHING. I was not able to look Friday morning but looked in the evening, again, nothing. Oh well, I'm gonna go at them anyways, I had only seen these 2 bucks! For some reason, I was never worried that I wouldn't be able to find him. I had full faith in my dad, brother and my knowledge of mule deer that after Wednesday evening and studying Google Earth, I knew I was gonna kill this deer. We parked the truck at 10,550' and headed out at 6am Saturday morning, climbed what seemed like Mount Everest up to 11,908'. We made it right at 10am. As soon as we could see the basin that we thought the bucks lived in, right below us at 200 yards was a buck staring at us!!! "Is it him, is it him" I kept asking. "He is big enough" my brother says as the buck bounds off. I put him at 160 to 170 maybe. Now we are all lying down on the steep hillside glassing both the basin and below us. "I see him, I see him" my brother says. He directs us as to where to look. This very buck is the buck he found lying down in some brush at 630 yards away. We waited for about 20 minutes and found 3 other bucks with him, 2 of them shooters. The 170ish buck and a wide wide 3x4 along with a forkie. For whatever reason, my buck stands up and all 4 bucks trot off to 670 yards from us. With one of the other bucks standing in front of my buck, I had to wait for either deer to take a few steps, when my buck stepped out showing his broad side body, I squeezed off a round, and the rest is history!"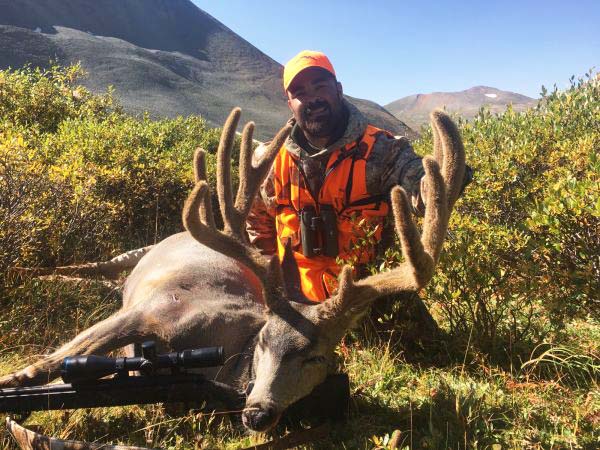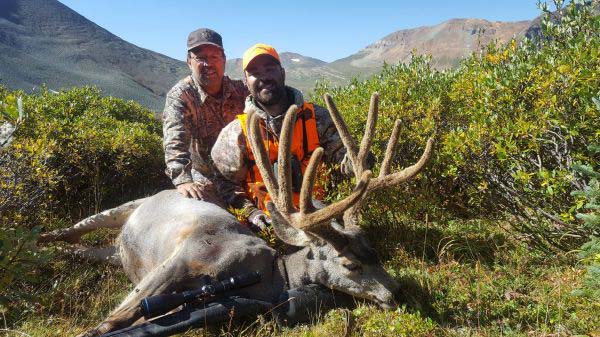 Click-a-Pic ... Details & Bigger Photos
Click-a-Pic ... Details & Bigger Photos
Home | Hunting Forums | Photo Gallery | Hunting Articles | Videos

|


Hunts & Tags | Hunt Draw Odds | About Mule Deer | About Elk
Store | Classified Ads | Photo Tours | About this Site | Advertising

|


Older Content | Email Us | Privacy Policy | Links | Podcasts