"Big Bull Taken and Fantastic Memories Made"
Photo provided by: Shaun Larsen
Shaun Larsen (aka deerkiller) shared this nice story and photos in the forum........
"Making Memories - I've been on a lot of great hunts over the years with my family and friends, but what happened last night will be hard to beat. My dad found out in May he had drawn a LE bull tag after 20 years of applying. He's been applying for the San Juan unit the whole time up until this year. He's getting older, 69, and can't get around the hills nearly as well as he use to. So we agreed to put him in for a unit close to home, that I know well and make this hunt more about the memories and not the score. We looked at draw odds and figured he'd have a pretty good chance at the multi season tag, which would give him the most opportunities to fill a tag with a decent bull. Turns out we were right as he drew it. We then dumped his 3 cow points into the same unit so he could shoot a cow as well during his hunts. I bought a private lands cow tag too for this unit since I knew some land owners that would give me access to their ground. Over the summer I scouted a lot, hung cams in all my honey holes and found a lot elk and some good bulls. My friend was fortunate enough to draw an archery bull tag as well for this same unit, so I had more eyes looking and we shared info with each other.
With a week left on the archery hunt, my friend killed a great bull we had been seeing all summer. Lots of pics and video of him as well. It was hot all the way through the season which made the hunt very hard, but he stuck with it and it paid off. Two days before the rifle hunt, the weather really started to cool off and got the bulls really fired up. The night before I had a long time friend call me and said he had found a great bull on some private ground within the unit he had access to and said we could hunt it. We went and looked at the elk and decided we would focus on him due to his location and how "easy" it would be to hunt him with the area he was in. Opening morning was kind of a mess with the unexpected fog and rain. We located the bull, but missed the short opportunity we had on him and he was gone. We hunted all over the next few days. Passed many bulls Saturday and Sunday. Lots within the 310-330 range. The bigger bulls were in some nasty holes that he wasn't too interested in going after, and as hard as it was for me to agree with him, I had to remind myself this was his hunt, not mine. Monday morning ended with the same results. We located a big herd before light. Elk screaming everywhere. Right after it was light enough to see what was going on, he passed a bull that I figured was mid 330's at 100 yards. I made the mistake of saying he wasn't the herd bull, he was a satellite bull or I think he would have shot him without hesitation. The bigger bull was in the trees and never came out for a shot. I saw a very brief glimpse of him as he chased a smaller bull off and could tell he was big, but not sure how big. We played with them for several hours until they went quiet for the day and bedded in the thick trees. We called in a few tiny bulls later that morning, and just watched these amazing creatures walk around us trying to figure out what we were. That night he wanted to take it easy and watch the fields again and see what would come down right before dark. An hour after we got there, I spotted several cows working their way down through the cedars. I heard a bugle above them that sounded like it was from a bigger bull, so we moved in for a closer look. Right before dark the cows entered the field and the bull showed himself above them on the ridge. He was a pretty bull, not huge, but a decent 6x6 that I figured to be somewhere around 320. My dad looked him over and decided he was ready to end his hunt. At 291 yards, he let the 300 Win Mag eat and dropped him in his tracks. Once I saw the bull go down, it turned into a circus! I grabbed the rifle from him to fill my private lands cow tag. I caught the last one out in the open as they left the field. I waited for her to stop and I took the shot. She dropped instantly so I gave him back the rifle for him to fill his cow tag. As they neared the top of the hill the front one stopped in an opening and he took a shot at her, dropping her instantly as well. We pulled off a triple in 3 minutes. We went and recovered the elk, enjoyed the moment, reflected back on the last few days and experiences we shared and decided to come back with help the next morning to get them all out.
This hunt was special for me in many ways. I've waited literally my whole life for my dad to draw a bull tag and share this experience with him. We've been on many great hunts together, but this one is definitely at the top of my list of favorites. He's not the biggest bull on the mountain, he's not the biggest one we've seen or even had shots at that he passed. But this wasn't a hunt about inches. This was about making memories with my dad and family. I'm guilty of being caught up in trophy hunting every year, this was a great reminder for that even though it's fun to hunt big animals, that it's not what it's all about. Not very often does a guy get to witness his dad kill a bull and then shoot a couple of cows with him in the same evening. The pack out was easy, we were able to drive my truck within 100 yards of them and an ATV the rest of the way. It was a great way to end a hunt that we have both been waiting for, for a long time. I'm sad it ended so soon, but even if we had hunted every day of all 4 seasons his tag was good for, I still don't think that would be enough time chasing elk around in the mountains with the greatest man I've ever known. I'm almost certain I'll hunt the rest of my life and never get to experience something like this ever again."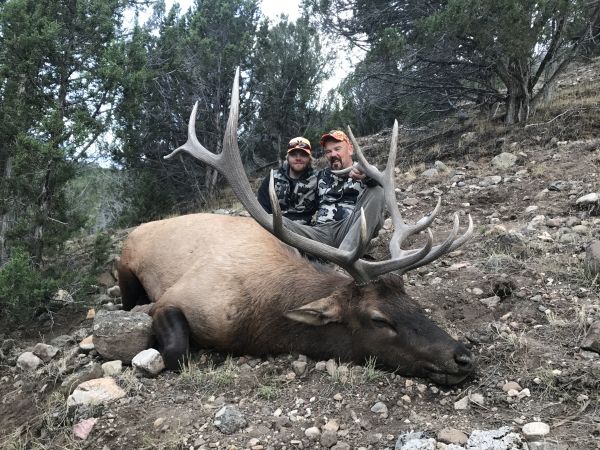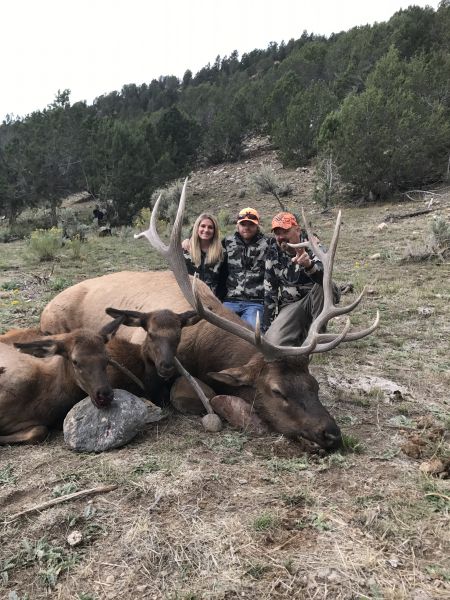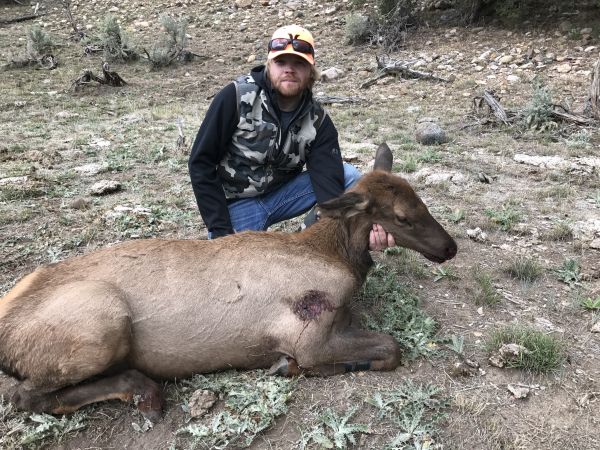 Click-a-Pic ... Details & Bigger Photos
Click-a-Pic ... Details & Bigger Photos
Home | Hunting Forums | Photo Gallery | Hunting Articles | Videos

|


Hunts & Tags | Hunt Draw Odds | About Mule Deer | About Elk
Store | Classified Ads | Photo Tours | About this Site | Advertising

|


Older Content | Email Us | Privacy Policy | Links | Podcasts