"Just Sitting Around Camp"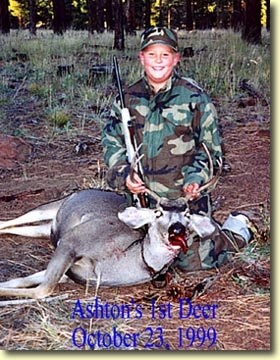 Ashton's First Buck.
I was 10 years old when I got my first chance to go deer hunting in October 1999. I had drawn a "Juniors Only" tag for a unit in northern Arizona. My dad and I were not at all familiar with the area, and because of my dad's work schedule, we didn't even have time to do any scouting. The only information we had about the area was what we had gathered from the Internet.
We went up a day early to look around a little and to find a decent camp spot. Most of the day was spent driving around looking at the area and hoping to find a few deer. We did see a lot of deer, including three bucks and one of which was a very nice 4x4. To say the least, I was very excited for opening morning.
On opening day, my dad and I did a lot of hiking in the area where we had seen most of the deer the previous day. We again saw a lot of deer, but no bucks. My Dad and I were both disappointed, but we still had a very good day and enjoyed spending time together. That night, neither of us slept very well as a big herd of elk, including one very large bull, took up residence in the clearing where our camp was set up, and made a LOT of noise.
As a result of not sleeping well for most of the night, we did not wake up very early the next morning. When we finally did get up, my Dad was very anxious to get going, so we skipped breakfast and just had some hot chocolate and donuts, which was quite alright with me! As we were drinking our hot chocolate, we heard some coyotes yipping and barking just across the meadow. I started to howl back at the coyotes and before long had them all making quite a ruckus. My Dad was getting quite impatient with me and said something about how we were never going to get my first deer sitting around in camp playing with the coyotes. He was busy putting something in the tent when I saw several deer trot out of a little ravine and into the clearing about 100 yards from our camp. I could see that at least two of them were bucks. I am known in my family as quite a tease so my Dad didn't' believe me when I yelled, "There's some deer!" Without even looking up, he said, "Yeah...right!" I kept insisting that I was serious and he finally turned around to look. Once he saw the deer, he quickly ran to the truck and grabbed my Remington, Model 700, .243, and handed it to me. I began looking around for something to lean over for a good rest, then Dad told me to lean over the water can sitting on the table. It didn't feel sturdy to me, so I ran instead to a nearby stump, leaned over it and prepared to fire.
By then the deer were about 150 yards away and trotting in and out of some scattered trees. My dad was nervous that I wouldn't get a shot off, since earlier that same year I had been just a little too slow to the trigger while on my first elk hunt. The deer went behind a small stand of trees and Dad told me to shoot as soon as they came out into the clearing. I took aim and was about to shoot, when my Dad, who was standing behind me, asked me what in the world I was shooting at. I told him that I was shooting the little buck, and he pointed a little to the left and asked, "Wouldn't you rather shoot that bigger one over there?" I immediately aimed at the bigger buck, which turned out to be a nice 3-point. I could hear my Dad in the background whispering, "Hurry Ashton! Hurry!" Just as the buck started to run again, I squeezed the trigger and he dropped on the spot. As we watched intently to make sure he remained down, he got up and staggered a few yards, and then went down for good.
Only then did my Dad and I have a good laugh about how maybe we COULD get a deer while "sitting around in camp". We still don't know what caused the deer to move through that clearing so close to our camp, but we guess that it was probably the combination of the real coyotes and one 10 year old boy having a good time pretending to be one. I am 12 years old now and look forward to hunting deer again with my Dad. I'm guessing that whenever and wherever I get my next buck, it won't be as easy as my first one, and probably won't result in such a fun story to tell.
Written by Ashton Sanders
Click-a-Pic ... Details & Bigger Photos
Click-a-Pic ... Details & Bigger Photos
Home | Hunting Forums | Photo Gallery | Hunting Articles | Videos

|


Hunts & Tags | Hunt Draw Odds | About Mule Deer | About Elk
Store | Classified Ads | Photo Tours | About this Site | Advertising

|


Older Content | Email Us | Privacy Policy | Links | Podcasts