"My Trophy"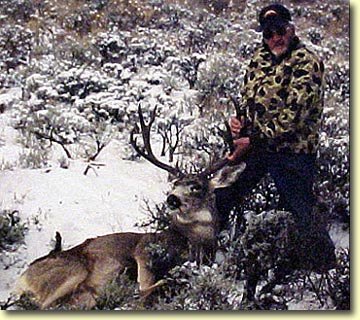 Bob's buck is a 25-inch 4x5.
I was hunting deer as a guest on a ranch north of Wallcott, Colorado in November 2000. The ranch has its own management program that is based on scientific accumulation and evaluation of hunting activities and the harvesting of mule deer bucks on the ranch. They use a "Management Buck Season" to weed out the less desirable animals and leave the better genes in the herd.
I was hunting under the services of a guide that was trained to know which bucks qualified as management deer. During the first three days of my five day hunt, there were about six instances in which I was prevented from taking a buck due to several reasons ranging from, it was a "trophy" to being it was "grower". On at least two occasions, I turned down bucks, while on two other occasions, the shot could not be taken because of the wind blowing in the wrong direction to attempt a stalk. All of the bucks were very good.
We were looking for one buck in particular, which the guides had dubbed "the big three". He was a huge 3-point with a 30-inch plus spread and very heavy horns. He was a smart old buck who always seemed to make just the right move. On the fourth day, a second guide joined us. He had a nice buck spotted in another area, so we gave up on "the big three" and headed over to checkout the other buck.
The buck was a good one and I wanted him, so we planned a stalk. One plan was to sneak the long way around him, which would put the wind in our favor. From there we could sneak through a timber patch where we felt we could get to within 200 yards a make a clean shot. While making our plan, the buck began feeding down into a gully where he started raking his antlers on some bushes.
The buck had moved fairly close to the road, so we decided to just drive the truck down the steep, narrow, snow covered road and see if we could get a little closer, then move in for a shot. One of the guides remained on the top of the hill. His job was to guide us to the buck once we we're in the bottom of the gully.
Once we we're in place, he informed us that the buck was coming. I quickly took a solid rest and waited. At 130 yards, the buck came into view. I squeezed a round off, hitting the buck. He didn't go down, so fired again, missing! The third shot hit home and the buck dropped in his tracks.
My buck is a 25-inch wide 4x5. At the age of 73, I don't know how many more hard hunts I will be going on, so I am very happy and satisfied with my trophy buck. I look forward to seeing my Colorado buck hanging on my wall for years to come.
Written by Bob Ayotte
Click-a-Pic ... Details & Bigger Photos
Click-a-Pic ... Details & Bigger Photos
Home | Hunting Forums | Photo Gallery | Hunting Articles | Videos

|


Hunts & Tags | Hunt Draw Odds | About Mule Deer | About Elk
Store | Classified Ads | Photo Tours | About this Site | Advertising

|


Older Content | Email Us | Privacy Policy | Links | Podcasts