"The Angry Bull"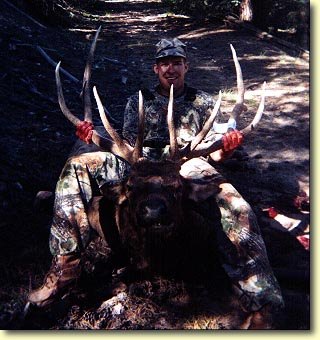 How would like this big bull within 7 yards of you, ready to fight? Sounds fun!
I learned of my success in drawing an Arizona archery elk tag while on a six-month military deployment in the Mediterranean. I hadn't hunted the area I drew in eight years, luckily my dad helped me out. He did most of the scouting.
I was a week into my hunt and my diaphram mouth call was about worn out. I had torn it from over using it, and didn't have a spare. The only noise I could make was a raspy growl and chuckle. The high pitched bugle of a mature bull, and the mew of a lonely cow was gone. I was hesitant to use it all, but opted to carry it just in case.
It was six in the morning when I heard the big bull let out an awesome bugle. The sound of that bugle was music to my ears, so the chase was on with my dad in tow as a spectator and motivator.
After about two miles of following the bugles of what I believed was a trophy bull, I figured out where he was headed. I quickly began climbing the hillside, hoping to head him off as he went over the ridge. I was practically running up the mountain, but to no avail. As I topped the ridge with my lungs on fire and my heart pounding a thousand times a second, I heard what we elk hunters never want to hear, the crashing sound of elk plowing through the timber, along with flashes of tan bodies.
I was dejected as I sat there thinking of my blown opportunity. If I could have only ran a little faster?!
Suddenly, I heard another bugle. It was the bull I had just been chasing! I knew I had to give the broken down, worn out elk call another shot, so I let out a few, of what could at best be called, "elk noises". I was amazed when the bull responded, and with more intensity than before.
I left my dad on the ridge and began working my way towards the bull, I was hoping for just one more chance. As I moved closer, I made a few grunts and chuckles. Each time, the bull was quick to respond, often before I would even finish. With each of his thunderous bugles, it became obvious that the he was becoming very angry.
The bull was close, so I took position along an old firebreak. He was coming, and I wanted to be ready. I let out a couple more grunts, just to let him know where to come too. Then I waited for the moment of truth.
I first caught movement in a thick stand of pines, and it was him! I slowly drew my bow and held it for what seemed like five minutes. He cleared the trees and was only 10 yards away, but facing right at me. He was looking for his adversary, maybe hoping for a fight.
I was just fighting to hold the bowstring back, waiting for him to present a good shot. He began towards me again, this time at an angle. I normally would not attempt a shot at an animal that is angled towards me, but at 7 yards, I felt confident that I could squeeze an arrow into the vitals--I shot!
The bull whirled around and took off. He ran down through the firebreak, then stopped, wondering what had just happened. At that point, I was shaking and couldn't believe what happened. I looked up to the ridge above me and saw my dad, so I gestured to him that I had just shot. The bull just stood there, and I couldn't see any blood on his tan hide. I began second guessing myself, "did I miss?" He was only about 50 yards away and I was about to launch another arrow when he began staggering around, I knew he was going down. I finally had a great trophy.
After the bull went down, my dad quickly caught up to me and explained that he had seen the whole thing unfold from the ridge above. He said that he watched as the bull became angrier each time I growled my worn out call, until finally came looking to fight.
The best part of the hunt was spending time with my dad. I'm happy that he was along to share in the fun. I guarantee that we will never forget that hunting trip.
Written by Brad Bean
Click-a-Pic ... Details & Bigger Photos
Click-a-Pic ... Details & Bigger Photos
Home | Hunting Forums | Photo Gallery | Hunting Articles | Videos

|


Hunts & Tags | Hunt Draw Odds | About Mule Deer | About Elk
Store | Classified Ads | Photo Tours | About this Site | Advertising

|


Older Content | Email Us | Privacy Policy | Links | Podcasts