"Family Affair"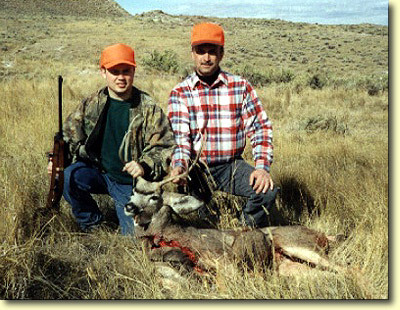 Jeremy's first buck.
Our first mule deer hunting trip to Wyoming proved to be not only successful, but also the start of what I hope is a yearly ritual for my son and I. In January, we applied for, and in July received, deer tags for region B in Wyoming. On September 29th, we flew from Harrisburg, PA. to Denver, CO., rented a car and drove to my brothers house in Douglas, Wyoming for our six-day deer hunt.
The first day of the season found myself, my son Jeremy, my brother Dave, and his son Ryan in the Thunder Basin National Grasslands. I had not seen my brother for over a year and our boys are the same age, so it was a great family get-together. At first light, the boys headed off in one direction and my brother and I in the another. Around 8:00 a.m. we heard two shots coming from the direction where the boys had headed. Using our binoculars, we spotted the boys dragging a buck down off a hillside in the distance. My brother and I sat and watched our boys drag the buck all the way back to the truck. Good, we thought, now they can drag for us too!
I had seen several doe and one small two-point buck, but wanted something better. We headed back to the truck around noon to find that my son's buck was a 4x3, it was his first deer! He was using his grandpa's 30-06 with a 3x9 scope. His grandpa passed away when Jeremy was only 5, and he inherited grandpa's rifle. I told my brother that my hunt was a success now that Jeremy had his buck, but I continued searching for a trophy of my own.
Every day found us out hunting at first light and staying till dusk, but no luck. A lot of does, but no big boy! I passed up several small bucks, including the same 2x2 that I saw the first day. Every day the weather was great for hunting, lots of sunshine and decent temperatures. But on Friday, the last day of our hunt, things changed, and by 5:00 a.m. it was 30 degrees and snowing. We again headed for Thunder Basin.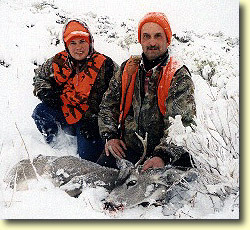 My brother remained in the truck while the boys and I went at it one more time. By 8:00 a.m. we had six inches of snow and it was still coming down, it was a great day! We worked our way up to the top of the ridge where we spotted several does and that 2x2 that I had seen several times prior, he was about 600 yards out. I said to my nephew, "I'm shooting that buck this morning!" I was shooting a 30-06, and because of the range, I needed to close the distance. We moved quickly but quietly through the snow down the backside of the ridge, through the ravine, and climbed up the next hill. We crawled the last 10 feet and were in position. The buck was 150 yards out and standing broadside. I placed the crosshairs just behind his shoulder and squeezed the trigger. He went straight down! We went over to my "monster muley", and found I shot him right through the neck. "Great shot" my nephew said. (I did not tell him I wasn't aiming for the neck.) Our first trip to Wyoming was indeed successful! It is not the size of our trophies that made the hunt so special, it was the time we shared as father, son and family.
Written by Brad Klinger
Click-a-Pic ... Details & Bigger Photos
Click-a-Pic ... Details & Bigger Photos
Home | Hunting Forums | Photo Gallery | Hunting Articles | Videos

|


Hunts & Tags | Hunt Draw Odds | About Mule Deer | About Elk
Store | Classified Ads | Photo Tours | About this Site | Advertising

|


Older Content | Email Us | Privacy Policy | Links | Podcasts