"The Labor Day Trophy"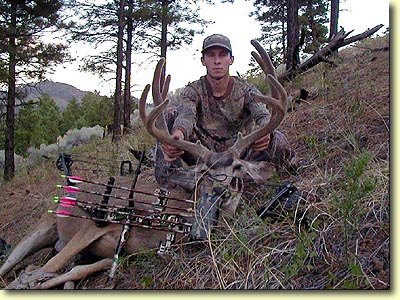 Chris' buck is 25 inches wide and should score around 170 P&Y.
It all started in late July when I decided to start scouting around my home in northern Arizona. I was seeing a great number of bucks, lots of small ones, but some real nice ones too. I felt confident that this was going to be a very good archery season.
Having harvested various other animals with my bow, I really wanted to tag a trophy mule deer in the velvet, and I was determined to do so. I prepared myself in all possible ways; pre-season scouting, checking my hunting equipment to make sure it was in top shape, etc.
Well it finally arrived! The opening day of archery deer season. Because of work, I was able to hunt for only a couple hours in the morning and evening. I used what time I had trying to find a good buck to hunt on the weekend, when I'd have more time.
I was unsuccessful on opening day, but my hunting partner harvested a nice 22" four point! It was a great way to start the season. The next morning, I went into the same area and found that it was over run with people, but decided to stick out the weekend, and was again unsuccessful. I had very little time the following week to hunt, but was able to fit in a few evening trips to checkout some new areas.
The second weekend, I decided to try a favorite spot of mine that usually holds some nice bucks and where I had seen some great bucks while scouting. It was Labor Day weekend, but the area receives very little hunting pressure, so I figured it would be a good bet. On my way out on Friday evening, I spotted a toad of a buck, I figured he would score well in the 190's. I spent the weekend searching for that buck, but never saw him again.
On Monday evening, I decided to check another location where he might have moved. It was about 4:30pm when I was driving into the area I wanted to hunt, I looked up onto the side of the hill and there stood a big buck. After close inspection with my binoculars, I could tell he was a shooter, so I put together a plan and drove off. The plan was to drive to the backside of the hill and stalk him from the other side.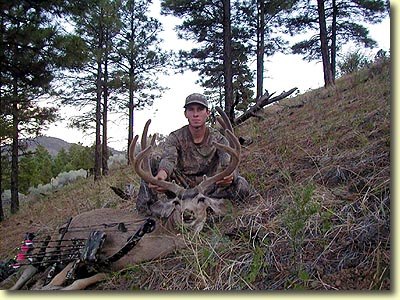 I hopped out of the truck, removed my boots, put on my wool socks, and grabbed my bow. I spent two hours stalking up the backside, but couldn't see the buck. I started glassing, wondering "where could he have gone?" Just then, about 60 yards below me, he raised his head. He was in tall sunflowers and blended in perfectly. I held still and waited for him to resume feeding. I then slipped down to the last available cover, a blown down tree only 50 yards from the feeding buck. It seemed that I sat there watching him feed for hours, but it was probably more like 2 or 3 minutes. My heart was pounding and I was hoping he would feed even closer. Then, I heard a truck coming down the road below. I knew I had to take my shot before the hunter's in the truck scared the buck away.
I drew my Hoyt Defiant bow, shooting an Easton 2413 Super Slam arrow tipped with a 100 grain Game Tracker Silver tip. The buck was slightly quartered away, so I placed my 50-yard pin on the base of his neck. I figured if he was further, the arrow would find its mark, right in the boiler room. If he was at exactly 50 yards, it would hit him in the spine and hopefully kill him instantly.
I squeezed the trigger on my release and watched as the arrow flew towards the buck. Perfect shot! The buck dropped instantly! I was in disbelief! I had never seen an animal expire that fast from an arrow.
After thanking God, the work began and I finally had my trophy mule deer buck in the velvet. He is a 25" four point with deep forks and good mass and will score around 170 P&Y. Another note, it was not the toad I had spotted earlier in the season, so it will give me something to set my sights on for next year.
Written by Chris Vallejos
Click-a-Pic ... Details & Bigger Photos
Click-a-Pic ... Details & Bigger Photos
Home | Hunting Forums | Photo Gallery | Hunting Articles | Videos

|


Hunts & Tags | Hunt Draw Odds | About Mule Deer | About Elk
Store | Classified Ads | Photo Tours | About this Site | Advertising

|


Older Content | Email Us | Privacy Policy | Links | Podcasts