"Old Shovel Handle"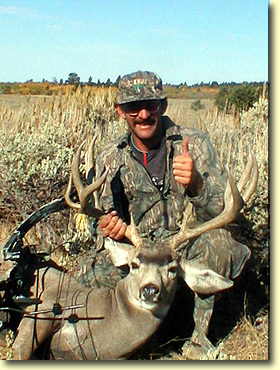 Casey's buck is 26-5/8 inches wide and green score 171-4/8.
The 2000 hunting season started with me thinking about "Old Shovel Handle", a buck that I hunted long and hard for in 1999 only to come up empty handed. The old buck was wise and seemed to always make just the right move. I felt confident that he had made it through the 1999 hunt, but the winter was another story.
I began my scouting early, checking the areas where I had seen the big buck in 1999. I saw lots of deer on my early scouting trips, but it was still so early that they didn't have much bone on their heads yet. In mid-July, we spotted two bucks that were exceptional and I thought that one of them might have been the buck I was looking for. We watched the deer feed for over an hour, but were unable to make certain that it was the big one.
I returned to the area several times in July, but never saw the two big bucks again. In August, we started seeing more deer and they were feeding later into the morning, giving us extra time to look over more bucks. Several of the bucks living in the area were of Pope and Young class which really got us pumped up and excited for the hunt.
Finally, September rolled around and we were on the mountain ready for some bowhunting fun. Our hunting party grew a little in 2000. My nephew, Jared, cousin, Mike, and his son, Mickey, were along to join my son, Moseley, and I for some great hunting fun. I knew that we would have a great hunt, even if no tags were filled.
On opening morning we all spread out and began hunting through the area where I was sure the bucks were still hanging out. Right off the bat Jarrod jumped a group of 10 bucks. My son, who had also seen "Old Shovel Handle" the previous year, saw five of the bucks that Jarrod had jumped and recognized that the old buck was in the group. As the bucks made their way across the hillside and through the trees, they ran right into Mickey who took a 40 yard shot at the big one, "Old Shovel Handle". Unfortunately, his arrow fell short.
The second morning found Moseley and I right back in the same area watching the creek bottom. We hadn't been there long when we spotted three bucks feeding below. We watched until they feed into the valley below, and then bedded down just above the creek.
I sent Mose down along the creek to a spot where he could cross. I circled around and position myself on the other side of the bedded bucks. My plan was to attempt a stalk, but if they were to catch me, they might go straight away which would lead right to Mose.
Once in the valley, I couldn't see the bucks. They had laid their heads down and the sage was too high. I knew, though, that I was close, somewhere within 50 yards. I began looking across the valley for Mose; hopefully he could give me some direction to the bucks. Just as I raised my bino's, the bucks jumped up and took off towards the creek. I heard Mose shoot and I hurried over, but the bucks had avoided another arrow!
We returned the next weekend, and I saw "Old Shovel Handle", but was unable to get a good shot. Though I couldn't work closely enough to shoot, it was a lot of fun just watching the big buck. On Saturday, both Mose and I had some action. Moseley spotted a small buck from the cabin and spent several hours stalking the buck and ultimately taking a shot. Unfortunately he didn't get him.
I also took a shot that day, at a tall four-point that I jumped from his bed. My arrow fell short though!
When the third weekend of the hunt rolled around we were again excited to head for the hills. I was hoping that if I just stuck to it, I would eventually get a good shot at the big buck I wanted.
On Sunday morning we split up. Mose went to the rim trail and I went up the canyon, hunting towards the pond where I though my buddy Mike would be. As I approached the pond, I expected to see Mike, but he wasn't there. I thought maybe he had seen something and was on its trail, so I continued past the pond and snuck up over the sage hill looking for him. Suddenly, I spotted a two-point buck. I quickly raised my binoculars and there he was, "Old Shovel Handle!"
I began sneaking towards the bucks. There were some cattle feeding in the brush nearby and I was hoping that the noise they were making would cover up any noise I might make. Once I was within 60 to 70 yards, I peeked up over the brush for a good look at the bucks. I knew I could get him at 50 yards, but I was still 65 yards away and that was a stretch for me. However, I decided to take the shot.
I drew my bow, placed the 50-yard pin a foot and a half over his back, said a quick prayer and let it fly. Thump! The arrow hit perfectly in the ribs.
As the buck fled my heart started to pound and I was praying that the buck would go down fast and leave a good blood trail. I waited as long as I could stand and then headed up the hill to where I had last seen him. As I topped out I spotted Mose sneaking over the rim opposite me. He was sneaking up on the buck I had just shot, because it hadn't gone down yet. But within minutes the buck was down and I was jumping with joy when Mose made it to the buck and raised his arms indicating that it was a big one.
"Old Shovel Handle" is 26-5/8 inches wide and green scores 171-4/8. He's the buck of my dreams!
Written by Casey Middleton
Click-a-Pic ... Details & Bigger Photos
Click-a-Pic ... Details & Bigger Photos
Home | Hunting Forums | Photo Gallery | Hunting Articles | Videos

|


Hunts & Tags | Hunt Draw Odds | About Mule Deer | About Elk
Store | Classified Ads | Photo Tours | About this Site | Advertising

|


Older Content | Email Us | Privacy Policy | Links | Podcasts