"The Waiting Game"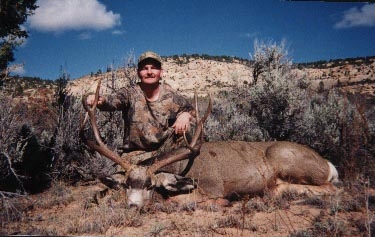 Craig hunted long and hard for this Paunsaugunt Trophy Buck
In 1998 Luck was finally with me when my friend Jarred Clayson and I drew Paunsaugunt mule deer tags. Even more exciting was the fact that because of Utah's dedicated sportsmen program, we would be able to hunt the area with a bow, rifle, and muzzleloader.
After several scouting trips on the summer range and spotting several nice deer, we realized that the chore of finding and harvesting a trophy animal in this famous unit was going to be no easy task. As we arrived in the area for a week of archery hunting, the anticipation was high. Several other friends had also drawn archery permits, and we felt that between the five of us, we had a great opportunity to take a trophy animal. As the days came and went, we realized that there were many areas that the deer could vanish into. The opportunities were very few to say the least. At the end of the week we were heading back home, to say we were discouraged would have been an understatement. The only thing that kept us going was the hopes that maybe things would change in our later hunts.
There was approximately one month of time to get ready for the rifle hunt. This wasn't much time considering that Jarred and I had never spent any previous time in this area before. After discussing our options with others who had hunted the area before, we decided that we needed to change our focus from that of hunting the higher summer range, to that of hunting the lower desert areas of the unit. The next couple of weeks were spent gathering information and marking up maps. One-week prior to the opening day of rifle season, we were again on our way to explore this vast area. This time we were joined by a friend from work, he was very knowledgeable about the area and gave us some good direction on where we should start our hunt. After discussing our options, we decided to start our hunt in an area where we had seen some great bucks on the archery hunt. Our hopes were to catch some bucks that had not yet began their migration to lower country. On the first morning we found only hunters, they had the same idea as we did, but no deer. Later that night we made our way into the lower country where we spent the next couple days learning about area while seeing only a few deer. Once again we made the four-hour drive home with no game in the back of the truck.
Due to work schedules, we had to make the decision on whether to return and hunt later in the rifle season or wait until the muzzleloader hunt. The decision was made to wait and return later that month for the black powder season. Of course, we began to hear reports of nice deer being taken, apparently the migration had begun and we were second-guessing our decision to wait.
The days quickly rolled past and soon we were once again headed down that familiar stretch of interstate. The first morning we headed for a well used migration trail that headed into the lower areas of the unit. We saw several small bucks and a couple in the 22 to 24 inch range, but nothing that we were interested in. That afternoon we decided to split up and search a bigger area in hopes of locating a bruiser. I left for a large burned area that provided lots of feed and good vantagepoints. After glassing only a short time, I spotted a buck at the lower end of the burn. I returned to my ATV for a spotting scope to get a better look at the buck. Once I had my scope in hand, I leaned my gun neatly against a cedar tree and resumed glassing.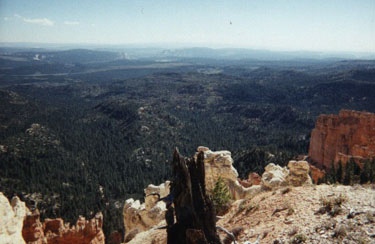 A view from Crawford Mtn., looking south into some rough country.
Some deer migrate up to 50 miles to winter in northern Arizona.
Suddenly, I heard something to my right. As I focused my attention to the area where I had heard the noise, I was not quite prepared for what took place. Around the hill only 75 yards, came two deer and both were bucks. The first was a smaller four point about 20 inches wide, but the second deer was a high racked buck with awesome mass. About that time he turned and faced me, I knew instantly that he was a keeper. He had a 27 to 28-inch main frame with several extras extending out from the back tines. This buck would have easily exceeded the 30-inch mark. There he was broad side staring directly at me at only 75 yards.
This was a perfect situation, except for one small detail. My gun was 10 yards away leaning neatly against that tree. What should I do? Just then the smaller buck snorted and whirled with the larger buck following closely behind. I scrambled for my gun, then searched for an opening that the bucks might pass through. Then he appeared quartering away at 175 yards, I pulled the trigger and smoke filled the air. The buck busted out across the burn untouched by the shot.
Discouraged by the fact that I might have just blown my only opportunity, I headed back to camp. The next several days were filled with much of the same, lots of glassing, scouting new areas, and rechecking that burn, but only small bucks were found.
On Monday morning we returned to the migration trail in hopes of finding something that would give us some encouragement. Shortly after daybreak we spotted two nice bucks, one was a large, velvet covered 1 x 3 that was very near 30-inches wide. His traveling partner was a smaller 4 x 4 about 24 inches in width. We weren't interested so we kept moving down the ridge. Then, in the bottom of the canyon, I spotted a good buck. He feed only a short time before bedding down for the afternoon. Ultimately, I decided to try a stalk.
With the wind in my favor, I was able to quickly get to within' 150 yards. At that point I removed my boots and crept slowly towards the bedded buck. Slowly, I inched my way forward until I reached a small clump of scrub oak only 50 yards out. I could only see antlers, so kept moving closer, narrowing the distance to 30 yards. 30 yards!, and still I didn't have a good shot. 10 yards further up the trail was large sage that would conceal me until a shot presented itself. Upon reaching the sage, I was faced with another tough decision. Do I wait for the buck to stand up, and risk him smelling me? Or do I ease up over the sage and chance the shot?
I decided to try the shot. Slowly I raised the gun above the sage until the deer was visible. I placed the crosshairs on the buck. My Knight MK-85 did the job and the buck was mine.
My buck is 28 inches wide, and although we did see some larger bucks, I was very pleased with this one. The Paunsaugunt is a very difficult unit to hunt, and I felt fortunate to have harvested a buck. I learned a great deal about the area, and most importantly, I enjoyed my time in the field.
Written by Craig Hill
Click-a-Pic ... Details & Bigger Photos
Click-a-Pic ... Details & Bigger Photos
Home | Hunting Forums | Photo Gallery | Hunting Articles | Videos

|


Hunts & Tags | Hunt Draw Odds | About Mule Deer | About Elk
Store | Classified Ads | Photo Tours | About this Site | Advertising

|


Older Content | Email Us | Privacy Policy | Links | Podcasts