"The Kidney Stone Hunt"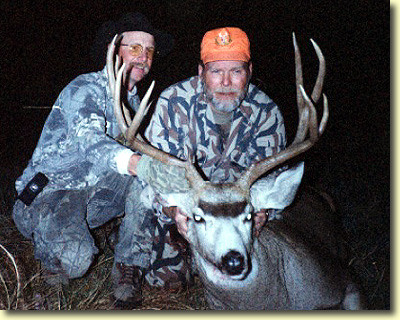 Dan's buck is a 24-inch 4x4. (Dan right, Tim left)
For two years I had been planning my first Colorado mule deer hunt. After building the preference points and hiring Pikes Peak Outfitters as my guide, I thought I was all set. While I was packing my truck and getting ready to leave, I had a very sharp pain in my lower back. This was such an intense pain that I went straight to the hospital. Sure enough, at age 49, I had my first (and I hope my last) kidney stone.
To make this part of the story short, the doctor said I would have to cancel my trip. I certainly didn't want to miss my hunt, so I told the doctor to do what he could, so into surgery I went.
Two days later, I was hunting the high plains east of I-25 in Colorado. The first two days of the hunt were slow. We saw atleast a hundred does, but no bucks. The weather was not cooperating either, it rained both mornings.
The third day turned out much better, it was clear and cold, the perfect weather for deer hunting. With conditions perfect, I just knew that things were going to start happening. That morning, I saw my first muley buck, but he was just a small 3x3, so I passed him up. We hunted through miles of timber and creek bottoms for two and half days, and I was ready to sit for a while. So my guide, Tim Matschee, of Colorado Springs, took me to an alfalfa field that was bordered by a long creek drainage where they had seen a big buck during the archery season. The plan was for me to wait and watch the drainage and alfalfa field while Tim left to glass another area.
I setup on a slight rise among a group of cottonwood trees with the alfalfa field to my back, the wind in my face and the drainage to my right. While waiting for sunset, I took readings with my rangefinder and videotaped the area. I was having the time of my life.
Then it happened, just as the sun disappeared over the horizon, I caught movement in the tall grass about 250 yards to my right. All I could see was antler's moving above the tall grass. "That's him!", I told myself as I grabbed my rifle and crawled to the edge of a slight rise. I put my bipod down and looked through the scope of my rifle. I could see nothing but weeds, I was too low! I quickly extended the bipod legs all the way out and got into a sitting position. Through the scope, I could now see the buck. He had cleared the weeds and was walking slowly at about 200 yards. The crosshairs were all over the place, so I looked away and told myself to calm down. I knew this was it and didn't want to blow my chance.
Again, I looked through the scope, took a deep breath and let half of it out. The deer never stopped, just waddled along. I was slowly squeezing the trigger as I held the crosshairs on his vitals. BOOM! I couldn't believe it when the buck dropped right in his tracks. I quickly loaded another round and got back on him, but he didn't move again, not even the slightest twitch. He was mine.
My buck is a basic 4x4 with a spread of 24 inches and one short brow tine. For those who care, he will score in the low 150's and weighed 275 pounds. To some, this deer is not a trophy, but for me, he is The Trophy of a Lifetime. No way was I going to let a Kidney Stone stop me!
Written by Dan R. Mathias
Click-a-Pic ... Details & Bigger Photos
Click-a-Pic ... Details & Bigger Photos
Home | Hunting Forums | Photo Gallery | Hunting Articles | Videos

|


Hunts & Tags | Hunt Draw Odds | About Mule Deer | About Elk
Store | Classified Ads | Photo Tours | About this Site | Advertising

|


Older Content | Email Us | Privacy Policy | Links | Podcasts