"My Son's First Buck"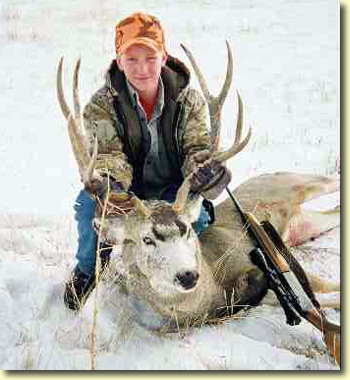 Matthew's First Buck.
Matthew has been going deer and antelope hunting with me, dad, David Hegg, since he was six years old. He has patted me on the back when I missed, saying let's find another. He has studied my every move and mistake intently, learning everything that he could so that when the day came that he could apply for and receive his own tag, he would be ready. At the age of 12, the first year he could apply for his own deer license, he applied and immediately learned the frustration of the lottery draw system. He was denied a deer tag! His response when I drew was, "oh well", at least one of us got a tag. Then came the drought of the western South Dakota prairie and the land we were planning to hunt was closed. We were both to be denied.
When the summer of 2000 arrived, so did the time to once again apply for a West River Prairie deer license and a chance to hunt Mule deer. Matthew had waited for this for a long time. When his first tag arrived in the mail, we were both elated. Once again, I was denied a tag. But it was not going to matter.
We arrived at the ranch, where I had been hunting for the past 25 years, just in time for lunch with the rancher and his wife. Larry, the owner of the land, told me that he had been seeing lots of deer on the property, more than usual. He explained that for some reason the deer were staying out of the rougher country to the north and hanging out near his hay and alfalfa fields. We decided that this was probably due to the mild weather we had been experiencing. After lunch, Larry's son, Randy, arrived and joined us for an afternoon of scouting.
He was a student and NDSU in Fargo, and was home for the weekend to hunt with us. As we began checking many of the usual places where I had seen deer over the years, (in rougher country) we began to realize that Larry was right. The deer were still out in the flat lands. We observed several bands of deer, but only the smaller of the two big bucks that Larry had been seeing on his land. We returned home for supper optimistic, but still without a sighting of the "big one".
Neither Matt nor I got much sleep that night, I guess we were excited for opening day. We were up before the alarm clock went off. After breakfast and a game planning session, we decided to drive northwest to check out a field that we had seen deer in the prior day.
No bucks were found. We then moved to another field just east of Larry's ranch that usually had deer feeding in it. Still no bucks, but we decided to be there at first light the next day.
Upon arriving at the field the next morning, we began glassing and immediately spotted several deer. We also noticed that one buck stood out from all the others. For that matter, more than any buck I have ever had in my scope. We fixed his location for Matthew, who began his stalk on the buck. Soon, it was light enough to shoot and Matt was in place. Randy and I watched as he steadied the Browning BAR .270. As the shot rang out, the buck collapsed and was down for good. On his first shot, in the first few minutes of legal shooting time, on the first day of his first mule deer hunt, Matthew bagged his first buck.
I ran to where he was, standing over his fallen buck. I was very proud. He extended his hand to me and as we shook hands he said, "I got him, what a buck, thanks dad". I have taken many deer in my time, some wider, but never this tall or symmetrical. I was emotional for just a minute, and as Randy drove up in my pickup, he was grinning from ear to ear and simply said, "wow".
The buck is a 4x4, with a 22-inch inside spread and 26 inches tall. His forehead was rubbed almost bald and all four of his hooves were badly split or chipped. An old deer for a young hunter!
Matthew has always thanked me for taking him hunting, without fail, after every trip. Son, now it's my turn, "Thank you!"
Written by David Hegg
Click-a-Pic ... Details & Bigger Photos
Click-a-Pic ... Details & Bigger Photos
Home | Hunting Forums | Photo Gallery | Hunting Articles | Videos

|


Hunts & Tags | Hunt Draw Odds | About Mule Deer | About Elk
Store | Classified Ads | Photo Tours | About this Site | Advertising

|


Older Content | Email Us | Privacy Policy | Links | Podcasts