"The Luck of the Draw"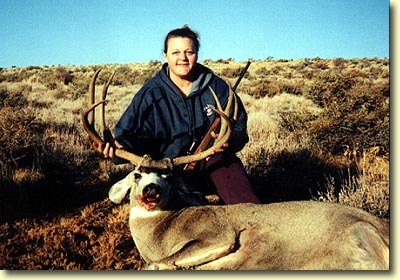 Toni has harvested her first muley, and it's a dandy!
I have hunted muleys before, but all I have ever had were doe tags. This year I got lucky and drew a buck tag for Nevada. My husband, David, was excited for me, but disappointed that he didn't draw a buck tag too.
We immediately started scouting in our draw area, we saw several nice bucks in the willows, but by the time it was our turn to hunt, the archery and muzzleloader hunters had already cleared the area of potential trophy bucks. Our next option was a well-known area used by many of the locals.
We were into the second week of the season before we finally had enough time off work to set up a camp and seriously start hunting. Our hunting party had five buck tags and two doe tags, so a lot of ground had to be covered to fill all the tags.
We arrived in our camping spot, an abandoned gravel pit, at about 3:00 in the afternoon, set up camp, and went hunting. Only five minutes from camp, my husband spotted a 3x3 about 300 yards out. I thought about taking the buck, but decided it was too early in the hunt and the buck was a little bit out of range. We continued on, spotting a few more forkies and a lot of does before finally loosing daylight.
The next morning, we were up at 3:30, full of energy and ready to go. The sun didn't rise until six, and it was the longest wait of my life! When the sun decided to show its face, we were on the go! A couple of the guys in our party decided to drive up to the ridge top and push animals down to my husband, my brother-in-law, and myself, in the valley below.
There was a nice symmetrical 3-point that came out, but we wanted something bigger, so on we went. We got about 1 1/2 to 2 miles into the valley when I had to take a breather. I asked my brother-in-law, Shawn, to glass a small bowl to his right. Immediately, he spotted some deer!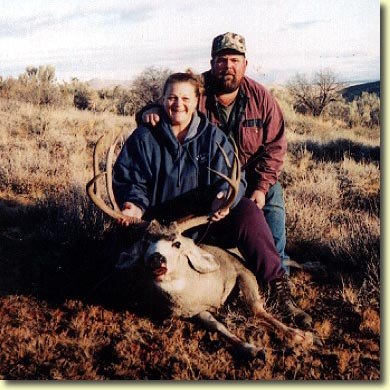 The buck had a battle scar on his nose, so they dubbed him"Scar Face".
About 300 yards away was a small band of does, so we waited to see if anything else would walk out. Patience pays off I guess, because only a couple minutes later, out walked two bucks. Both were about the same size, both 4x4's. We were surrounded by six-foot high brush, so we had to move a little further down the hill to get a clear shot. When we did, they spotted us!
Off they went, not quite at a dead run, but fast enough. Those were some smart bucks; they stayed mixed in with the does, never giving me a clear shot. They moved about a quarter of a mile across the hillside and stopped. We caught up to them as they rested. They had actually moved closer to a great place for me to shoot from, a nice clearing with no obstructions. In my excitement, I had dropped my Ruger .243 on the ground, possibly knocking my scope off. My husband didn't say a word, just rolled his eyes and handed me his 30-06. I had only fired his rifle once or twice and was a little leery of it. I thought, what the heck, it's the only chance I'll probably get.
The first shot went over the bucks back, while the second shot went under his belly. I couldn't believe it when the buck continued standing there, allowing me to take a third shot. Down he went! Shawn got out the range finder and said that he was 210 yards away.
I thought I would hyperventilate, climbing that hill to get to the buck. When we found him, I was almost disappointed thinking he was just a 3x4, but after a closer look, we could see that he was a 4x4 after all. His last tine on the left side had a kicker, big enough to hang a ring on.
Next year, I don't think the guys will be so generous in letting me fill my tag first. All of their bucks were smaller 3x3's and forkies.
Written by Toni Hilbert
Click-a-Pic ... Details & Bigger Photos
Click-a-Pic ... Details & Bigger Photos
Home | Hunting Forums | Photo Gallery | Hunting Articles | Videos

|


Hunts & Tags | Hunt Draw Odds | About Mule Deer | About Elk
Store | Classified Ads | Photo Tours | About this Site | Advertising

|


Older Content | Email Us | Privacy Policy | Links | Podcasts