"My Archery Hunt"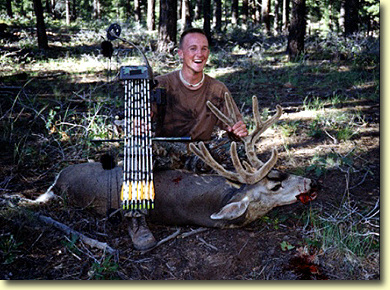 Jeff's buck is a 27-inch 4x4.
I had been hunting southern Utah for three years. I usually make the trip with my good friends, Jake and Gabe Chadwick. Each year we manage to harvest a couple bucks between the three of us, but we never had any luck getting the big boys.
In 1997, I was able to talk my father, Greg Low, who is also an avid hunter, into coming along and joining us on our bowhunt. I was excited and hoping that dad would add a little more luck to our hunt.
We arrived to our hunting area a couple days early and began searching for some trophy bucks. We were lucky in that we found a few great bucks. The question was, how would we get them? On opening morning, I headed out with Chad's friend, Rick Larocco, who was a very good hunter with lots of secrets that I was hoping to learn. We spent the day up high on the mountain and saw quite a few deer, even a few decent bucks, but nothing I wanted to take.
By mid-afternoon, I was exhausted. We had hiked a lot of miles, I guess that's what opening day excitement does to a hunter. So we headed back to camp to get some breakfast and much needed rest. We were almost back to camp when we ran into Jake, Gabe, and my dad. They were already on their way out for the evening hunt, and it was only 3:00 p.m.! You guessed it! I had to go too, so into the back of the truck I jumped and we were off.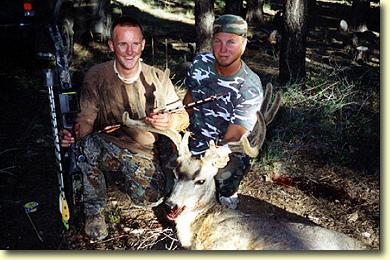 Jeff and Gabe had a great hunt!
We headed to a place we had dubbed, "Doe Row", because that area was thick with slicks. We were just about there when we saw some deer about 100 yards from the road. As we drove closer, we were amazed to see three big bucks. We didn't want to spook them, so we just drove by them, hoping that they would think we didn't see them. After we made it up the road a mile or so, we turned around and slowly drove back. As we went by, I slowly slipped out of the back of the truck and hide, while the rest of them continued down the road. I could see that one of the bucks was a huge 5x5 that was over 30 inches wide. He was feeding only 20 yards away!
As I began to nock an arrow, I noticed a doe staring at me. I wanted to wait until she looked away before drawing my bow, but she never did. She had detected danger and wasn't going to budge until she knew exactly what I was. Then she started snorting at me, I knew I didn't have much time so I began to draw my bow. Suddenly, just as I got my string back, a truck came roaring down the road. The deer scattered in every direction, and no shots were taken.
Of course I was disappointed, but kept a close eye on the deer as they moved further into the trees. After the truck passed, I began moving down the road hoping to catch another look. I had only gone 50 yards when I spotted a yearling buck looking at me, so I quickly took cover. As I studied the buck, I noticed movement just behind him. Then, out walked a big boy. He just stopped and looked in my direction. I had my rangefinder around my neck, but didn't even think to use it. I was sure he was 50 yards, so I drew my bow, place my 50-yard pin right on his honey hole and squeezed the trigger on my release.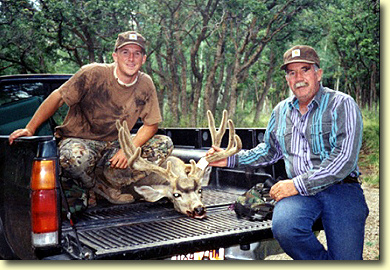 Jeff and Greg Low showoff Jeff's trophy archery buck.
It was like slow motion as I watched the arrow fly towards the buck. Then it hit, and it hit good, right where I aimed! He broke into a full run, belly low, busting through anything and everything in his path. Then, back behind me, I heard my dad yell, "Somebody hit him good, he is going down."
My dad had came back down the road and was able to witness the shot. We found my arrow a couple minutes later, it was covered in deep red, foamy blood. I was so excited that I was shaking. I knew that I should wait a while before tracking the deer, but I was so excited I just couldn't wait. So off we went.
100 yards later, I spotted the horns sticking high off the ground. It was the most exciting thing I had ever done. My dad was so excited that he cleaned the buck for me, what a great dad!
Written by Jeff Low
Click-a-Pic ... Details & Bigger Photos
Click-a-Pic ... Details & Bigger Photos
Home | Hunting Forums | Photo Gallery | Hunting Articles | Videos

|


Hunts & Tags | Hunt Draw Odds | About Mule Deer | About Elk
Store | Classified Ads | Photo Tours | About this Site | Advertising

|


Older Content | Email Us | Privacy Policy | Links | Podcasts