"A Great Week in Wyoming"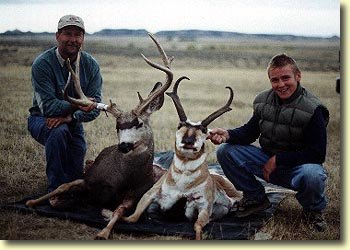 Jerry and Clayton both harvested great bucks.
We always feel fortunate just to be in Wyoming, much less hunt there. Like most mule deer hunters, I was looking forward to someday getting a good, "solid" western mule deer.
In October 2000 my brother, Lance, my youngest son, Clayton, and I enjoyed another great week of antelope and mule deer hunting in Wyoming.
Lance and I had mule deer tags, and Clayton had an antelope tag. We arrived at the ranch on Sunday, Oct. 1, and camped where we had the prior year. Lance went one way to deer hunt, while Clayton and I went the other, hoping to fill his antelope tag.
We didn't see many antelope that day, but we did see three mule deer bucks. We tried a different area on Monday, where Clayton took a shoot at a nice antelope, but missed.
We meet Lance back at camp and compared notes. He had seen several mule deer bucks, but had not been able to get any shots. That afternoon, Clayton and I headed out again. We quickly spotted a herd of antelope, and there was a good buck in the group. There was a network of washes that allowed us to close the distance considerably, but the herd made it over the hill and out of site before we were within range.
As we plotted our next move, Clayton spotted a lone antelope buck working his way toward another small group of antelope. We worked our way to a rise where we could get a better look. After carefully looking the buck over, Clayton decided to take the shot. One shot from his Ruger 25-06 did the job.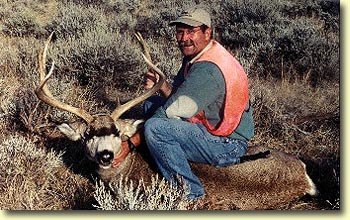 Jerry's buck is a 26-inch 4x5.
Once we had Clayton's antelope tag filled, it was time for us to try and find me a deer. We had only gone a quarter of a mile from where we left the antelope when I spotted three large mule deer lying in the brush. I quickly removed my backpack and positioned to take a shot, but some brush directly in front of me blocked my view of the biggest buck. I carefully got back up and began moving to a higher point where I could get a better shot. Suddenly, the two smaller bucks stood, they must have caught my movement! I knew I didn't have much time, that big one was sure to stand and begin putting ground between he and I real soon.
I moved a few more steps, where I had a clear view of the bigger buck. By that time the bucks were trotting out through the brush. I took a shot, but missed. I took a second shot, and he dropped. I jumped up and ran through the gully, up the rise, and onto the sage flat.
There he was, I could hardly believe how big he was! Clayton's first remark was, "oh my god, dad!" He was definitely as excited as I. Finally, I had connected on a good, "solid" mule deer, and it's great that my son was there to share the wonderful experience.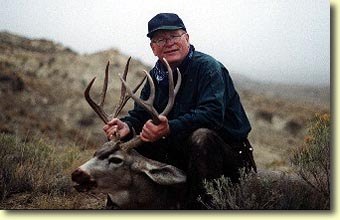 Lance also harvested a great buck.
Our hunt wasn't over yet though, we still had to find Lance a buck. It was cold and foggy on Wednesday morning, but Lance and I knew we had to get out there and look. The fog really made spotting difficult, because we could only spot small areas and only for a few seconds at a time.
Then, while there was small break in the fog, we spotted two bucks and a doe. We only saw them for a second or two as they went over a far ridge. We began working toward them when we spotted two real nice bucks topping another ridge. We hurried across the many draws and ridges separating us from those bucks. As we came across the final ridge, we saw the two bucks bedded just under a knoll. One shot and Lance had his buck!
What a great way to spend a week! We enjoyed the family time together, saw lots of Gods creatures, and enjoyed being in the outdoors in such fabulous country.
Written by Jerry Troegle
Click-a-Pic ... Details & Bigger Photos
Click-a-Pic ... Details & Bigger Photos
Home | Hunting Forums | Photo Gallery | Hunting Articles | Videos

|


Hunts & Tags | Hunt Draw Odds | About Mule Deer | About Elk
Store | Classified Ads | Photo Tours | About this Site | Advertising

|


Older Content | Email Us | Privacy Policy | Links | Podcasts