"The Buck of His Dreams"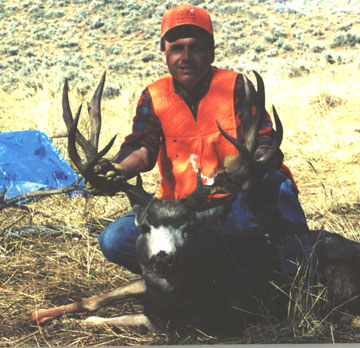 John's "Dream Buck"
In 1998 my dad, John C. Heiner, and sister, Rebecca Sharp, drew tags to hunt the Deseret Land and Livestock property near the border of Wyoming and Utah. As long as I can remember my Dad has dreamed of an opportunity to take a beautiful 30-inch buck, so of course we were all very excited to hear the good news that they had drawn.
Before Deseret Land and Livestock acquired the property, my older relatives had hunted the area regularly. They knew the country well, and because of that, our uncle, Hal, from Morgan, Utah was going to accompany us in our search for a trophy buck.
Once settled into camp, we broke out the maps and began deciding where to begin our hunt. We had spoken to several guides that worked in the area, and were able to get a good idea where to look for some nice bucks. We awoke early on opening morning, and with great anticipation, we set out to find some bucks. After a full day of hiking and seeing only a few deer, we headed back to camp to plan our next days adventure.
Again, we were out early and hoping that day two would prove to better than day one. After a lot of hiking and spotting, we sat disappointed with the number of deer we had been seeing. While we were eating lunch, uncle Hal began telling us about a canyon they use to hunt in the "Good ole' Days". After hearing his stories, we decided to go east, and hunt the canyon he was talking about.
We quickly learned that we had made a good decision in changing areas, because we were seeing many more deer and no other hunters. As we hunted our way down the ridge, I spotted a group of deer feeding on the opposite hillside. There was a big buck in the group, but he was nearing the top and would soon be out of sight. I quickly motioned to my sister to hurry over, but she was too late and the buck was nowhere in site. It was typical, and seemed to be the story of our lifetime---too late.
We decided to sit down and spot for a while, but it only took a couple minutes before we located a nice 4 x 4. I helped my sister as she harvested her first buck. My dad and uncle heard her shoot, and quickly caught up to us to hear the good news. We spent the rest of the day packing her buck back to the truck.
On the third day, we again hunted down that same ridge. After about an hour, we noticed two other hunters hunting above us. They were hunting the ridge at about the same pace, and we were hoping that they might push something towards us. Unfortunately, their pace picked up and they began to get ahead of us. We decided that instead of trying to keep up, we'd just drop down to the road in the bottom of the canyon where my sister would pick us up. We could then have her drive us further down the canyon, where we would hike back up the hill and hunt towards the other hunters.
Once up the hill, we sat down and waited, hoping they'd push something to us. After about ten minutes, deer began barreling over a hill in front of us. We noticed that one of the deer had exceptional body size, and before I could even get my binoculars on him, my dad said, "that's the one". It took only a single shot to bring the big buck down.
Later that afternoon, we ran into the hunters who had hunted past us. They recognized us and said, "oh sorry, hope we didn't ruin your hunt." Of course our response was, "don't worry, you didn't ruin our hunt", as we should them the big buck.
I really don't know what was better, the buck my dad had harvested, or the fact that the two guys wanted to have their picture taken with the awesome trophy.
It's great that my dad finally harvested the buck of his dreams, and he's spent two years bragging about it.
Written by John D. Heiner
Click-a-Pic ... Details & Bigger Photos
Click-a-Pic ... Details & Bigger Photos
Home | Hunting Forums | Photo Gallery | Hunting Articles | Videos

|


Hunts & Tags | Hunt Draw Odds | About Mule Deer | About Elk
Store | Classified Ads | Photo Tours | About this Site | Advertising

|


Older Content | Email Us | Privacy Policy | Links | Podcasts