"Nine Preference Points Later"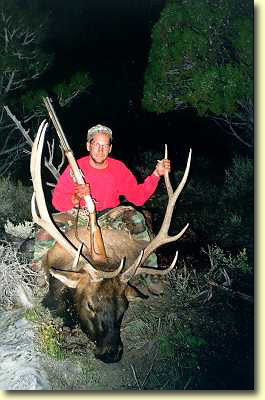 Brad's Colorado Muzzleloader Bull.
Finally, I had drawn a great elk tag for Colorado. It was my tenth year of applying; I had 9 bonus points, and now had a unit 10 elk tag. I was very excited for the hunt and along with the typical scouting; I spoke to a lot of people who had previously hunted the unit. I also spoke with quite a few locals, who were very helpful in pointing me into the right direction for preseason scouting.
I arrived in my selected hunting area the day before the opener. That evening I spotted a nice six-point bull, in which I was very interested. Opening morning found me searching for the big six point, but he was nowhere to be found.
The weather was hot and dry, temperatures reaching 80 degrees during mid-day. This is not exactly ideal elk hunting weather, but I'd have to make do.
On the second day of my hunt, I spotted a group of cows right at sunrise. The elk I could see hadn't spotted me, so I carefully scanned the herd, hoping to spot the master. Just my luck, there he was, but he had already seen me. He was to the right of all the other elk, about 200 yards and had seen me before I saw him. It was too far to chance a shot, and it didn't take long before he disappeared into the trees.
I decided to move to the other side of the mountain, where I immediately heard some bugling. I moved slowly towards the bull, he was a small six point and only 80 yards away. I inspected him closely, trying to decide if he was the bull I wanted. He wasn't.
Monday was more of the same, lots of cows, yearling bulls, and another small six point. Tuesday morning started off a little better, when just before daylight, I heard some bugling in the draw above me. The bull was moving toward me, so I hurried to position for a possible shot. As the bull came into range, I began inspecting him closely. He was a strange bull, he had six points on his right antler, but his left was just the main beam, no points. I let him go.
When I returned to camp for lunch, a fellow hunter who was cow hunting in the area, told me of a big six point bull he had seen that morning. This was great news! I couldn't wait until the evening hunt. I was hoping the bull really was as big as he made him sound.
About 6:00pm is when I heard the first bugle. I knew it was him and waited for another bugle, so I could pinpoint his location. Fifteen minutes later, he whistled again. I knew where he was! About 400 yards down the hill. I quickly closed the gap to 200 yards, then let out a bugle of my own. He didn't answer, so I tried a cow call. Again, nothing. Then, I tried my Hyper-Hot cow call, and he immediately answered.
He was about 150 yards away, so I continued moving closer and listened for his next bugle. Nothing but silence. I blew the Hyper-Hot call again. He answered, but it sounded as though he was moving away. I began moving quickly towards him, and then there they were, the big bull and his harem. I quietly closed the distance to 125 yards. He turned broadside and I squeezed the trigger on my .50 caliber Hawken.
The 385-grain hollow point bullet hit the bull, but he didn't go down. It took two more shots before the big boy finally tipped over.
Wow, was I excited. I dressed him, caped and quartered him. It was mid-night before I finished and I still had a three-hour hike back to the truck. The next day a fellow with two mules helped me pack the bull out.
It was a great hunt, saw lots of elk and even a few awesome bucks. I'd definitely recommend this area to anyone.
Written by Brad Knutson
Click-a-Pic ... Details & Bigger Photos
Click-a-Pic ... Details & Bigger Photos
Home | Hunting Forums | Photo Gallery | Hunting Articles | Videos

|


Hunts & Tags | Hunt Draw Odds | About Mule Deer | About Elk
Store | Classified Ads | Photo Tours | About this Site | Advertising

|


Older Content | Email Us | Privacy Policy | Links | Podcasts