"The Navajo Monster"
My best friend and hunting partner, MacDonald Avery and I have been putting in for Navajo hunts for many years. About fours years ago the Navajo Fish and Game chose to have guide services made available for non-Navajos hunting on the Navajo Reservation. We saw this as an opportunity to make use of our experience and knowledge of the Navajo. Its been kind of a secret that the Navajo has some high quality trophy mule deer available, especially if one knows how to hunt the many units.
One of the seasons we make a big deal about is the Navajo trophy hunt. It takes place in December, during the peak of the rut. With each of us applying for tags in different units, we increase our odds to draw at least one trophy hunt tag. In 1999 I was lucky one, I drew a tag for the southern part of the Navajo. This particular area has a track record for producing some really large antlered bucks, and we expected no difference for the 1999 season.
This past year we were quite busy with guiding services from our operation we've named "Crazy Horn Guide Service". We always invest a lot of time and effort to ensure that our clients get a realistic opportunity to score on quality animals. So far, there haven't been any complaints. The general hunt produced a nice 4x4 with stickers on each side and 7" bases, along with a nice 160 class 4x4. The elk hunt produced a nontypical 7x8 that netted 415 B&C points.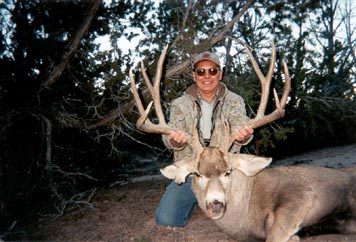 After taking care of our clients we looked forward to my trophy mule deer hunt as our reward for all of the effort put into the early season. We began scouting for deer in November, looking for signs that the rut was beginning. We didn't observe much action until early December, probably because of the unseasonably warm weather. We knew from past experience not to relax our guard. This unit never failed to surprise us with a big rack jumping the fence, crossing a canyon, or heading over the ridge while we scrambled to get a good look.
My hunt started about seven days before Christmas. Along with me on the hunt, was MacDonald and his nephew, Nathan. Because of our preseason scouting, we were able to narrow down and concentrate on the best area's within' the unit. Usually the weather will bring the mule deer out of the thickets of juniper and cedar to feed a little longer in the morning, but that wasn't happening. So we changed our tactics, by making drives through the thickets, we hoped to move the deer around and maybe get a shot. We seen several nice bucks, but I had made up my mind to hold out for an exceptional animal.
On the third day, MacDonald took us to a ridge where he had seen a buck chasing some does. With the sun at our backs, we glassed a plateau that had a lot of small cuts and looked promising as a big buck hide out. I had just finished glassing the top of the plateau when Mac grabbed me and pointed to the horns moving out from one of the cuts about 200 yards below us. Mac noticed some good mass and long eye guards on the big 4x4, he quickly told me to get ready for a shot. Like a rookie, with my heart going wild, I considered shooting off hand, but Mac suggested that I use a nearby tree as a rest. The buck was so concerned with the doe that he didn't pay much attention to my fumbling in the brush. I was able to make a good shot with my 300 weatherby, the buck stumble and finally fell into the ravine ten yards below.
With all the excitement, I barely had enough time to assess the big bucks rack. I mainly keyed on the mass of his horns, how tall they appeared, and how the width was prominent beyond the ears. I say this because Mac, ever the teacher and the more experienced between us, asked me what I had seen before I chose to harvest this great buck. He even went through this routine with his nephew, who is twelve years old and already has taken several nice bucks. We all agreed that this was a great buck and a fine example of the trophy unit we were in.
A Navajo Fish and Game biologist helped us take measurements, it tallied out to a 193 3/8ths gross score. I think even without the score, this buck is an exceptional trophy. Its body weight was 210 lbs. and the animal was in great shape and made for some fine venison. This buck was a happy culmination of an already exciting and successful season.
Written by Lea Dennison
*If you'd like some information on Navajo hunts, give Lea a call at 505-722-4921 or drop him a line at
lea_dennison@hotmail.com
Click-a-Pic ... Details & Bigger Photos
Click-a-Pic ... Details & Bigger Photos
Home | Hunting Forums | Photo Gallery | Hunting Articles | Videos

|


Hunts & Tags | Hunt Draw Odds | About Mule Deer | About Elk
Store | Classified Ads | Photo Tours | About this Site | Advertising

|


Older Content | Email Us | Privacy Policy | Links | Podcasts